FEMA Quietly Deleted Statistics About Puerto Rico's Water & Electricity From Its Website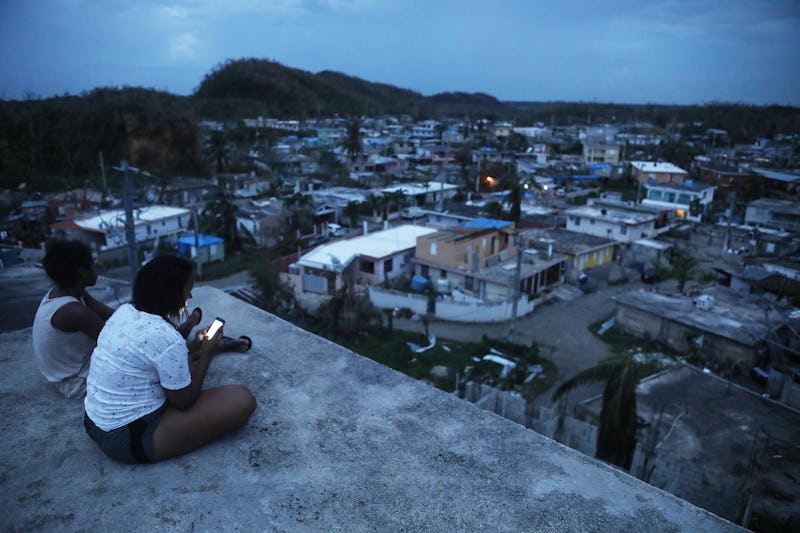 Mario Tama/Getty Images News/Getty Images
On Oct. 4, half of the residents in Puerto Rico had access to clean water and 5 percent of the island had electricity, according to the Federal Emergency Management Agency website. By Oct. 5, FEMA had removed statistics on Puerto Rico's water and power supply from its website, according to The Washington Post.
Hurricane Maria damaged drinking water infrastructure and left the majority of Puerto Ricans without clean water and power after the storm ravaged the island in September. Puerto Rico's Gov. Ricardo Rosselló said in a news conference on Monday that a quarter of residents should regain power by next month and 10 percent of households should have their power back within the next two weeks, according NBC News.
FEMA representative William Booher told The Washington Post that both information on water access and electricity on the island were available on a website maintained by the office of Gov. Rosselló, StatusPR. Per the website, 9.2 percent of the island has power and 54.2 percent of people have potable drinking water. Booher also told The Post that journalists at news conferences and on media calls had access to this information twice a day, but also didn't explain why the statistics were taken down from the FEMA page.
"Our mission is to support the governor and his response priorities through the unified command structure to help Puerto Ricans recover and return to routines," Booher said, adding that the states were "readily available" on the website maintained by the governor's office.
Gov. Rosselló has also said that 47 percent of people have running water and that statistic should reach 60 percent by the end of the week, NBC reported.
FEMA has also stated on its website that 92 percent of hospitals are open and 96 percent of dialysis centers are now open. Many of the hospitals have been running on emergency generator power, leaving many critically ill patients to deal with the high temperatures without air conditioning, according to NPR. After the hurricane, there were issues getting access to diesel fuel so hospitals could run on generators. As a result, some of the hospitals had to be temporarily shut down.
According to the FEMA website, 65 percent of grocery stores are now open, along with 64 percent of its wastewater treatment facilities. All of Puerto Rico's federally maintained ports and airports are now open, and 30 miles of roadway has been cleared.
Users on Twitter pointed out the connection between FEMA taking down information on the dire conditions in Puerto Rico and Trump coming under fire for providing inadequate federal aid relief to storm victims, believing that the administration took down statistics to portray its federal response in a more positive light. Trump has previously praised the federal aid response in Puerto Rico as "nothing short of a miracle," despite the fact that 95 percent of the island doesn't have power. Trump defended the federal government's response, criticizing "fake news" media outlets for not recognizing the work that FEMA and the military has been doing to help hurricane victims.
"We have done a great job with the almost impossible situation in Puerto Rico. Outside of the Fake News or politically motivated ingrates," Trump tweeted on Sunday. "People are now starting to recognize the amazing work that has been done by FEMA and our great Military."
Trump was also slammed for criticizing San Juan Mayor Carmen Yulin Cruz when she said, "We are dying and you are killing us with the inefficiency," as she asked world leaders for more federal aid. Side-by-side photos on Twitter have shown Cruz wading in water to help hurricane victims while Trump plays golf in his New Jersey golf course. During his visit to the island this week, he faced backlash for throwing paper towels to hurricane victims at a church and for joking that the government was spending too much money on Puerto Rico.
"I hate to tell you, Puerto Rico, but you are throwing our budget out of whack," Trump said. "We've spent a lot of money in Puerto Rico."
Trump also appeared to suggest that Puerto Rico's crisis wasn't a "real catastrophe" like Hurricane Katrina in New Orleans. 'You look at the tremendous, hundreds and hundreds and hundreds of people that died [from Katrina], and you look at what happened here [in Puerto Rico] with really a storm that was just totally overpowering, nobody's ever seen anything like this," Trump told Gov. Rosselló. "And what's your death count as of this moment? 17? 16 people versus in the thousands. You can be very proud."