The "No Poo" Method Comes With Some Risks That You Should Probably Be Aware Of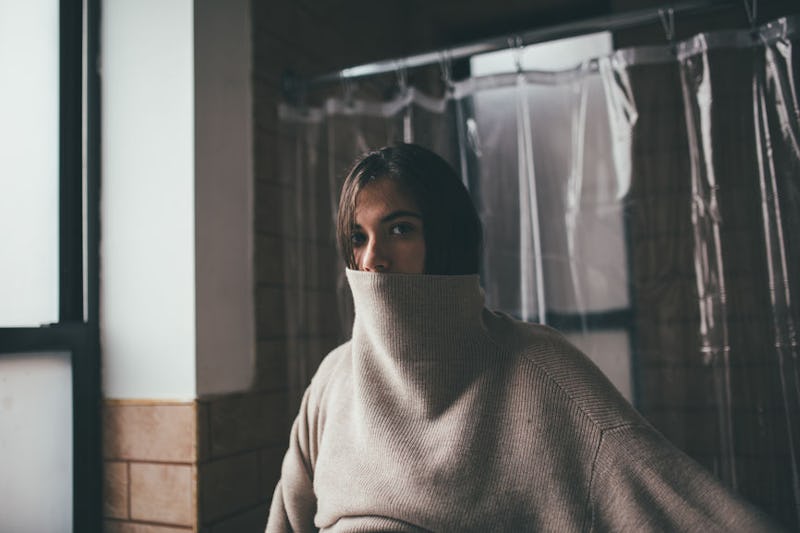 Douglas Robichaud/Stocksy
Currently, we are living in a society which loves to dictate that all chemicals are bad and natural is good. This is especially true when it comes to haircare products with plenty of bloggers claiming that shampoo is the devil and should be avoided at all costs. But does the No Poo method have any risks or is it perfectly safe to change up your hair washing routine?
First, let's get to grips with what the No Poo method actually entails. It involves swapping your shampoo for plain old water or various natural products such as apple cider vinegar or baking soda. The official No Poo website states traditional shampoo contains chemicals that strip away your hair's natural oils, leaving hair looking greasier than it would if you just left it alone.
A couple of months ago, I chucked away my shampoo for two weeks, using water to wash my hair instead. While I haven't become a total No Poo convert, I was surprised at how shiny my hair looked without the help of products.
According to Healthline, "experimenting with No Poo is relatively low risk." But some dermatologists have revealed that there could be a few risks associated with replacing shampoo with certain ingredients.
Using just water — like me — won't hurt at all but throwing household ingredients on your hair could result in adverse effects. A report published in the journal Cutis earlier this year stresses how important it is to dilute the likes of baking soda and apple cider vinegar with water.
Baking soda in particular can quickly become an irritant, says the report. Its pH of nine "causes the cuticle layer of the hair fibre to open, increasing capacity for water absorption." This, in turn, can lead to more friction between hair fibres as well as hair strands becoming more fragile and breaking.
"Such an alkaline solution can be damaging for people with chemically treated hair; it may make it even more dry or brittle," Dr. Nicole Rogers explained to Health, adding that baking soda has alternative uses as a teeth whitener and rust remover. "I'm not sure that most people need anything that caustic to clean their hair — if anything, commercial shampoos would appear to be far gentler!"
Apple cider vinegar has a much lower pH (usually between 3.1 to five) which, the Cutis report states, is regarded as "ideal" by No Poo advocates because it's much closer to your scalp's natural pH level. However, skin can become inflamed if the vinegar isn't mixed with an adequate amount of water.
Another alternative is coconut oil which is heralded as a fix-all for everything from dry skin to an unhealthy diet. This, too, comes with its own downsides, according to Healthline. The oil is particularly thick and may be particularly difficult to wash out, resulting in hair looking greasy and heavy.
People reading this may be inclined to go down the co-washing route instead. This still involves banishing shampoo, amping up the need for conditioner instead.
But experts say that this may not be any better for your hair's health, with the Cutis report authors explaining how conditioners are unable to sufficiently clean hair, concluding that co-washing is an "inappropriate" replacement for shampooing.
"Patients must be informed that not all synthetic substances are harmful, and likewise not all naturally occurring substances are safe," the report also states.
Well, that's the world told. It's not a foregone conclusion that the No Poo method is 100 percent bad, but if you're looking for a shampoo alternative, stick with water to be on the safe side.