Trump Will Have Tea With The Queen, But Who Knows If He'll Actually Drink It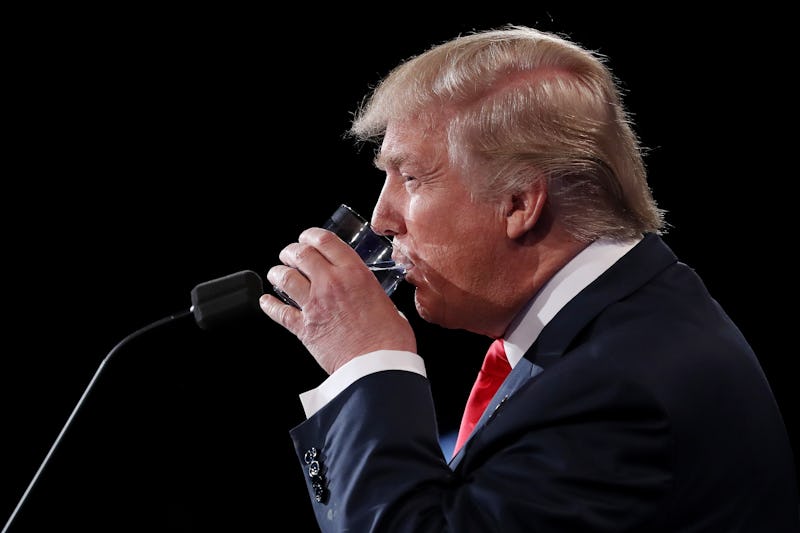 Joe Raedle/Getty Images News/Getty Images
No trip to England is complete without sharing a cuppa with the Queen. But while most folks have to content themselves with an afternoon tea sans the British monarch, President Donald Trump and First Lady Melania Trump are expected to indulge in scones, cakes, finger sandwiches, and, yes, tea with Queen Elizabeth as part of their visit to the United Kingdom later this week. But does Trump drink tea? There are at least some beverages the president refuses to drink.
Buckingham Palace announced Wednesday that the Queen would have tea with the Trumps at Windsor Castle on Friday as part of the U.S. president's "working visit" to the United Kingdom. Prior to their tea, a guard of honor will perform a Royal Salute before Trump joins the Queen to "inspect" the guard, Buckingham Palace said in a press release. But while Trump is unlikely to turn down a cup of Darjeeling with the Queen for diplomacy's sake, it's unclear if he indulges in the aromatic beverage on his own.
Prior to the 2016 election, President Trump had, on more than one occasion, claimed he'd never had a cup of coffee. "I've never taken drugs of any kind, never had a glass of alcohol. Never had a cigarette, never had a cup of coffee," the Daily Dot reported he wrote in his 2000 book The America We Deserve.
Fifteen years later, Trump told Esquire magazine that his brother's addictions to alcohol and cigarettes had led him to steer clear of as many addictive substances as he could, including caffeine. "To this day I've never had a cigarette. I've never had a glass of alcohol. I won't even drink a cup of coffee," Trump told the magazine. "I just stay away from those things because he had such a tremendous problem."
But Trump doesn't abstain from all forms of caffeine. The president reportedly drinks 12 Diet Cokes a day, according to the New York Times. What's more, Trump was seen breaking his own no-coffee rule while on the campaign trail in 2016. According to Eater, Trump was seen taking at least one sip from a Cuban coffee while visiting Versailles Restaurant in Miami's Little Havana. The president was also seen sipping coffee with King Salman of Saudi Arabia while on an official state visit to the country last year.
Likely, the president will put his beverage preferences — whatever they may be — aside for one afternoon to politely sip some tea while meeting with the Queen later this week. But if it's concerns about a potential caffeine addiction that keeps Trump from enjoying a daily hot cup of joe, one afternoon tea with the Queen shouldn't be much of a problem. Should Trump decide to sip a cuppa with the Queen, he'll find the average level of caffeine in most teas to be on par with a can of Diet Coke rather than coffee. A 12 ounce can of Diet Coke contains 46 milligrams of caffeine compared to the roughly 142 milligrams of caffeine found in a 12-ounce cup of coffee.
Although the Trumps are headed across the pond, they're expected to avoid the area where hundreds have planned anti-Trump protests, as much as possible. Downing Streeet announced last week that President Trump would spend just one night of his visit — the evening of his arrival — in London, with the majority of his meetings and events planned to be held outside the city.
According to Reuters, more than 50,000 people are expected to join a giant orange "Trump baby" balloon to in London protest Trump, his immigration policies, and his perceived racist and sexist rhetoric during his visit.