Morello & Vinny Struggle In 'OITNB' Season 5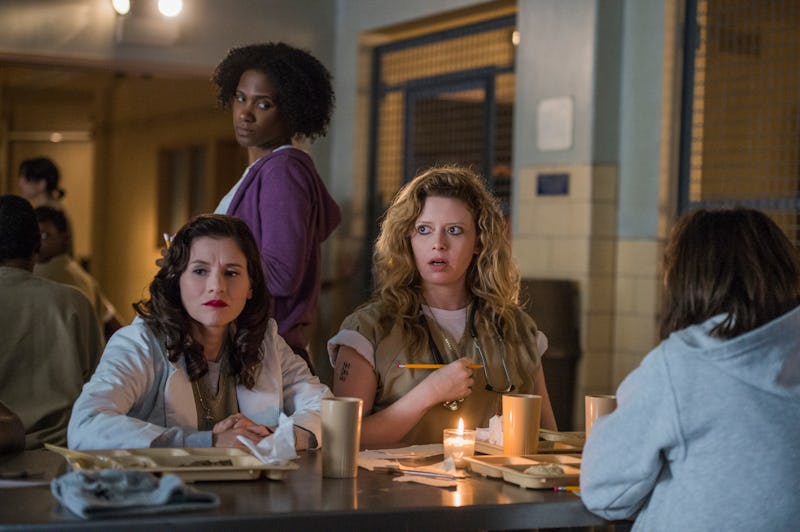 Netflix
There aren't a lot of great fathers on Orange Is The New Black. Many prisoners have complicated, at best, relationships with their fathers and C.O. Bennett famously dropped off the face of the planet after realizing he couldn't handle being the father to Daya's child. SEASON 5 SPOILERS AHEAD. For a moment, it looks as though Vinny, Morello's husband, falls into the same pattern as many other fathers on OITNB and almost leaves Morello to navigate being a mother on her own. Vinny wouldn't be the first man to abandon his own child on the show, but if Vinny comes back to Morello on Orange is the New Black, he could be one of the first fathers on the show to make a change for the better while it still counts.
In Vinny's defense, Morello's relationship with reality means that a pregnancy is a lot more complicated that a usual pregnancy. While any pregnancy would have difficulties, Morello's history of creating false realities brings the question of whether or not the baby is even real into the mix. Even Morello's best friend, Nicky, is skeptical of her impending motherhood — so was this all just too much for Vinny to handle? And if so, what would bring him back to Morello?
As it turns out, in a surprise to even those closest to Morello, she actually is pregnant. When Vinny and Morello consummated their marriage in Season 3, Morello became pregnant with his child and she's got a plethora of positive pregnancy tests to back it up. Which is good, but does that mean Vinny still wants to raise the child of a prisoner, even if it is his own wife?
Vinny may have temporarily gotten cold feet, but luckily for Morello she has some friend who are willing to go to bat for her. Nicky manages to give Vinny a phone call and remind him that Morello may not always know what's real and what isn't, but that what Vinny and Morello have is absolutely real. That reminder is all it takes for Vinny to get back to the prison, where he's waiting for Morello outside as the prison riot comes to an end. Vinny makes a run for it to reach Morello and is tackled to the ground, but not before letting her know that he's "all in." Despite being an unhappy ending for many prisoners, it looks like Season 5 ended pretty well for Morello.
Morello's happy ending doesn't last long, however, when a series of buses roll up to Litchfield to transfer the prisoners to other prisons as Litchfield gets put back together. Morello's future was already uncertain when she found out she was having a baby, but now she's being moved to an unfamiliar prison with no support system. Morello's life could get more difficult than every before depending on where she ends up, but at least now she knows that she'll have Vinny on her side no matter what happens between them.