6 Signs Your Dog Has Anxiety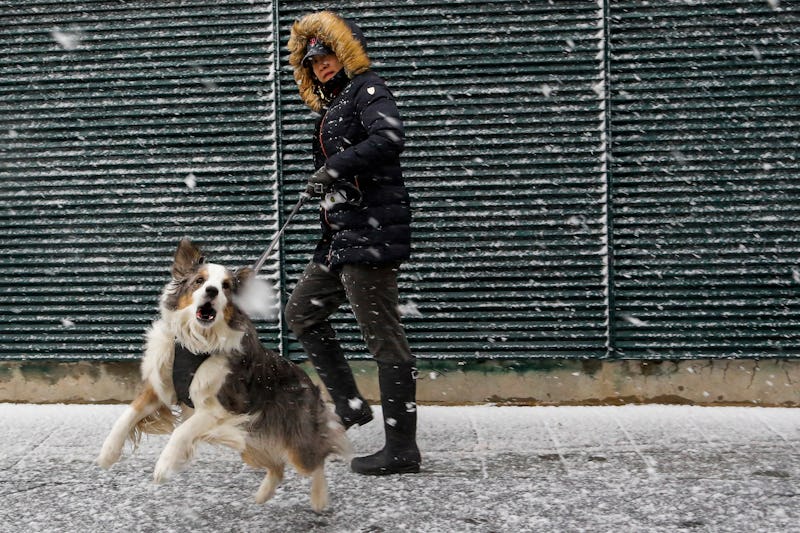 Eduardo Munoz Alvarez/Getty Images News/Getty Images
We usually think of dogs as happy-go-lucky animals, but just like people, man's best friend can experience anxiety, stress, and even depression. Like their human counterparts, a dog's anxiety symptoms can be triggered by a variety of stressors. "Anxiety occurs when a trigger is presented that causes the dog to anticipate something negative is going to happen or when a dog feels threatened," Marny Nofi, a senior manager on the American Society for the Prevention of Cruelty to Animals's Anti-Cruelty Behavior Team, tells Bustle. "Anxiety can occur in dogs when they encounter something they haven't experienced before. Some dogs can also suffer from separation anxiety, a fear of being left alone, or a fear of loud noises. Signs of anxiety can often be very subtle, and easily missed by people, even pet owners."
Moreover, Dr. Ann Hohenhaus, a staff doctor at NYC's Animal Medical Center, explains that dogs don't always need a reason to be anxious: They can simply have an anxiety disorder. "I have patients who we think have a generalized anxiety disorder, based on their actions when they meet strangers, or their actions when they come [to the veterinary office]," she says.
If you suspect your pup is anxious — whether it's triggered by something specific or not — these are six signs of anxiety that experts says to look out for.