Dolce & Gabbana Has Postponed Its Shanghai Show Following Accusations Of Racism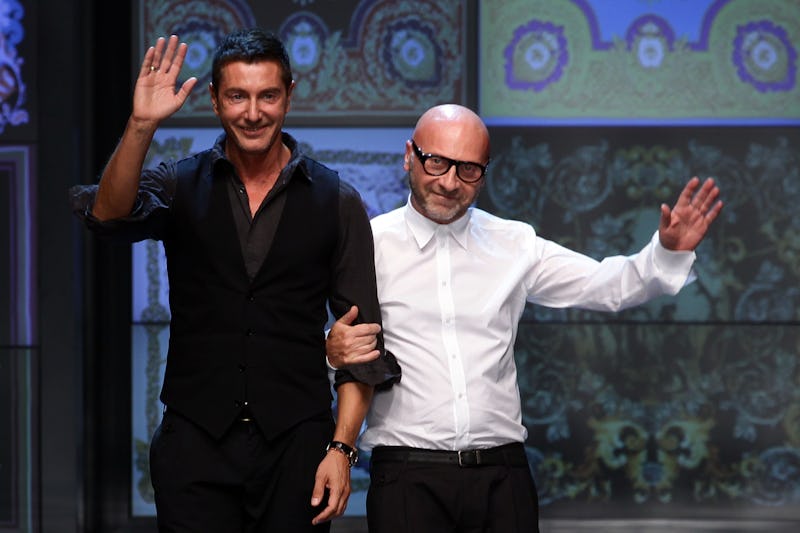 Vittorio Zunino Celotto/Getty Images Entertainment/Getty Images
Italian fashion label Dolce & Gabbana has reportedly cancelled its Shanghai fashion show following accusations of racism from commentators and members of the public. As Jing Daily reports, on Nov. 18, Dolce & Gabbana released a series of videos to promote its upcoming show in Shanghai. The #DGLovesChina campaign saw Asian models attempting to eat a variety of Italian food with chopsticks. One particularly tone deaf scene involves an unseen man asking a cannoli-eating female model: "Is it too huge for you?"
Posted on both China's Weibo social media platform and on the brand's Instagram account, the storyline did not go down well with the Chinese public. Jing Daily stated that many believed the stereotypical portrayal of Chinese women was blatantly racist and that Dolce & Gabbana was "arrogant" about its own Italian culture. Less than 24 hours after the video was posted, it was deleted from Weibo. However, it is still there for all to see on Instagram.
A further controversy ensued when private messages purporting to be from Stefano Gabbana's personal Instagram account were leaked by the Instagram page Diet Prada, which is renowned for calling out problematic fashion industry practices. In what seems to be a private message exchange between the fashion designer and Instagrammer Michaela Phuong Thanh Tranova, Gabbana appears to insult China by calling it "the country of 💩💩💩💩💩," and claimed the D&G team removed the video from Weibo against his wishes.
The leaked images have reportedly led to difficulties for the brand's multimillion dollar show in Shanghai. According to WWD, several celebrities who were scheduled to attend the show pulled out. The publication also reports that a Chinese modelling agency representing 24 of the models who had been booked to walk were also boycotting the show.
Dolce & Gabbana took to Instagram to post an apologetic message, claiming that both Gabbana's and the brand's accounts had been hacked. "Our legal office is urgently investigating. We are very sorry for any distress caused by these unauthorised posts. We have nothing but respect for China and the people of China," read the post. But the damage had already been done. According to WWD, there were reports that local authorities in China had forced the brand to cancel the hour-long event.
In a statement sent to Bustle, a representative of Dolce & Gabbana said, "Our dream was to bring to Shanghai a tribute event dedicated to China which tells our history and vision. It was not simply a fashion show, but something that we created especially with love and passion for China and all the people around the world who loves Dolce & Gabbana."
The statement continued, "What happened today was very unfortunate not only for us, but also for all the people who worked day and night to bring this event to life. From the bottom of our hearts, we would like to express our gratitude to our friends and guests."
It's not an isolated incident for Dolce & Gabbana, the designers have become known for problematic campaigns and statements which have been considered offensive towards minority groups. In 2015, the designers offended many by calling children who had been born through IVF "synthetic" and stating that they "oppose[d] gay adoption." A year later, the brand listed a style of shoe as a "slave sandal" on its website. And earlier this year, Gabbana faced criticism for calling Selena Gomez "really ugly" in an Instagram comment.
These controversies have resulted in a loss of support from many celebrities and members of the fashion industry. And now, it seems as if the brand could have caused irreparable damage to its relationship with an entire country.
China is a huge market for any luxury brand. As Jing Daily points out, a report stated that more than 30 percent of Dolce & Gabbana's sales in 2016 came from the Asia Pacific region. That figure could be about to see a huge nosedive, especially when you take into account that this isn't the first time the brand has angered Chinese consumers.
A 2017 #DGLovesChina campaign was also deemed to be disrespectful and was, again, later deleted from Weibo. Instead of showcasing the modern side of Beijing, the advert only depicted the city's impoverished neighbourhoods, furthering the false narrative that China isn't as developed as other countries in the world.
Respecting other cultures should be of paramount importance to a brand that has customers in all four corners of the globe. If these recent events are anything to go by, that message is still yet to hit home.