Here's Why Don Jr. Says He's Not Getting Trump Any Birthday Gifts This Year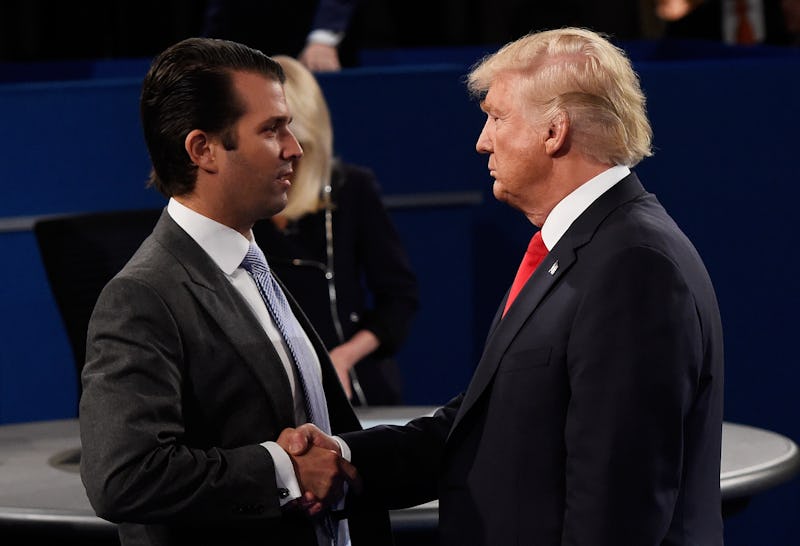 Pool/Getty Images News/Getty Images
Donald Trump turned 72 years old on Thursday, but his eldest son isn't marking the occasion with any gifts. "You're getting absolutely no presents," Don Jr. said in a Fox & Friends interview when asked to communicate a message for his father. The anchors laughed — but though he was flippant, he wasn't kidding, and went on to give an explanation for why Don Jr. isn't getting Trump any birthday presents this year.
"You're getting absolutely no presents because I figured five grandchildren is enough," he said, "and what do you get the most powerful guy in the world? Anything's going to be a letdown."
Don Jr. had some warmer words for his father, too. "We look forward to seeing you soon," he said. He told the show hosts, "I don't get to see him that much anymore, that's the only problem." Looking at the camera and addressing his father, he said, "I love you very much."
Of course, Trump may not be expecting a present from his son — he doesn't seem to be particularly focused on gifts these days. He told Fox & Friends on Melania's 48th birthday on April 26 that "maybe I didn't get her so much. I got her a beautiful card." He explained, "I'm very busy to be running out looking for presents."
Ivanka shared a birthday message for Trump on Thursday, too, though hers came via Twitter. "Happy, happy birthday Dad! I love you very much," she wrote, sharing a photo of the two of them from the '80s. "Wishing you your best year yet!!!" Karen Pence, wife of the Vice President Mike Pence, also tweeted in honor of the occasion.
Trump began celebrating his 72nd birthday several days early. While he was participating in the high-profile North Korea summit on Monday, Singaporean officials presented him with an enormous cake. Singapore's Minister for Foreign Affairs tweeted out a picture of the moment and wrote, "Celebrating birthday, a bit early."
As far as celebrations on his actual birthday, The Hill reports that the president has no public schedule for the day but that it will include "ice cream and cake."
As Newsweek notes, Trump held many lavish celebrations for himself in the decades before he entered the White House. His 42nd birthday party, for example, took place in 1988 at an Atlantic City casino and was "kicked off with a 15-foot spaceship zooming from the stage to hover amid smoke and flashing lasers above the birthday boy," according to The Washington Post. "Next to come was to be a magician and then dancers performing to a version of Michael Jackson's 'Bad' reworked to honor the real estate mogul." The organizers even managed to get Ronald Reagan, who was president at the time, to write Trump a telegram for the occasion.
Needless to say, that level of spectacle doesn't fit the solemnity of the White House. And his celebration last year was subtle, if it even happened at all — according to Observer, his public schedule for the day was completely rearranged after a gunman that morning opened fire on Republican members of congress who were playing baseball on a field outside D.C.
Trump spoke to the nation about the shooting that day and told the injured Representative Steve Scalise (R-LA) that he had "the prayers not only of the entire city behind you but of an entire nation." That night, according to Observer, the president had dinner with his family.
Trump's birthday got off to a rocky start this year: The New York State attorney general filed a massive lawsuit on Thursday morning against him, his family, and The Trump Foundation. It accused them of using the charity's money for "at least five self-dealing transactions" and of breaching campaign finance law.