Trump Reveals What He Got Melania For Her Birthday & Admits It Isn't "That Much"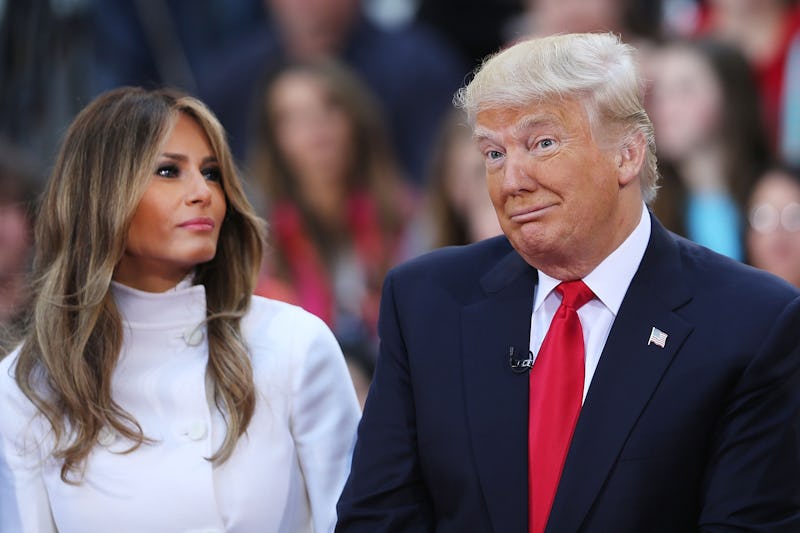 Spencer Platt/Getty Images News/Getty Images
The first lady of the United States turned 48 on Thursday, but not with excessive pomp and circumstance. During an interview with Fox & Friends that morning, it was revealed what Trump got Melania for her birthday — and well, he admitted it wasn't "so much."
The president brought up the topic at the start of the interview. "I picked a very special day" for this conversation, he said. "It's Melania's birthday."
The interviewers asked what he'd gotten her for a gift, to which he replied: "Maybe I didn't get her so much. I got her a beautiful card," before later adding that he also got her "beautiful flowers." It's not clear whether that card was one from him or if it was the electronic one he asked his supporters to sign for her in an email a week and a half ago.
He said that his schedule is too full to afford him time to buy fancier gifts. "I'm very busy to be running out looking for presents," he explained, and said that he didn't want to elaborate. "I better not get into that because I may get into trouble."
During the interview, Trump praised his wife's efforts to help host French President Emmanuel Macron and First Lady Brigitte Macron at the White House earlier in the week. "She did a fantastic job with France," Trump said. Melania designed and organized a state dinner for the Macrons — the first state dinner of Trump's presidency. A White House representative told CNN that Melania "selected every item and every detail for the dinner" herself.
Trump devoted some kind words to his wife last week in honor of her birthday. In an emailed message to supporters, he wrote: "This month, our family is looking forward to a very special day. Please join us in celebrating the first lady and my beautiful, kind-hearted and exceptional wife Melania's birthday by signing her card."
"Melania is my rock and foundation, and I wouldn't be the man I am today without her by my side," he continued. "She's the cornerstone of our family, and an incredible mother to our son, Barron. I'm so proud of her accomplishments, and I hope you'll wish her well on her special day."
It's not yet clear whether the Trumps will be celebrating Melania's birthday in any other way. When she turned 47 last year, the first lady attended a luncheon with a group of politicians' spouses, including Karen Pence — the wife of the vice president — and the wives of some senators and cabinet members. A communications official told CNN that the president and first lady had planned a "private celebration" to take place in the White House that night.
It looks like Melania's birthday will pass without much high-profile festivity this year. During Trump's time in office, the couple hasn't tended to celebrate personal special occasions with public ostentatiousness. They let their latest wedding anniversary go by without commenting on it on social media or elsewhere.
Trump and Melania have been married for 13 years. They wedded at Mar-a-Lago in January of 2005 after dating for over six years. The story of their meeting — at a New York City Fashion Week party in late 1998 — is famous. Trump showed up with a different date, but was immediately taken with Melania instead. She declined to give him her number, because he was there with another woman, but did accept his (he gave her as many as he could, from his office line to one at Mar-a-Lago). They began dating soon afterward, and have been together, with a few breaks, ever since.