Experts Explain What Don Jr. & Eric Trump's Body Language Reveals About Them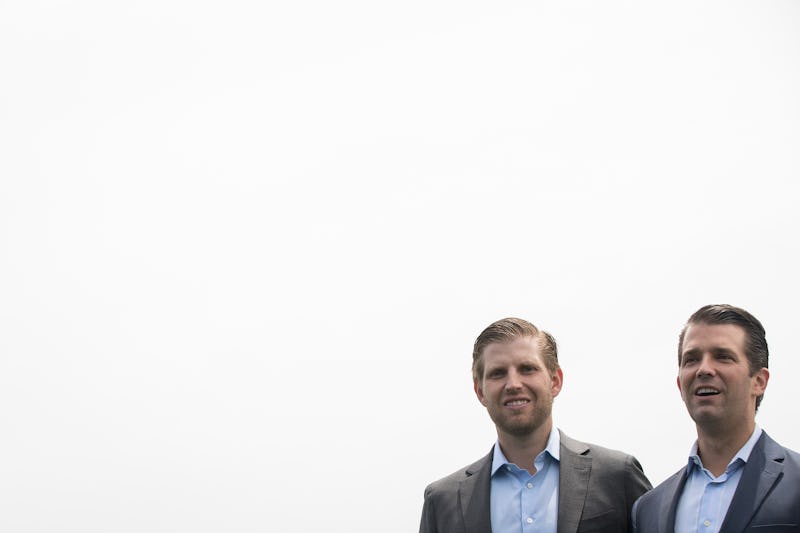 Drew Angerer/Getty Images News/Getty Images
Donald Trump Jr. and Eric Trump are seen together at myriad events — they happen to be business partners and sons of the current president, after all. But it's pretty difficult to figure out how they actually feel about each other. Experts say Don Jr. and Eric Trump's body language shows that the brothers are just as close as their intertwined lives would suggest.
"Anything [the media] say negative about the brothers is kind of wrong, because they're very connected to one another, body language wise," body language expert Dr. Lillian Glass tells Bustle.
This is evidenced by the way they comport themselves around each other, according to Glass — they look relaxed, comfortable, and "the most genuine we ever see them." Their strong relationship probably helps them do their respective jobs, as they've been running the Trump Organization together since their father became president.
They do have a few years between them in age — Don Jr. is 41, and Eric is six years his junior at 35 — so it's natural that between the two, body language expert Traci Brown sees a clear hierarchy.
"Don is in charge; Eric's coming along for the ride," Brown tells Bustle, and Glass agrees. But based off these photos of the brothers, neither believes that the hierarchy is a source of tension.