Donald Glover Dressed As An 'Atlanta' Character At The Emmys & Twitter Had So Many Thoughts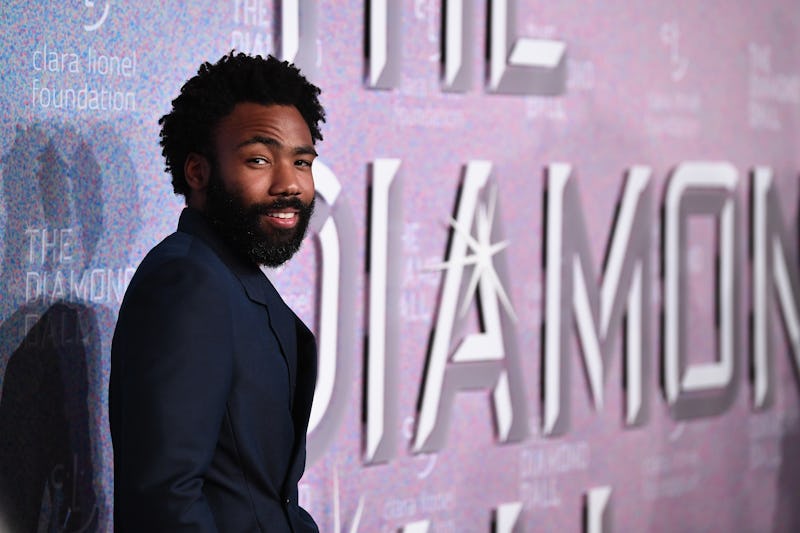 Dimitrios Kambouris/Getty Images Entertainment/Getty Images
Donald Glover does it all — he sings, he writes, he dances, he acts, and he challenges the everyday notions of American society. His groundbreaking show, Atlanta, is a smash hit with critics and fans alike, so it's no wonder that he's amassed both Emmy awards and Emmy nominations for his program. That being said, Glover also does one more thing — confuses people. At least, that was the case when fans saw him at the Emmys on Monday night. That's right — Donald Glover dressed as Teddy Perkins at the 2018 Emmys, leaving fans simultaneously perplexed and wanting more.
First, a little back story — Teddy Perkins first appeared on Atlanta in the surrealist episode of the same name. It centers on Darius and a journey to retrieve a piano he wants to buy off the Internet. He ends up at Teddy Perkins house, and, well, Teddy Perkins looks a lot like Michael Jackson, whitewashed skin and all. Turns out that Teddy is keeping his brother, Benny, as a prisoner in the basement, and, uh, Benny wants Darius to take Teddy out so he can be free. There's a lot of talk of pain and loss and abusive parenting skills and adolescence, and also a very snotty soft-cooked ostrich egg that still makes me want to wretch. I won't spoil the ending for those who haven't seen it, but it's not pretty. And it makes it especially hard to believe that Teddy Perkins would come back looking so good at the Emmys.
Some Fans Spotted Teddy Quickly
To be fair, that face is hard to miss.
Now, Teddy Perkins seemed to appear at about the time Donald Glover was eligible to accept the award for Outstanding Lead Actor in a Comedy Series, but Bill Hader won for his role on Barry, and so Teddy Perkins never got to go up on stage — that seemed like Glover's plan, anyway. But then, things got weirder — by the next commercial break, regular old Donald Glover was back in the audience! With his regular face!
Fans Were Surprised To See Donald Again
Donald Glover can commit, but maybe he just doesn't want to commit here. That last tweet brings up a point — is this Teddy just someone else? Did Donald Glover hire someone to dress as Teddy, because that's a lot of makeup and work to pop in and out of that quickly?
Fans Started Their Own Conspiracy Theories
What. Does. It All. Mean? Donald, help us!
Frankly, I've never had to think this hard during an awards show, but it's OK in the case of the 2018 Emmy Awards, because they were pretty boring. The jokes didn't land as well as Michael Che and Colin Jost probably hoped, and Donald Glover did them a favor — he created some buzz and chatter around a front row of surefire winners. And isn't that what entertainment is supposed to do?