Donald Glover Was Progressive Before "This Is America," But You Just Didn't Notice It Until Now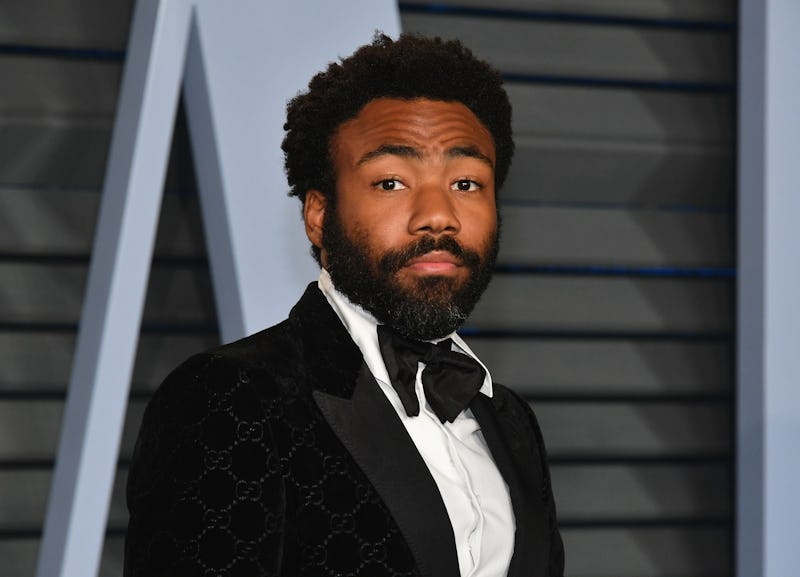 Dia Dipasupil/Getty Images Entertainment/Getty Images
Donald Glover's latest visual for "This Is America" has caused quite a stir. Between its in-your-face look at what black people face in this country, and his perfectly distracting dance moves, Glover definitely caught the world off-guard — with many celebrating the artist's progressiveness, as if it were something new. But newsflash: Even before "This Is America," Donald Glover has always been progressive. The world is just now noticing it.
Before winning hearts and Emmys with his FX hit show Atlanta, or Grammys with his critically-acclaimed 2016 album Awaken, My Love!, Glover had made it a habit to shatter every glass ceiling in his way. And his resume makes it clear that he's pluralist in every sense of the world. He began his budding career as a writer on 30 Rock, before making the successful transition to stand up comedian and actor, by way of NBC's hit show Community. But Glover didn't stop there.
Along with adding those coveted titles to his repertoire, the artist also managed to intertwine his love for music seamlessly — garnering a smooth fanbase along the way under the moniker Childish Gambino. By not pigeonholing himself into one genre of artistry, Glover solidified his positioning as a pluralist, and shattered stereotypes of what a black artist is supposed to be or look like. But with staying true to himself came with its own host of challenges, of course. Because onlookers, both black and white, didn't know how to classify his artistry, he often times found himself staring criticism in the face for being "too white" for black audiences, and "too black" for white audiences.
In 2013, Glover made a much-needed appearance on the hit HBO show Girls, alongside its star and creator Lena Dunham, as her short-term republican boyfriend Sandy. Prior to Glover's role, and even after, the show was majorly criticized for its lack of diversity and tokenization of anyone who made an appearance and wasn't white. But even though Glover was only in the picture for a short amount of time, his character made a lasting impression with his final monologue to Hannah (as played by Dunham) about her white, female privilege.
While speaking with Tad Friend about Glover in his March 2018 profile piece in The New Yorker, Dunham declared that those very lines, though they seemingly had a greater effect on viewers instead of Dunham's actual character, were totally improvised by Glover, saying "every massive insult of white women was one hundred per cent him."
Seven years ago, Glover received some backlash for lyrics that listeners perceived as fetishizing Asian woman and comments that disparaged black women's attractiveness. But Glover was presumably in his 20s at the time of the project's creation, and though it doesn't excuse the behavior, we all know, with time young minds can mature. Glover is now 34, and "This Is America" includes a great amount of diversity, but is also telling of just how in-tune and cognizant the talent is to what's going on in the world today.
Glover released his most recent masterpiece, "This is America," Saturday, and it immediately garnered a slew of positive feedback, including over 40 million YouTube views in its first week. The new visual focused heavily on gun violence, and the mistreatment of and lack of respect for black Americans, showcasing, not only, how easy it is to obtain a weapon in this country, but also how American's cherish weaponry more than they do actual lives — with Glover's character in the video taking better care of his guns more than the black bodies lying on the ground.
Warning: This video contains images of gun violence that some may find triggering.
Glover's character's erratic behavior in the video seemingly served as a distraction to all of the chaos brewing behind him, and as a result, crafted one of the most talked about and teachable moments in entertainment this year. There are so many theories and interpretations of Glover's latest art piece floating around the internet, but a common thread within all of them is the acknowledgement that the talent is painting a picture of what America looks like today.
With hip hop being the biggest genre of music in the world, it's disheartening when you think about the ever-growing disenfranchisement of the people it represents. It's easy for America to love black entertainment — whether that be reality television or music — but when it comes to making mention of the many injustices people of that same community face, there are, more often times than not, crickets.
Needless to say, Glover's timing is impeccable. The message within "This is America," no matter how graphic it may have been, couldn't have come at a better time and was well received by most. Pairing his latest visual with that of the musings of Atlanta, and it's easy to see why fans are starting to flock to Glover in droves. Through his art, he's showing the world where he stands on some of the most controversial topics, but, that's not what makes Glover progressive. What makes the Atlanta native progressive is his brass-bound drive to accomplish what many would, otherwise, deem as impossible.
While speaking with The New Yorker in the aforementioned March interview, the multi-talent made mention of his life's achievements being attributed to his desire to "figuring out the algorithm to life." And once he did that, Glover was able to accomplish any and everything he set his mind to. Glover embracing his pluralism and becoming a "Jack of all trades, and master of many" over the span of his career, the artist has proved that it's possible to hone in on all of your god-given talents, and create a masterpiece. And with that, he put an end to a longstanding myth that could have, potentially, been to blame for a lot of stifled and broken dreams.
"This is America" is undeniably one of the most grappling pieces of art that I've ever had the pleasure of seeing. And though there so many other accomplishments for fans of Glover to fawn over, I'm just happy he's finally getting the recognition — as an artist who surpasses all expectations — he deserves.