Donald Glover's Meeting With The Original Lando Calrissian Will Crack You Up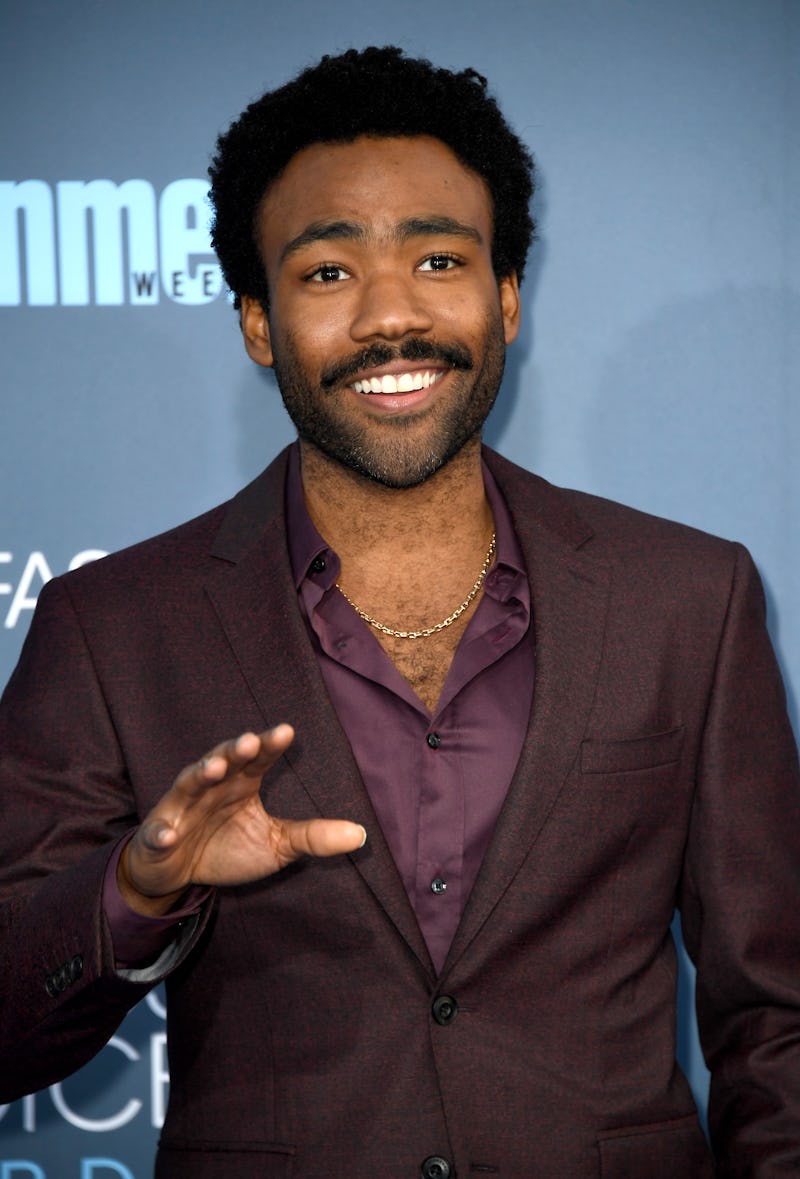 Frazer Harrison/Getty Images Entertainment/Getty Images
Ever since the actor was announced as playing the iconic role in Han Solo: A Star Wars Story, fans have been getting pretty excited for Donald Glover's portrayal of Lando Calrissian. Well, if a recent interview with The Hollywood Reporter is any indication, then Glover's vision for Calrissian may give fans a more complex version of the character than the original franchise did.
At the start of the interview, Glover reveals an incognito meeting with original Calrissian actor, Billy Dee Williams, which is described in the piece as being "a top-secret torch-passing arranged by Lucasfilm." The actor apparently re-enacted the exchange while "full-on laughing," explaining,
"'I've always felt like this character could do this, and he represents this, and I kind of feel like he comes from here, and it's very obvious he has a lot of taste, so maybe he grew up seeing that from afar? Because I'm like that. Maybe he saw it from other planets and was like, 'I want to be that.' [Williams] just let me ramble on and on, and then finally I was like, 'So, what do you think?' And he goes, 'Yeah, I don't know about all that. Just be charming.'"
Glover is obviously brimming with the natural charm that makes him perfect for the role of a smooth-talking rogue like Calrissian. However, you don't hire a performer like Glover just for his charm. And, as evidenced from his passion for the role, it'd be a shame if the actor was genuinely dissuaded from taking a more in-depth approach to the character.
It's worth remembering, after all, that though the character provided some much needed inclusive characterization to the original Star Wars movies, it was still done in such a manner that some fans found problematic. As Mashable once put it, "The first black character in the Star Wars series shows up two-thirds of the way through the second movie — and is revealed to be debonair but untrustworthy, having sold out his guests to Darth Vader before they even arrived." Admittedly, Calrissian's heroics throughout Return Of The Jedi also help to provide some balance to this problematic aspect of the character's overall arc. But still.
Glover should be given full reign on this character to play with the dimensions of Calrissian however he sees fit. Because, looking at the character through such a lens, it's easy to reduce him to being little more than charming and duplicitous. However, as every Star Wars fan knows, there's so much more to know about Calrissian and his relationship with Han Solo.
Glover is exceedingly charming, but he's also incredibly smart and precise in his delivery of characters. That's exactly what Calrissian's backstory, and Star Wars fans, deserve to see added to the character. Williams' portrayal of Calrissian was exceptional in the original movies, but this is Glover's time to shine. And you know what? He's got this.