Donald Glover Is Really Pumped To Play Lando Calrissian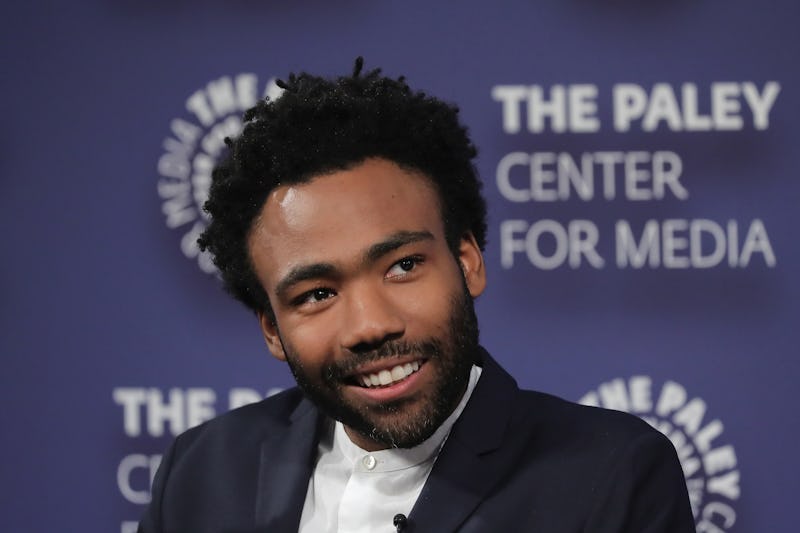 Neilson Barnard/Getty Images Entertainment/Getty Images
At this point, it's not safe to say that you couldn't be more excited for the Rogue One follow-up. Because the moment you do, Donald Glover talking about playing Lando Calrissian is going to prove you wrong. The 33-year old sat down with Deadline for an expansive interview covering his current projects, and his excitement about the Star Wars project stood out. The Han Solo anthology film doesn't even have a title yet, but Glover is already deeply submerged into the character of the space smuggler, and I am here. for. it.
The role was originated by Billy Dee Williams in The Empire Strikes Back, but it doesn't sound like Glover will be copying his portrayal. He makes it clear that he respects Williams and grew up loving the character, but that he'll be making Lando all his own once the project hits screens in 2018. He said,
"Lando seems to be a lot of people's favorite character. It's cool. It's a lot of pressure, but it's also very exciting. He was my favorite character too. I grew up on Star Wars. It's just cool to see him again."
I love how downright excited Glover sounds to grapple with this challenge. A character everyone loves? A character that he himself grew up idolizing? Bring it on. And don't get complacent, because the actor-director-rapper-comedian is adding whole other layers to the classic character. Lando Calrissian is bringing a lot to the table as is, but Glover wants to up the ante even more. He feels like the smuggler is even more multifaceted than his friend Han Solo. And you better believe he's going to show you that.
Glover told Deadline,
"I feel like people like him 'cause he has a lot of style, but also he's a complicated character in this world. I think even Han isn't as complicated as Lando is. From the first time you meet him, you don't know whether to trust him or not, and you're constantly not knowing whether to trust him. I like that about him."
For another actor, this might be too daunting a task to take on, but at this point, Glover is way more than an actor. He's tackled so many challenges throughout the industry that he says it almost feels like a reward to be able to turn off those other parts of his brain.
For once, he gets to focus just on his own character, instead of a bird's eye view of the whole project. It's a big, exciting change, and I can't figure out who's more pumped about that — me or him. As Glover explained,
"This is probably one of my favorite experiences ever. For working under, like, a huge conglomerate, it's actually been quite an enjoyable, artistic thing. I get to play him in a way that I think is honest and true and cool. And it's great 'cause I didn't have to write anything, I'm focused strictly on being this guy. And I really respect him and I respect the actor who played him before. I've learned a lot about this character, so it's actually been really fulfilling and nice to just turn off everything else and focus on just being someone. So it's been cool."
Truly, I can't imagine an interview that could make me more pumped up for a movie. I so respect the work that Glover has done in the past, from comedy to music to creating and starring in his own show. So when he says this is one of his favorite experiences ever, that's enough to make me sit up and pay attention.
Without even dropping any plot details or spoilers, Glover just took my anticipation for this film to another level. And that, my friends, is how it's done.