Trump Called Journalists The Enemies Of America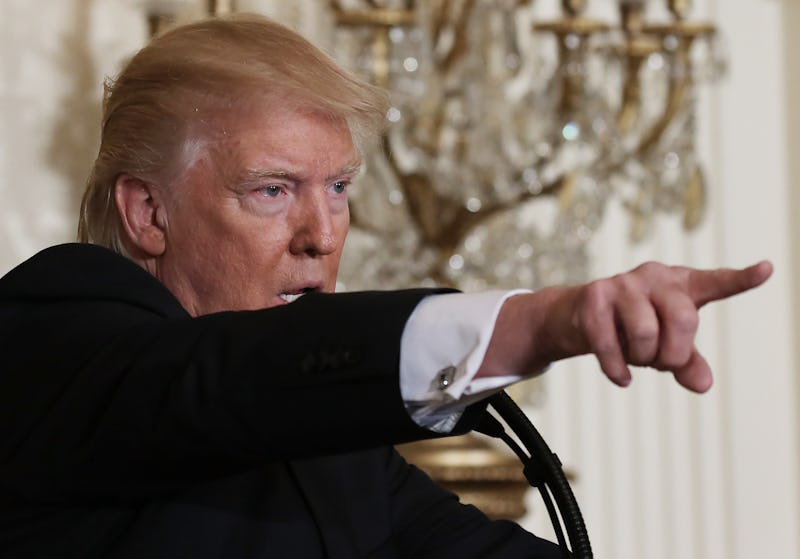 Mario Tama/Getty Images News/Getty Images
In a tweet that he quickly deleted and then resent, President Trump called journalists the enemies of America on Friday. Specifically, he said that the "FAKE NEWS media," comprised of several mainstream news outlets that have reported negatively on Trump, is "the enemy of the American People!" This is an alarming thing for an American president to say, as he's denouncing a time-honored American institution and one of the biggest things that separates liberal democracies from dictatorships: Freedom of the press. Nevertheless, let's not allow this lone tweet to distract from the other controversies in Trump world right now.
Trump sent two versions of the tweet. In the first draft, he didn't include ABC and CBS in his list of "FAKE NEWS media," and closed the tweet out with a "SICK!" for good measure. In the final draft, he added ABC and CBS to the list, removed the "SICK!," and deleted an erroneous double-space.
This was an irresponsible and reckless thing for the president to say, and many people were understandably chilled to see a president declaring the press "the enemy of the American People." Normally, that phrase is applied to invading armies and suicide bombers, not journalists who report unflattering things about the administration.
Still, it's important to keep perspective. This tweet is shocking on its face, but it's far from the most shocking thing that happened on Friday. Around an hour before Trump sent denounced the media, FBI Director James Comey held a closed-door meeting with Senators about the investigation into Russia's alleged interference in the 2016 election, according to CNN. There's no word on what was said in that meeting, but it's still a notable development in Trump land. At the very least, it warrants more attention than a tweet that's bombastic but, as of now, inconsequential.
Of course, if Trump's tweet is to be believed, you should ignore that CNN report altogether, because it's "FAKE NEWS." In fact, one can't help but wonder if that line of thinking was what led Trump to send the tweet to begin with.
This isn't to say that we should ignore Trump's denunciation of the free press, which is indeed unprecedented. But at this point, Trump has almost done too many unprecedented things to keep track of, and if we're going to hold him accountable, we need to distinguish the cheap, flashy controversies from the weighty, substantive controversies plaguing the administration. In all likelihood, there will be plenty of both during Trump's administration — and some deserve more immediate attention than others.