Don Jr. Totally Ignored Equal Pay Day & Posted This National Sibling Day Photo Instead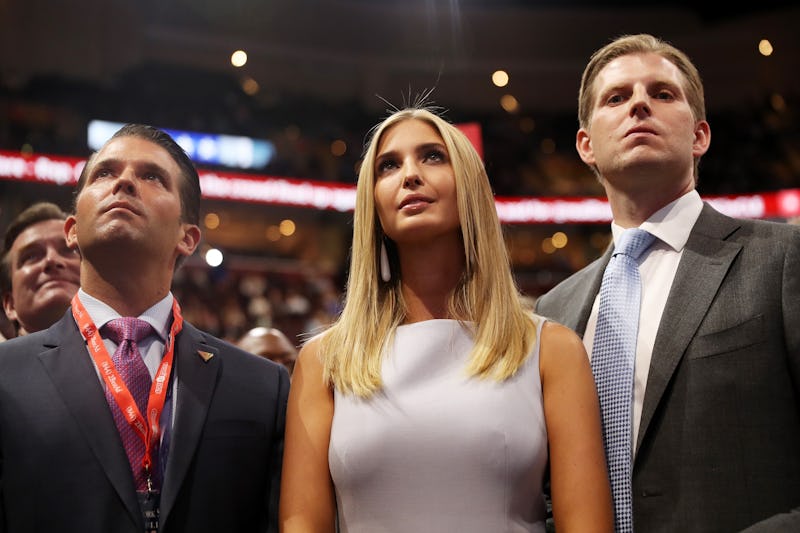 Joe Raedle/Getty Images News/Getty Images
On April 10, women and men around the United States acknowledged Equal Pay Day to draw attention to the gender wage gap. Notably, though, some high profile public figures chose not to raise awareness on this important day. Indeed, Donald Trump Jr. ignored Equal Pay Day and instead posted a national sibling day photo on Instagram. Don Jr. has not really spoken out on equal pay issues in the past. However, his non-acknowledgment of Equal Pay Day on social media sends a pretty clear message about whether the issue is priority for him.
On Equal Pay Day, Don Jr. shared a photograph on Instagram of himself and his two siblings, Ivanka and Eric, as young children. He captioned the photo:
Happy #nationalsiblingday everyone. I couldn't be more blessed to have @ivankatrumpand @erictrump as my siblings along with @tiffanytrump and Barron. The looks have changed a bit but the fun together will always be the same. #brothers#sisters#siblings
Don Jr. was not the only Trump sibling to ignore Equal Pay Day though. His sister, Ivanka, also did not acknowledge the event, instead retweeting posts about ending sex trafficking and about Tax Day. Ivanka's silence stood in stark contrast to her past advocacy for equal pay — a cause to which she promised her father would be heavily committed when she spoke at the Republican National Convention in 2016.
Indeed, Ivanka was very forthright in her commitment to addressing equal pay issues during this speech. As the now first daughter emphatically stated,
... Politicians talk about wage equality, but my father has made it a practice at his company throughout his entire career ... In 2014, women made 83 cents for every dollar made by a man ... As President, my father will change the labor laws that were put into place at a time when women were not a significant portion of the workforce. And he will focus on making quality childcare affordable and accessible for all ...
Eric Trump, Trump's youngest adult son, also did not acknowledge Equal Pay Day on social media. Indeed, he did not post anything on Instagram or Twitter on April 10. The White House also did not comment on the day of advocacy on Twitter, nor did President Trump on either of his Twitter accounts.
In addition to not acknowledging Equal Pay Day, in the past the Trump administration also reversed Obama-era initiatives designed to help diminish the gender pay gap. Back in August of 2017, the administration announced it was eliminating a planned Obama administration rule designed to encourage pay transparency. The rule would have required businesses with over 100 employees to record how much they pay employees by race, gender, and ethnicity. Employers would have then been required to report these salaries to the Equal Employment Opportunity Commission (EEOC).
In ending the rule, the White House's administrator of the Office of Information and Regulatory Affairs, Neomi Rao, characterized it as too bureaucratic, saying to the Wall Street Journal, "It's enormously burdensome ... We don't believe it would actually help us gather information about wage and employment discrimination."
According to CNN, at the time, Ivanka also expressed support for the decision, saying in a statement:
Ultimately, while I believe the intention was good and agree that pay transparency is important, the proposed policy would not yield the intended results ... We look forward to continuing to work with EEOC, OMB, Congress and all relevant stakeholders on robust policies aimed at eliminating the gender wage gap.
Overall, the Trump family and Trump administration's silence on Equal Pay Day seems to indicate that addressing the gender wage gap is not necessarily a priority. Their silence stands in contrast to the many people who worked to advocate for change on April 10.