Donald Trump Jr. Is Facing A Huge Backlash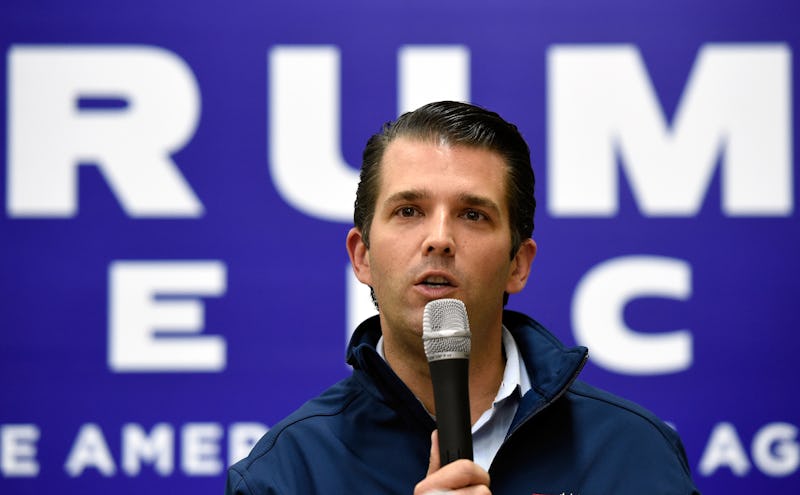 David Becker/Getty Images News/Getty Images
The president is not actually the member of his family facing the most heat for his tweets at the moment — or at least, he is getting a run for his money. Thursday morning saw a wave of backlash against Donald Trump Jr. for criticizing the London mayor directly following Wednesday's terrorist attack. To many critics, the timing and content of Trump's criticism showed an emotional callousness toward those mourning the victims of the attack.
On Wednesday, three victims died in the attack. After driving into pedestrians on Westminster Bridge and killing two people, Aysha Frade and Kurt Cochran, the assailant ended up stabbing an unarmed police officer, Keith Palmer, to death, as he was working at the gates of Parliament.
Rather than posting a message of solidarity, condolences, or well wishes toward people mourning in London, Trump attacked London Mayor Sadiq Khan via Twitter. The tweet shared an Independent article from September in which Khan mournfully said that London as a city should be well-secured and prepared because terrorist attacks were "part and parcel of living in a big city."
In context, the comment was made in response to the Chelsea bombing in Manhattan (which luckily killed no one), and was made to emphasize the importance of vigilance in major cities. However, when Trump retweeted the article after the attack, Khan's quote was left void of context.
Unsurprisingly, Trump's tweet drew immediate backlash. Labour Party member Wes Streeting responded to the tweet by calling Trump a "disgrace," and said, "You use a terrorist attack on our city to to attack London's Mayor for your own political gain. You're a disgrace."
A correspondent for Channel 4 News, Ciaran Jenkins made sure to point out Khan's quote was taken out of context. He tweeted, "Is this helpful @DonaldJTrumpJr? Did you even read the article before goading London's Mayor during a live incident?"
Following the Wednesday tragedy, an Independent report shared how Khan responded to the attack in a video statement:
"London is the greatest city in the world, and we stand together in the face of those who seek to harm us and our way of life. We always have and we always will. Londoners will never be cowed by terrorism. There will be additional armed and unarmed police officers on our streets from tonight in order to keep Londoners, and all those visiting our city, safe."
During an interview with CNN on Thursday, Khan said that he had priorities more pressing than Trump Jr's tweet: "I'm not going to respond to a tweet from Donald Trump Jr., I've been doing far more important things over the last 24 hours."