Don Jr. & Kim Guilfoyle Are Helping The Rep. Who Assaulted A Reporter Get Re-Elected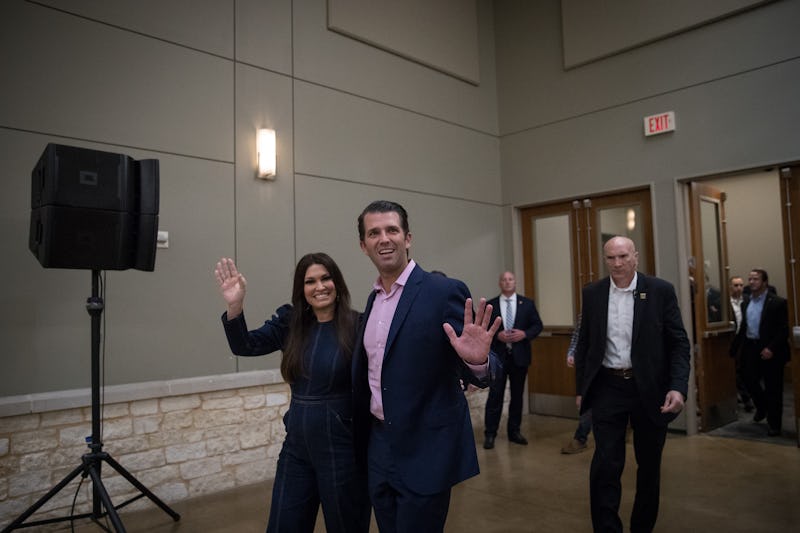 Loren Elliott/Getty Images News/Getty Images
Over the weekend, the president's son and his girlfriend spent some time hitting the campaign trail in Montana, including for a somewhat controversial candidate. Donald Trump Jr. and Kim Guilfoyle campaigned for Greg Gianforte, the Montana House representative who body-slammed a reporter for The Guardian back in May 2017.
On Friday Trump Jr. and Guilfoyle attended a rally in Great Falls, Montana, as The Great Falls Tribune reported. They were there to show their support for Gianforte, who is running for another House term, and Matt Rosendale, who is running for Senate. Both Trump Jr. and Guilfoyle spoke at the campaign event and offered heavy praise for the candidates.
Trump Jr. particularly praised Gianforte for what he believes are some of his biggest contributions to Montana's economy. "Who has brought more jobs to Montana than Greg Gianforte? He turned Montana into a tech hub," Trump Jr. told audiences, as The Great Falls Tribune noted.
For his part, the outlet revealed that Gianforte complemented the Trump administration's work on national security and its support for the military. In particular, the House representative indicated that he would like to work with President Trump to build a wall between the United States and Mexico to curb undocumented immigration.
In May 2017, Gianforte assaulted Guardian reporter Ben Jacobs at the House representative's campaign headquarters in Bozeman, Montana. Jacobs told The Guardian he had been attempting to ask Gianforte a question about the Republican health care plan when Gianforte body-slammed him to the ground.
"He took me to the ground," he said at the time. "I think he whaled on me once or twice. … He got on me and I think he hit me."
Jacobs added that it was "the strangest thing" to ever happen to him while reporting on politics.
In June 2017, Gianforte was convicted of simple assault for his actions toward Jacobs. The House representative was sentenced to 40 hours of community service and 20 hours of anger management classes, along with a suspended jail sentence, as The New York Times reported. Gianforte also paid $385 in court fees and $4,464.97 to Jacobs to cover costs stemming from the assault, including an emergency room visit. In describing his assault on Jacobs, Gianforte told The New York Times, "I grabbed his wrist. ... A scuffle ensued, and he was injured, as I understand it." He also told Reuters that he wasn't proud of his actions, saying, "This was not a proud moment, but I'm ready to move on and we have a lot of work to do in Washington."
Gianforte won his House election the day after he was charged with assaulting Jacobs. He now faces Democrat Kathleen Williams in the 2018 race for Montana's only House seat. As Montana Public Radio reported, the race is expected to be a very close one. This may explain why Trump Jr. and Guilfoyle are spending significant time rallying for Gianforte, along with Senate candidate Rosendale. The couple's stop in Great Falls on Friday was part of a multi-city campaign tour across the state, which has taken them to a total of eight cities in Montana.