Donald Trump Jr.'s Fake News Shirt Is Perfect For Him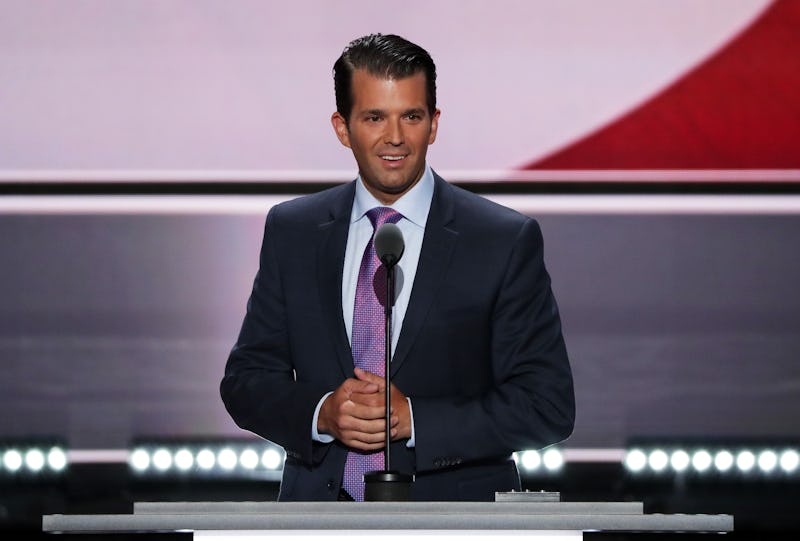 Alex Wong/Getty Images News/Getty Images
Trolling is seen by trolls as an art. The idea is to make a fool out of others by leading them to genuinely believe that one actually means whatever preposterous thing they are saying. Every netizen knows this — except Donald Trump Jr. who ended up trolling himself by posting a photo of him wearing a shirt labelled "very fake news."
Let's dissect this glorious photo. For context, Donald Jr. — like his father and his father's administration — is an aggressive critic of the purported "fake news" industry that supposedly peddles false information through various websites, channels, headlines, and soundbites. For example, Donald Jr. labeled the media "fake news" when former national security adviser Susan Rice appeared on MSNBC and denied allegations that she used intelligence to surveil President Trump.
Donald Jr. tweeted, "[Susan Rice] should have gone to CNN that way she would get the [questions] in advance [...] who am I kidding they were never going to ask a real question? #fakenews"
This time, however, the target in Donald Jr.'s tweet is the media in general. In a photo of himself wearing a bright green shirt with a large print saying "very fake news," he said he was looking to buy "5 [to] 10,000" of those shirts to hand them out to "buddies in the [mainstream media]." In a spirit of generosity, he also offered to model it for them.
This is where Donald Jr.'s attempt to troll the "mainstream media" hilariously fails. Much of the "very fake news" Donald Jr. seems to be critical of actually stems from his father's very own administration. A cursory glance at statements from various high-ranking officials in Trump's presidency demonstrates a rather alarming lack of credibility.
Here are some examples. There was White House counselor Kellyanne Conway's fictional "Bowling Green Massacre" that never happened, as well as Conway's baseless microwave spying claim against Obama, which she backpedaled on. There was press secretary Sean Spicer's "Holocaust centers" comment on how Adolf Hitler supposedly never gassed "his own people" like Bashar al-Assad — an egregiously false statement which Spicer clarified later.
Then there was — perhaps most damning of all — President Trump lambasting any news critical of his policies as "fake news." In one example, the president tweeted that "any negative polls are fake news, just like the CNN, ABC, NBC polls in the election." This points to a larger problem. The president seems to have less of an issue with "fake news" and more of an issue with any empirical findings critical of him.
After tweeting the photo, Donald Jr. received tons of responses. The internet loves a good trolling session but what it loves even more is watching an attempt at trolling gone embarrassingly awry.
In this case, Donald Jr. ended up labelling himself "very fake news" while trying to ridicule mainstream media. Naturally, the internet took this as a golden opportunity to teach Donald Jr. a lesson in Trolling 101.
That's why the internet rules. Donald Jr. probably forgot that his photo — inevitably taken out of context and thanks to the wonders of Photoshop — will be used as a representation of his own father's presidency.
Maybe the next time he decides to make a point against the "mainstream media," he will consider a trolling tactic that doesn't involve wearing a shirt that is more reflective of the misinformation from the White House than anything else.