Someone Just Bought One Of Donald & Melania's Nearly 13-Year-Old Wedding Cake Souvenirs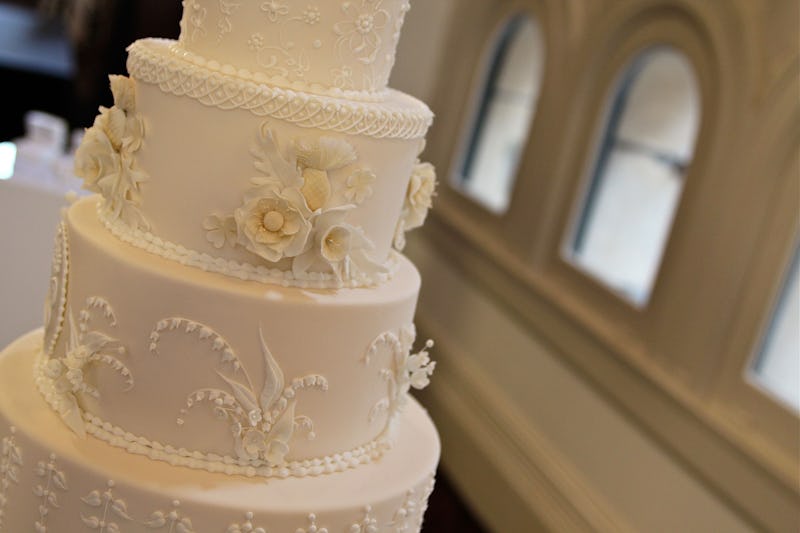 Mike Flokis/Getty Images Entertainment/Getty Images
An auction house has recently proved that people will buy anything, even 12-year-old cake. A wedding cake souvenir from Donald Trump's 2005 wedding to Melania sold for more than $2,000 Saturday in an auction featuring pieces tied to celebrities and other high-profile figures. While the cake didn't draw a bidding frenzy, or even a long list of bidders, it did ultimately sell for slightly more than expected.
To be clear, the auction was for a wedding cake souvenir the just-married Trumps had handed out to guests during their Jan. 22, 2005, nuptials and not for a slice of Donald And Melania's actual wedding cake. Priced at $50,000, the Trumps' "real" wedding cake was designed and crafted by then-Mar-a-Lago pastry chef Cedric Barberet to be a towering seven tiered confection weighing in at more than 200 pounds. According to Julien's Auctions, it couldn't actually be eaten by wedding guests due to the amount of wire embedded within it to keep it standing. In lieu of slicing and serving their high-priced cake, the Trumps served another and gifted individual mini chocolate truffle cakes, which were garnished with a single white frosting rose, to guests as a wedding favor.
The sweet piece of Trump wedding memorabilia was auctioned off as part of the Icons & Idols: Hollywood and More auction event hosted by the Los Angeles-based auction house Julien's Auctions. According to Business Insider, bidding on the Trump's nuptial treat started at $250. And although there were reportedly only six bidders vying for a taste of the cake souvenir, the confectionery sold for $2,240 in the end — more than $200 over its estimated price, according to Julien's Auctions.
It's unclear where the Trump wedding cake souvenir came from. Did one of the more than 350 guests who attended the Trumps' wedding dig their cake souvenir out of their freezer after nearly 13 years and then hand it off to be auctioned? According to the Hollywood Reporter, journalist and television host Barbara Walters held on to hers long enough to show it off to viewers on her talk show The View a week after the wedding. Or was the mini cake given to the auction house by Donald himself?
But the Trumps' 2005 wedding cake souvenir isn't the first piece of Trump-connected item to fetch a few thousand dollars at auction since the real-estate mogul was elected president. In October, another real-estate mogul snatched up a 12-by-9-inch rough sketch Donald had done of the Empire State Building in 1995 when it was auctioned off by Julien's Auctions. According to the Chicago Tribune, Donald had originally done the sketch for a charity auction held around the same time he opened Mar-a-Lago.
While Donald's signed sketch of the Empire State Building reportedly fetched just under $100 in 1995, his election as president seems to have driven its value up, way up. Real-estate mogul Elie Hirschfeld bought the sketch for $16,000 — roughly $4,000 more than the original estimated price — in mid October.
The identity of whoever bested the other bidders Saturday to walk away with an authentic Donald and Melania wedding cake souvenir has yet to be released and it's unclear what they plan to do with it. But perhaps the biggest question is, can you still eat a nearly 13-year old cake?