Trump Threatened UC Berkeley's Federal Funding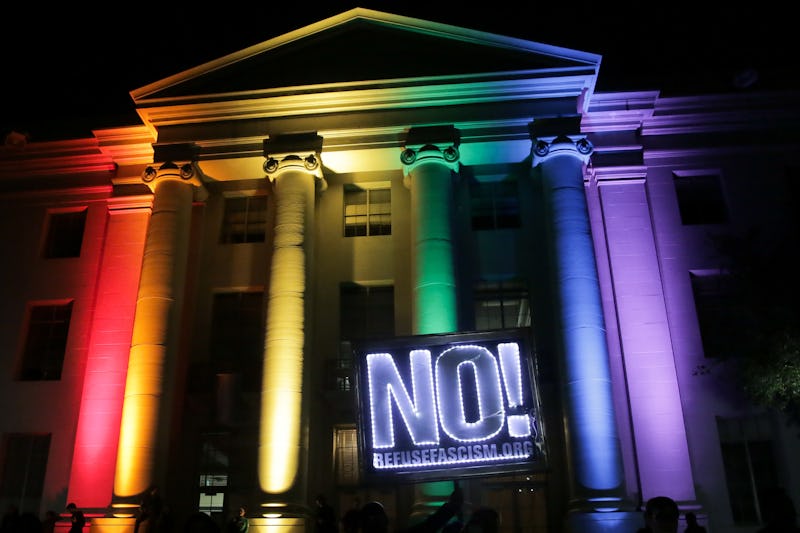 Elijah Nouvelage/Getty Images News/Getty Images
Following a night of violent protests over Milo Yiannopoulos' visit to the University of California, Berkeley, President Donald Trump threatened to strip the university of federal funding. Trump, of course, made the threats on Twitter and accused the school of not allowing free speech and practicing "violence on innocent people with a different point of view." The threat itself was in the form of a question: "NO FEDERAL FUNDS?" the president's tweet ended, in all caps.
Yiannopoulos is a gay Greek-born Brit who is a right-wing editor, or "internet troll," for Breitbart News. His opponents have accused him of being an "alt-right fascist," and he is known for his incendiary remarks that include mocking a transgender student at the University of Wisconsin, Milwaukee, and telling racist jokes about black students at DePaul University in Chicago. He has drawn protesters at schools across the country, and stirred a debate at universities specifically about the limits of free speech.
He was invited to Berkeley by the College Republicans and was scheduled to speak Wednesday night. After protests of his appearance turned violent, the school decided to cancel his talk. Berkeley administrators removed Yiannopoulos from campus "amid the violence and destruction of property and out of concern for public safety," the Guardian reported. The school said "150 masked agitators" were to blame. CNN reported that they threw rocks, fireworks, and Molotov cocktails at the police, setting fires. Six people were injured.
Yiannopoulos was not hurt, and responded to the protests on Facebook. He explained what had happened, that the event was canceled after "protestors tore down barricades, lit fires, threw rocks and Roman candles at the windows and breached the ground floor of the building." But he also stuck it to the left-leaning student body. "One thing we do know for sure: the Left is absolutely terrified of free speech and will do literally anything to shut it down," Yiannopoulos wrote.
Students interviewed at the scene were not supportive of the violence, CNN said, and the Associated Press reported that hundreds had protested peacefully before the violence broke out. But others said that Yiannopoulos' extreme language made the violence acceptable. Lana Wachowski, a protester, told the Guardian that "the moral imperative is to win." She referenced issues such as immigration law in her reasoning to fight. "It's absolutely acceptable to use violence. They are 100% certain to use it against us," she said.
Interestingly, Berkeley is actually where the Freedom of Speech movement began back in the 1960s in which students protested for their right to be politically active on campus as part of the Civil Rights movement. One student, freshman Shivam Patel, told CNN that he thought the violent protests were unacceptable. "It allows people on the right to say, 'Look at all these liberal Berkeley snowflakes. They're intolerant of speech.' I don't think it's productive at all. It does nothing to help this country," Patel said.
Yiannopoulos' extreme language may be unacceptable to nearly the entire left, but the proper response is still up for debate. Whether President Trump can do anything about it is a whole other story.