Donald Trump & Tiger Woods Golf Together—PHOTO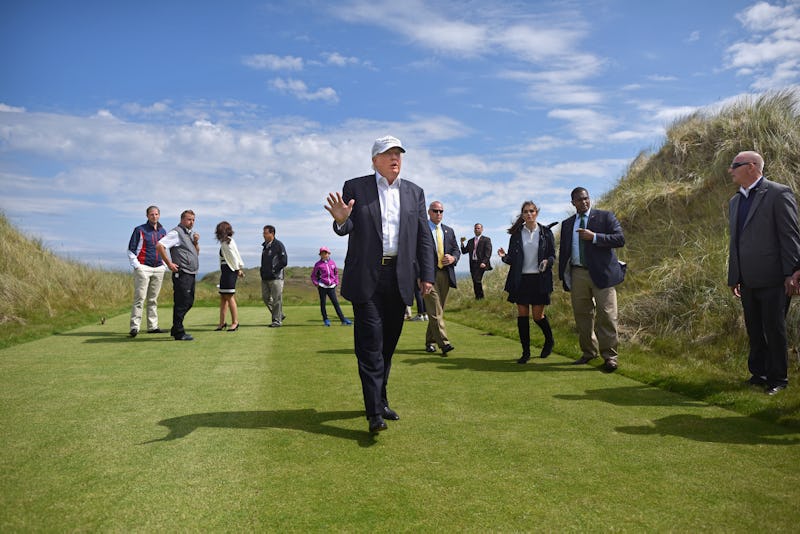 Jeff J Mitchell/Getty Images News/Getty Images
According to reports, a famous duo just hit the links in the state of Florida, and now a tweet has confirmed it. Donald Trump and Tiger Woods are apparently golfing together. This isn't the first time Woods has played a round with a president ― or, in this case, soon-to-be president ― as he also golfed with President Obama in 2013.
Obviously, however, the cultural and political reaction to a golfer of Woods' stature joining Trump for a round will likely be seen very differently. Obama was not an anti-immigration hardliner, for example, nor someone widely criticized for advancing his political career through the stoking of racism and xenophobia. As such, it's a safe bet that this golf outing will stir up some controversy, although not for Trump ― he carries all that around with him already.
In a photo that hit Twitter on the afternoon of Friday, Dec. 23, the trio of men ― Woods, Trump, and someone else who does not appear to be a public figure ― are shown smiling in front of a waterfall at the Trump International Golf Club in Palm Beach. Trump, in the middle, is wearing one of his Make America Great Again hats, and flashing his signature photo gesture, a waist-high thumbs up.
Woods, 41, has been rehabbing from a series of injuries that have sapped his ability in recent years, as he's fallen from being one of the greatest golfers on Earth, to someone scrapping and scraping to re-establish himself within the sport.
Trump, by comparison, is about to become the single most powerful person on Earth. And in golfing terms, he's allegedly quite good ― he claims to have a handicap of 2.8 strokes, which would put him at near-professional level. It's worth noting that Trump has a long, well-documented history of self-aggrandizement, however, and a golf pro questioned by The Guardian believe it to be hugely unlikely that someone with Trump's rigorous non-golf schedule could actually play so well.
He also has a white-gray goatee in the photo, which is likely the result of the "Mac Daddy Santa" look he revealed on Twitter just one day prior. Suffice to say, it's a little bit weird.
It remains to be seen whether Woods will suffer a major fallout among his more liberal-minded fans over this, although after weathering the explosive sex scandals that rocked his career, his family, and ended his marriage in 2009, it's a safe bet that he isn't sweating the consequences from a controversial golf date.
For Trump, on the other hand, this is the rare instance where he's been able to rub elbows with a genuine celebrity, albeit one past his prime ― the 70-year-old president-to-be has reportedly had a terrible time trying to attract top talent to his inauguration, so maybe this will operate as a little salve for his ego.