Trump Responds To The "Golden Shower" Documents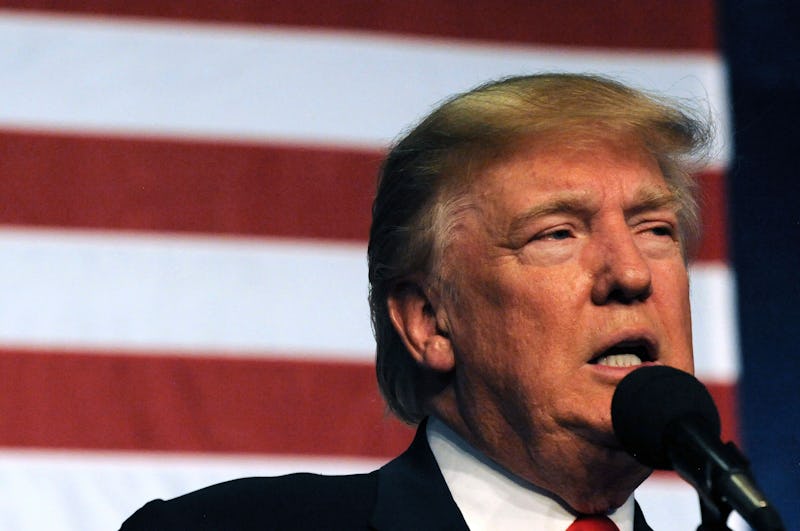 JASON CONNOLLY/AFP/Getty Images
Just hours before President Obama's farewell address was scheduled to begin on Tuesday, an unverified memo was published which presented claims that Russia had compromising info on President-elect Donald Trump. Not the least bit surprisingly, Trump quickly responded to the "golden shower" document via Twitter, dismissing it as "fake news." Update: On Wednesday morning, Russia denounced the unverified report involving supposedly compromising allegations against Donald Trump as an "absolute fabrication."
CNN was first to investigate the unconfirmed reports, which were then published by Buzzfeed. If you're so inclined, you can read the documents in full here.
According to CNN, both Trump and Obama were shown the documents sometime the week prior. The FBI is currently investigating the claims, which have not yet in any way been confirmed. A British former intelligence operative who used to work in Washington supposedly put together the report. Though the documents involve serious, albeit unconfirmed, allegations that Trump's "inner circle" had accepted the Kremlin's political intelligence on the Democrats, a very different claim has taken Twitter by storm.
The report alleges that Trump engaged in "perverted" behavior, which supposedly included having prostitutes perform "golden showers." Needless to say, that didn't go down well with the president-elect. In his typical Twitter fashion, Trump used all-caps to get his point across. Though he doesn't explicitly mention the memo in question, it's clear what he's referring to.
So if you're wondering what exactly the memo alleged about Trump's supposed behavior, wonder no further. The report says:
According to source D, where s/he had been present, Trump's (perverted) conduct in Moscow included hiring the presidential suite of the Ritz-Carlton hotel, where he knew President and Mrs. OBAMA (whom he hated) had stayed on one of their official trips to Russia, and defiling the bed where they had slept by employing a number of prostitutes to perform a "golden showers" (urination) show in front of him.
Minutes later, Trump followed up with another tweet including an article from Lifezette.com, a news site founded by conservative radio host Laura Ingraham.
Though Trump hasn't yet formally responded to the allegations beyond this, his tweet suggests he firmly denies them. And he'll be sure to say so at his upcoming press conference.