This Isn't What Trump Meant By "Crooked Media"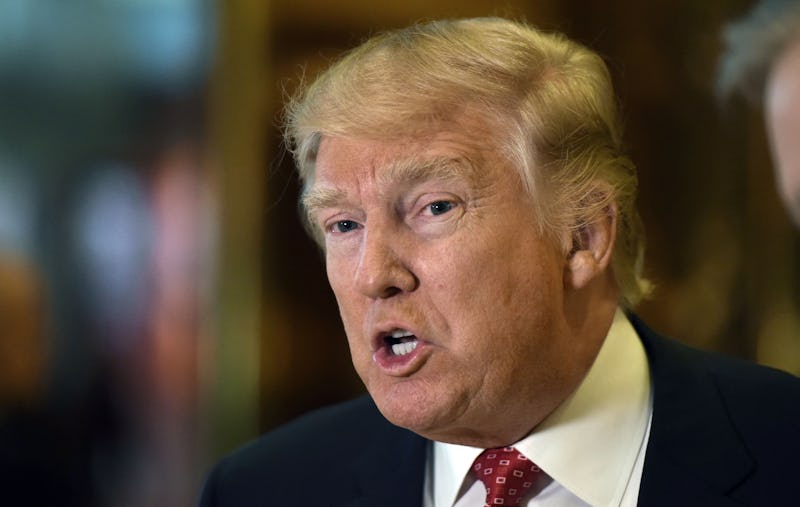 TIMOTHY A. CLARY/AFP/Getty Images
One Sunday night in August, when polls were down and campaign staff shakeups had led to widespread speculation of internal strife, Donald Trump took aim at a new enemy. "I'm not running against Crooked Hillary," Trump said during a rally in in Fairfield, Connecticut. "I'm running against the crooked media." The so-called "crooked media" would quickly become one of Trump's favorite targets with multiple reporters barred from his campaign events and criticized or ridiculed in speeches and on social media. Even Trump's election victory has done little to quell his rants against "the crooked media." But now the Crooked Media is fighting back, so to speak. In the wake of Trump's victory, three Obama administration veterans have formed a new political network appropriately called Crooked Media. Safe to say, this probably wasn't what Trump hoped his "crooked media" nickname would inspire.
Plenty of people may already be familiar with Jon Favreau, Jon Lovett, and Tommy Vietor thanks to their podcast Keepin' It 1600 and their various White House roles. Favreau served as chief speechwriter for President Obama from 2005 to 2013, while Vietor has worked as both an assistant White House press secretary and a National Security spokesman for President Obama. Lovett is a former Obama White House presidential speechwriter who has also worked from Hillary Clinton.
Although Keepin' It 1600 was retired in mid December, roughly nine months after it had debuted on Bill Simmons' The Ringer network, Favreau, Lovett, and Vietor aren't planning on ending the political conversations they'd begun during election season any time soon. Rather the three have recently launched Crooked Media, a media company that says it hopes to provide "a place to talk about politics that informs, entertains, and inspires action." And with Crooked Media comes the trio's new podcast, Pod Save America, which debuted Monday.
"One thing we wished we had done slightly differently — in addition to political analysis and punditry and all that good stuff — we wish we had done a little more advocacy, encouraged more participation and activism and used it as a platform to lift up all of the young progressives' voices that are out there," Favreau told The Daily Beast.
For Favreau, Lovett, and Vietor, Crooked Media is an attempt to take a more active role in the wake of Trump's election victory. "I woke up feeling like sitting on the sidelines wasn't an option anymore," Vietor told The Daily Beast about Trump's upset win. "I wanted to be part of whatever is going to happen over the next four years to preserve the things we fought for at the White House."
The team behind Crooked Media is quick to point out they're not aiming to be an unbiased site for breaking news. "We're not journalists, we're not unbiased, we're not always serious and we're certainly not always right," the company says in their mission statement. "But we promise a no-bullshit conversation about politics where you can laugh, cry, scream, ridicule us daily, share your ideas, and hopefully decide that you want to help fix this mess too."
While I can't claim to know what's in Trump's heart (sorry, Kellyanne Conway), his repeated attempts to characterize America's free press as "crooked" and "dishonest" appear to be part of a larger strategy to discredit news organizations which publish reports critical of him. For example, Trump took to Twitter Monday to declare "media is fake!" following news reports he was asking Congress to foot the bill for his border wall. It's more than likely that the last thing Trump would like to see his "crooked media" moniker used for is an outlet looking to inspire activism and political participation.