The Immigration Ban Is Tragic For This Little Girl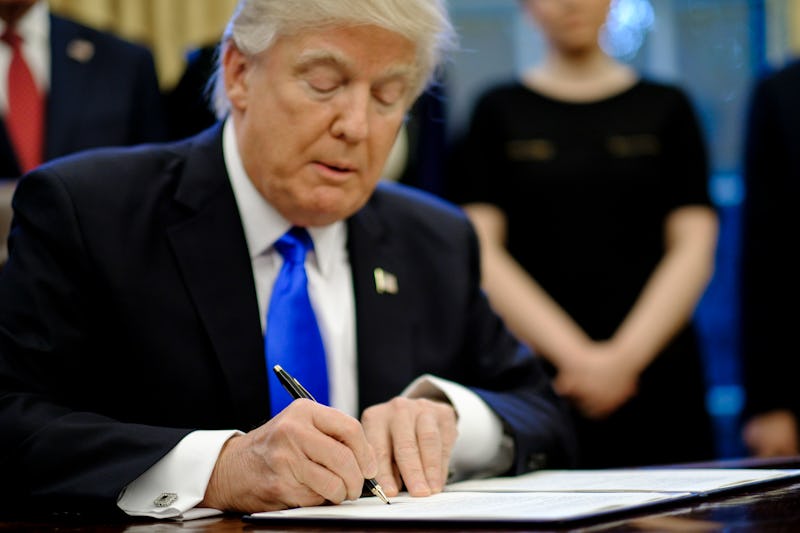 Pool/Getty Images News/Getty Images
Last week, President Donald Trump took what stands as the most inflammatory and controversial action of his young presidency: signing an executive order for a refugee ban. It imposed an indefinite ban on Syrian refugees entering the United States, and temporary bans on incoming travel from six other Muslim majority nations, including Iran. And it's affecting innocent people's lives in an incredibly heartbreaking way. For instance, Trump's refugee ban prevented an infant girl's heart surgery, according to Oregon Fox affiliate KPTV, blocking her family from bringing her to the United States to receive the potentially life-saving care.
The girl is four months old, and her name is Fatemah. She now faces a very uncertain future, having reportedly been prevented from receiving the necessary visa to take her to her scheduled surgery at the Oregon Health and Science University.
She reportedly has a severe heart condition, and her family is concerned that the quality of Iranian health care simply won't be enough. According to Sam Taghizadeh, Fatemah's uncle, when the family traveled from Iran to Dubai to file visa paperwork at the U.S. consulate, they were informed that Trump's ban meant they couldn't enter the United States.
This was despite the fact that Taghizadeh ― a resident of Portland, Oregon ― and the girl's grandparents were all U.S. citizens. Here's how he described it, according to KPTV.
It's like a nightmare. You know, in the one night everything changes. Now you don't know what you're going to do. ... Why we came to U.S., we came here for freedom. For a better life. I'm feeling no where is safe.
The Trump administration has sought to downplay the severity and impact of the ban since it went into effect. White House counselor Kellyanne Conway, in particular, dismissed the notion that it was a big deal on Fox News Sunday. "This whole idea that they're being separated and ripped from their families, it's temporary," Conway told Chris Wallace.
Trump, for his part, insisted that the ban was "working very nicely" last week.
We're totally prepared, it's working out very nicely. You see it at the airports, you see it all over. It's working out very nicely, and we are going to have a very, very strict ban, and we are going to have extreme vetting, which we should have had in this country for many years.
White House press secretary Sean Spicer has also chastised the media for calling the executive order a "ban," despite Trump having publicly called it that, as well as Spicer having done the same just one day prior.