Trump's Labor Sec Pick Is Planning To Withdraw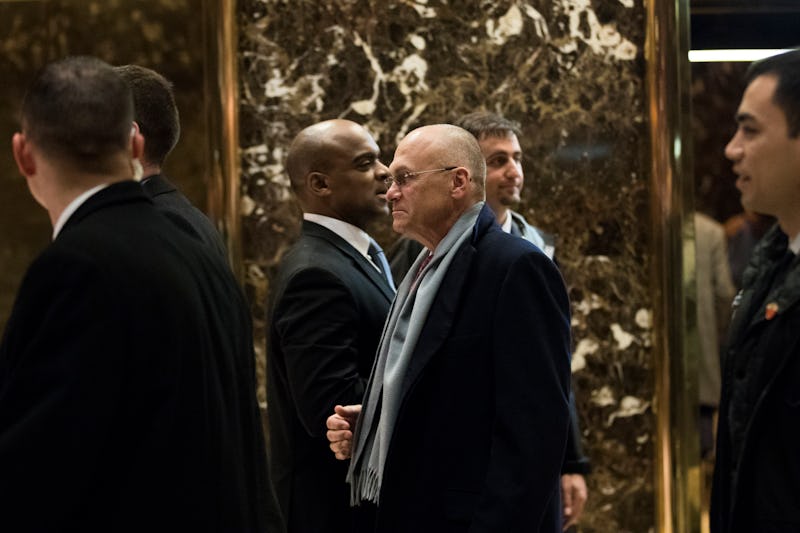 Drew Angerer/Getty Images News/Getty Images
According to reports from Fox News on Wednesday, Donald Trump's pick for Labor Secretary, Andrew Puzder, will withdraw his nomination. Puzder, who is the CEO of CKE Restaurants, Inc., which owns the Carl's, Jr., and Hardees franchises, faced a flurry of bad press over the last several weeks since Trump tapped him. The concerns have included revelations that he had employed an undocumented worker in his home, and that his ex-wife had gone on the Oprah Winfrey Show in the 'to claim that Puzder had abused her — which she has since retracted.
UPDATE: Wednesday afternooon, Andy Puzder officially withdrew his nomination for Labor Secretary.
Puzder's nomination was announced in early December of last year, and it was almost instantly controversial. Puzder openly opposes federal labor regulations as well as any increases to the federal minimum wage. The fast-food mogul was a major supporter of Trump during the 2016 campaign, serving as a campaign adviser and raising funds for the outsider campaign.
The nomination had not even made it to the committee phase before it started to hit some road bumps. In January, reports came out that Puzder had employed an undocumented worker in his home for years, an infraction that has cost Labor Secretary nominees in the past. Puzder and his wife paid back-taxes to the state of California, though this was after he had been nominated by Trump.
Puzder's ex-wife, Lisa Fierstein, accused him in of domestic abuse in the 1980s, pressing charges and appearing in a 1990 episode of Oprah in disguise to talk about the abuse. Fierstein has since recanted the story.
The issue was revived Monday when reports surfaced that the Oprah Winfrey Network had provided footage of the difficult to find episode to Senators on the Health, Education, Labor & Pensions committee. Though at first the footage was only available to the Senators, POLITICO obtained a copy and published it on Wednesday.
Puzder's withdraw comes amidst a series of problems for the new administration. On Monday, Trump's National Security Adviser, Michael Flynn, was forced to resign after reporting that indicated he had had improper contact with Russian officials before Trump took office, potentially undermining sanctions being imposed on Russia by the Obama administration.
Senate hearings for Puzder were scheduled to begin Thursday, but the latest reports suggest that these will be canceled following Puzder's formal withdraw from consideration to run the Labor department.