These LOL Tweets Show Exactly How A Lot Of People Feel About Trump's UK Visit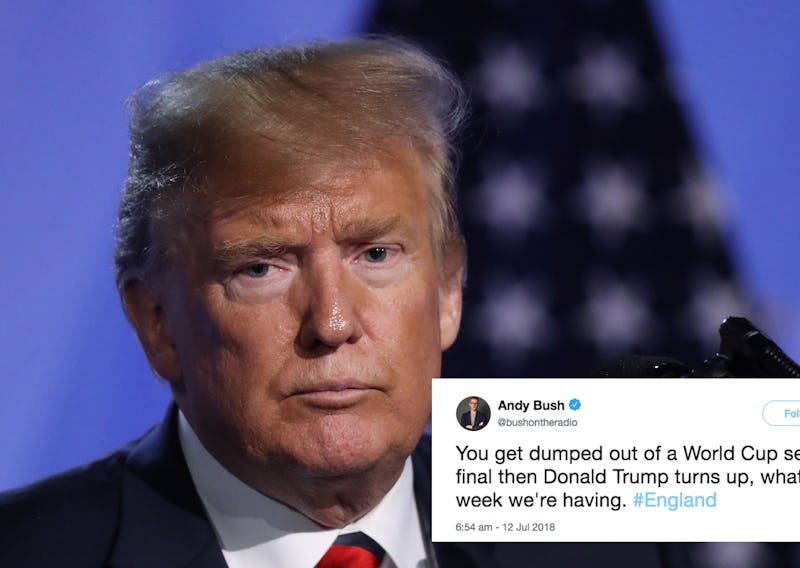 Sean Gallup/Getty Images News/Getty Images
Well, what a difference a day makes, eh? On Wednesday morning, the whole country was giddy with excitement as England surfed the World Cup hype wave. Could 2018 be the year that England would finally bring it home? All hopes came to a pretty drastic end with a second goal scored by Croatia, sending England crashing out of the competition. Gutted. And now many are calling what they see as the icing on the cake — the US president has just arrived in town. Tweets about Donald Trump's UK visit so soon after England's football hopes were destroyed are going viral. And not in a good way.
Although Trump is an avid Twitter user, it's questionable how often he actually checks tweets that include his name. When asked about the mass protests planned in light of his visit to the UK, he announced at a NATO press conference on Thursday that he's confident he's popular with us Brits, the Washington Post reports. He said: "I think they like me a lot in the UK I think they agree with me on immigration. I'm very strong on immigration."
Erm, yeah, he definitely hasn't seen the tweets, has he? As for the protests, is it possible that he just thinks everyone's playing hard to get? Because seriously, I don't understand.
Fearne Cotton was one of many to take to Twitter to share her feelings about Trump's arrival on top of England getting kicked out of the World Cup. A perfect triptych of chaos and misery, she wrote:
Other celebs were quick to comment too, with English comedy legend and huge football fan Russell Brand adding his two cents to the proceedings as well:
Yeah, I'm really not sure how Trump could misinterpret that one. But perhaps author Ken Jennings' tweet might make things a little clearer for the president about how some people feel about his visit. The writer jumped on the bandwagon, as increasing numbers of fans were asking if maybe it's true, perhaps bad things do come in threes. Jennings wrote:
As people are also noting, it's like, actually Friday the 13th tomorrow. No flipping lie. The reality of the unusual and unexpected turn of events is making some people feel like absolutely everything has gone to hell.
And another thing, what happened to that glorious heatwave? Temperatures totally dropped this week, leaving everyone reaching for their long trousers and dusting off their beanies. Nights in front of the telly are seeming a lot more appealing now, especially with shows in sunny destinations. So it comes as no surprise that some Twitter users are throwing Love Island's latest drama into their Trump tweets too:
Meanwhile, other clever Twitter users referenced how not only are things a bit rubbish at the moment, they are also low key weird:
And when I say "weird", I'm talking Game of Thrones level weird, which brings me to my favourite tweet of them all, pointing out how incredibly strange and unexpected this summer has been thus far. You wouldn't even see such a thing in Westeros, mate:
As for the actual World Cup trophy, it's going to be a while before England gets the chance to compete for that again. Until then, we're going to have to settle for a different gold thing — and urgh, I guess this is why they say to be careful what you wish for:
With England's World Cup dream coming to an end, summer ebbing further and further away from us, and well, not the most popular American president coming to visit, it is safe to say it's not been the best week. Bring on next week.