Oh Boy, Trump Wants To Make Easter Great Again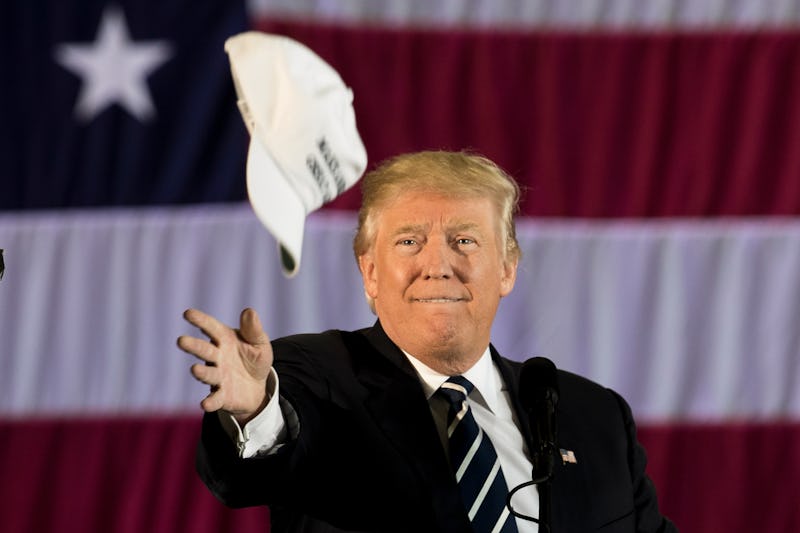 Drew Angerer/Getty Images News/Getty Images
I woke up to an email from Donald Trump Wednesday morning, and it was one of my favorite yet. I'm signed up for the Trump-Pence email list. Therefore, I often often wake up to some new Trump merchandise offer, but this morning's email was a standout, even by a campaign that offered megaphones and "spirit poms." It was for Make America Great Again hats — but this time ... this time, the hats are Easter flavored.
Yes, if the original Make American Great Again hats in red, white, and camo didn't do it for you, perhaps some in candy-colored pastels will do the trick. Maybe those fears about an expensive, useless wall being built along the Mexican border or Planned Parenthood clinics being forced to shutdown throughout the country will be assuaged by the robin's egg blue hue? Maybe that anger over the president's potential violation of the Emoluments clause will be numbed by the lavender headwear?
Or, this latest edition will remind you of all the things that worried and outraged you before Trump was even elected.
Through his campaign and presidency, Trump has used his platform to push his paraphernalia — in fact, arguably, the most elaborate part of the DonaldJTrump.com website is the "shop" tab. He is, if I'm not mistaken (and through careful research, but mostly common sense, I know I am not), the first president to have a dedicated website to selling his campaign-branded merchandise.
It's a hat with a slogan that's inspired controversy and also other parodies like "Make America Gay Again," "Make Donald Drumpf Again," (thank you, John Oliver!) and "Make America Great Britain Again," to name a few.
But now, as the email purports, the original brand has created it's own spin off of sorts:
The Official Store for Trump gear just released the limited-edition Easter Make America Great Again caps, and you can reserve yours now.
Upon reading that, I had the same thought as when a sloppy drunk dude approaches me and offers to have me come home with him. Umm... charmed... but I'll go with a hard pass.
The email went on to explain, "Less than 500 of these one-of-a-kind hats were made specifically for Easter." (It must be nice to never feel embarrassed about things you should definitely feel embarrassed about.)
"Don't miss out on your chance to own a limited-edition hat. Order by April 11, to guarantee delivery before Easter," warns the email, "HIGH SELLOUT RISK," the email warns!
Thank's for the heads up — but I will take that risk.