Donald Trump's Gave A Shout Out To Tom Brady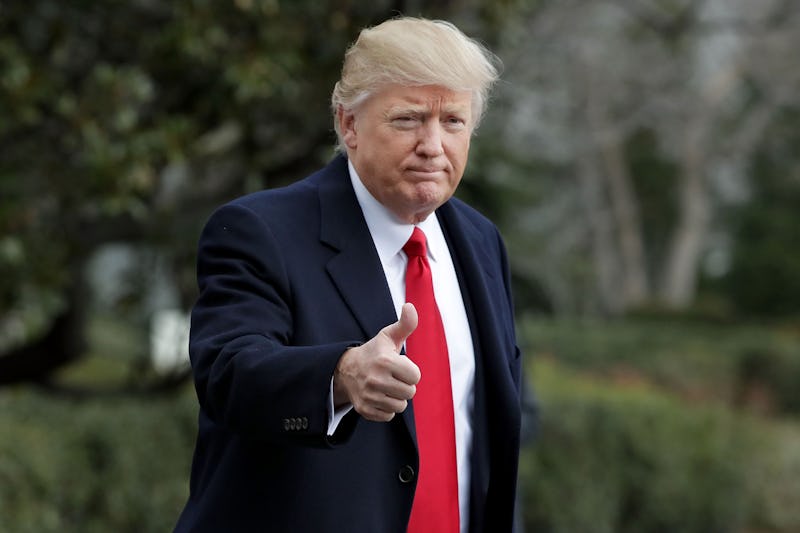 Chip Somodevilla/Getty Images News/Getty Images
Even before the Super Bowl began, President Donald Trump mentioned his friends on the New England Patriots, and predicted the team would triumph over the Atlanta Falcons. Following the game, Trump's Super Bowl tweet shouted out the Patriots — and the same friends he mentioned by name beforehand.
Interestingly enough, Trump had chosen the Patriots to win the Super Bowl during a pregame interview on Fox with Bill O'Reilly. "There's less pressure on the Patriots because they've been there," Trump said of the New England team, which has made it to the Super Bowl a record nine times, more than any other team in the National Football League. "Once you've done it, there's a lot less pressure so we'll see what happens," the president said of the five-time Super Bowl winners.
Trump also mentioned Patriots quarterback Tom Brady, owner Bob Kraft, and Coach Bill Belichick during his pregame-interview. "You have to stick up for your friends, right?" Trump said, predicting the Patriots would win over the Falcons by eight points. Eventually the Patriots won 34-28, which makes Trump's prediction two points off. Still, he was close.
All three shouted out by name, Brady in particular, have come under public scrutiny for their friendships with the president, as O'Reilly pointed out to Trump. Brady has taken to telling the media "I'm not talking politics at all," the New York Times reported. Trump, on the other hand, seems to frequently namedrop the Patriots frontrunners.
This isn't the first time Trump has shouted out a friend or a supporter; during his Black History Month breakfast, the president spent more time speaking favorably about his Housing and Urban Development Secretary Ben Carson, as well as longtime surrogate and assistant Omarosa Manigault, than he did about historically significant African Americans like Harriet Tubman and Rosa Parks. The president also recently described one reason for getting rid of much of the Dodd-Frank act as helping "friends of mine that have nice businesses, they can't borrow," AOL reported.
But when it comes to the Patriots' big comeback at the end of the game, as well as the historic overtime moment (no Super Bowl has ever gone to overtime before this one), Trump actually didn't see it. The president was at his Florida golf club for a Super Bowl viewing party, but he actually left while the Patriots were still down 28-3, Sports Illustrated reported. But hey, at least he congratulated the team on their win afterwards.