Donald Trump's Team Keeps Facing Plagiarism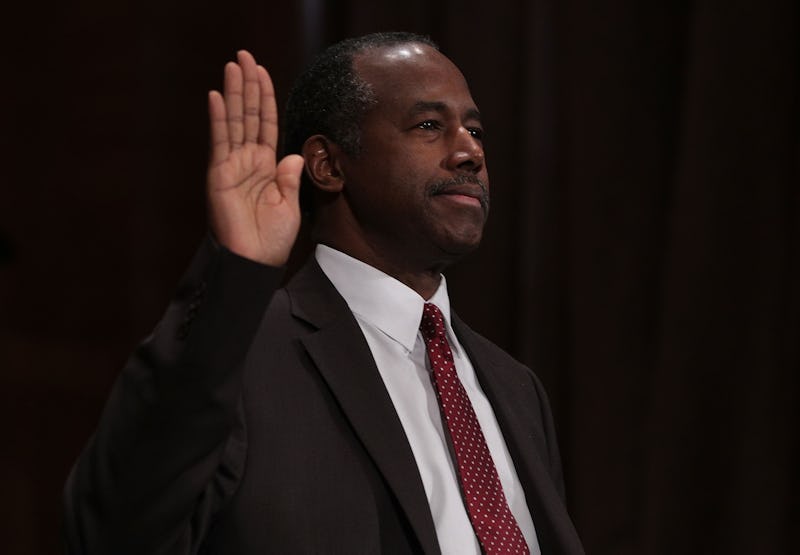 Alex Wong/Getty Images News/Getty Images
It's never OK to plagiarize, but it's at its most obvious when your words are about to be part of the public record. That's what a potential Trump cabinet member discovered Thursday, when the Washington Post and The Hill both reported that parts of Ben Carson's prepared confirmation hearing statement were taken word for word from unattributed outside documents. Carson didn't read from that part of the statement in question, instead going off-script. The transition team later added attribution to the remarks and said they were left off by accident.
This isn't the first time Carson has been accused of plagiarism. And, as you may recall, this isn't the first time someone close to president-elect Donald Trump has been called out for allegedly copying parts of their public statements from others. It's not even the first time such a call-out has happened to someone expected to work under Trump in the White House. Turns out, Trump associates have been accused of plagiarism at least a few times, and Carson is just the latest.
There are consequences for getting caught plagiarizing. In many schools, it will earn you a suspension or expulsion. When it comes to some of the highest-ranking politicians in the United States, however, the consequences don't seem to be quite as severe. Take a look at some of the people working with Trump who have gotten called out on taking credit for words they allegedly didn't write.
Ben Carson
As stated before, Carson is the latest Trump team member to be accused of plagiarism, which the Trump team says was just an omission of citations. But he's not new to the experience. Back in 2015, BuzzFeed news broke the story that the then potential presidential hopeful allegedly stole parts of his 2012 book America the Beautiful from a website called SocialismSucks.net as well as other sources.
Carson's lawyer said he was reviewing the text: "If it is determined that additional citations or attribution are required, the appropriate revisions will be made in subsequent printings."
Monica Crowley
Monica Crowley is Trump's pick for senior director of strategic communications for the National Security Council. She has also found herself accused of plagiarism many times. In 1999, she was accused of plagiarizing for a column in the Wall Street Journal, to which she responded, "''I did not, nor would I ever, use material from a source without citing it,." CNN recently reported that she plagiarized parts of her 2012 book What the (Bleep) Just Happened. Sales of the book have since been suspended.
According to a recent article from Politico, Crowley copied many parts of her PhD dissertation without proper attribution. Crowley has not publicly responded to either article, but in response to CNN's piece, the Trump transition team stated, "Any attempt to discredit Monica is nothing more than a politically motivated attack that seeks to distract from the real issues facing this country."
Donald Trump
In March 2016, The Daily Caller's Alex Pappas accused Trump himself of plagiarizing parts of his op-ed for Guam's Pacific Daily News from a piece by Carson published earlier in Micronesian newspaper Marianas Variety.
With so many Trump-centered stories in the media at that time, though, this one didn't seem to get that much attention. The article notes that The Daily Caller reached out to Trump's campaign for comment, but it seems they have yet to hear back.
Melania Trump
There's an argument to be made for if Melania counts as being a member of Trump's team — but, as First Lady, she is undoubtably part of his administration. In addition, whoever who wrote her speech for the 2016 Republican Convention is certainly on Trump's team.
In-house speechwriter Meredith McIver took the blame for the inclusion of passages in the future First Lady's speech that were stolen from current First Lady Michelle Obama's speech she delivered at the 2008 Democratic National Convention. She wrote, "This was my mistake and I feel terrible for the chaos I have caused Melania and the Trumps, as well as Mrs. Obama." Just before that, the Trump campaign released a statement attributed to Senior Communications Advisor, Jason Miller, saying:
In writing her beautiful speech, Melania's team of writers took notes on her life's inspirations, and in some instances included fragments that reflected her own thinking. Melania's immigrant experience and love for America shone through in her speech, which made it such a success.
Accusations of plagiarism don't always hold up, like when whisperings of copying surrounded Vice President-elect Mike Pence's speech at the 2015 Republican National Convention. However, as the above examples show, the public eye is always watching. The main lesson from these political examples is this: Always cite your sources.