Trump's Words On Old Sexist Ads Work Way Too Well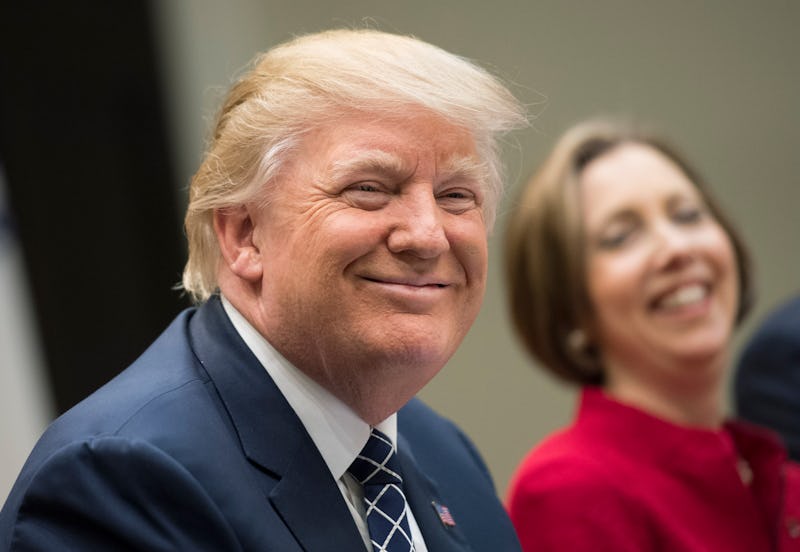 Pool/Getty Images News/Getty Images
If the current sociopolitical climate has you feeling like we've gone back in time, you are not alone. Syrian artist Saint Hoax has a new project pairing Trump's comments about women with old sexist advertisements. The two work horrifyingly well together — and the fact that this is unsurprising is perhaps the most horrifying thing of all.
The series, entitled Make America Misogynistic Again, uses actual Trump quotes as the slogans for vintage advertisements (which, let's face it, are not often known for their progressive representations of women in the first place). Saint Hoax takes old imagery "playfully" objectifying and depicting violence against women and pairs them with documented remarks Trump has publicly made about women. If the misogynistic overtones in Trump's language weren't obvious before, it's hard to deny them when you look at these pieces.
While the advertisements are over half a century old, the comments made by Trump are recent. Saint Hoax pulled Trump quotes from the '90s at the earliest, but some were said as recently as 2016. Now seems like an appropriate time to mention that while yes, a quote from 1991 happened 26 years ago, Trump was 43 then. Dismissing these comments as" locker room banter" or arguing that "boys will be boys" not only excuses and normalizes sexism, it uses age as a justification for an adult man. These were not comments made by a young adult who perhaps has grown and changed and learned since. They are examples of Trump's past and current blatant misogyny.
(The above quote from Trump was said on Howard Stern's show in 2004 about tennis great Steffi Graf.)
Saint Hoax, the pseudonymous artist and sociopolitical activist, tells Bustle this series came out of a separate project inspired by sexist ads from the '50s. "As I was researching those ads, I couldn't stop comparing them to Trump's sexist remarks about women," says Saint Hoax. After creating the initial images, Saint Hoax told friends these were the original ads, leaving out that the headlines had been replaced with documented quotes from Trump. "When I revealed the truth they were in complete shock. After seeing their reactions, I decided to turn this social experiment into an awareness/art project and publish it on International Women's Day."
The project hasn't come without criticism; indeed, Saint Hoax says any project that says something negative about Trump is met with some sort of backlash. "When I do say things like 'Trump is a misogynist,' those people fire back with 'Yeah, so is Bill.' Using the Clintons as a comeback is not a valid argument, so I never actually respond."
(Trump said the above quote in 2005 on Howard Stern's show about actor Nicollette Sheridan.)
Saint Hoax says art can help steer culture in the right direction, telling Bustle, "Now is the time for artists to come together and create works that can inspire others to fight for what they believe in." Art can be a powerful way to connect people to a message, especially when it's about something as visceral as misogyny.
Need advice on how to get political with your creative work? Saint Hoax says it's important to remember you're never going to please everyone, "But there's nothing more rewarding than expressing your personal views through art and have people relate to it." Saint Hoax has created a project that is certainly resonating with many.
Below are some more of the prints from Make America Misogynistic Again. And lest you think these quotes were taken grossly out of context, you can find the source for each quote linked underneath each piece. Make sure to check out the full project on Saint Hoax's website.
Said during a 1994 Nancy Collins interview. Trump was talking about his marriage to Ivana, and what happened when she became a powerful executive in her own right. Video here. Transcript here.
From the 2005 Access Hollywood tape. Transcription here.
From Trump: The Art of the Comeback, published in 1997. Sourced via Washington Post here.
Said during the last 2016 presidential debate. Transcript here.
Paraphrased from the 1994 interview with Nancy Collins. Full video here. Full transcript here.
Quote from TrumpNation: The Art of Being The Donald, published in 2005. Sourced via Huffington Post here.