A New Dating App For Trump Supporters Had A Major Snafu On Launch Day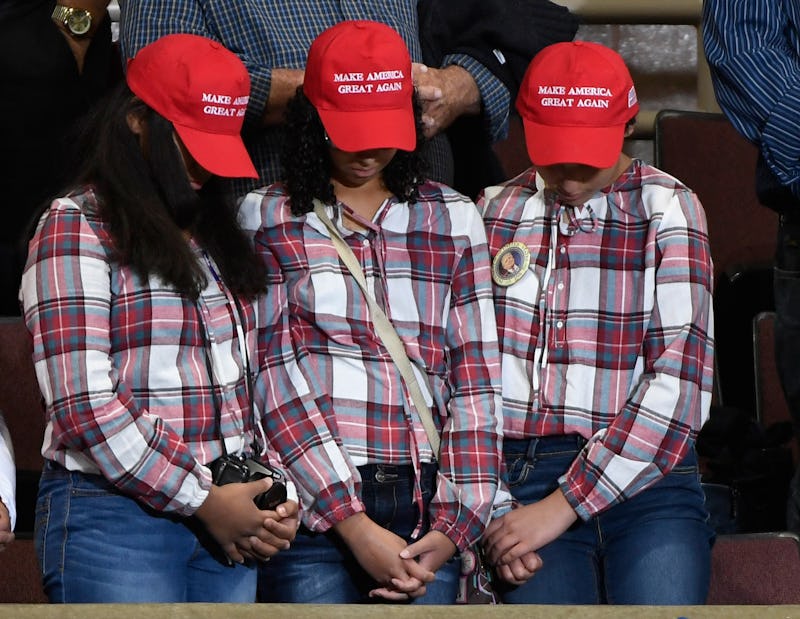 Hannah Foslien/Getty Images News/Getty Images
There's at least one universal truth that doesn't discriminate based on political party: Dating is hard. But one attempt to take some of the pressure off for young conservatives looking for love didn't exactly go as planned. A new dating app for Trump supporters leaked its user data the day it launched, Tech Crunch reports.
Taking a note from the president, DonaldDaters' slogan is "Make America Date Again." Its website describes the app as an "American-based singles community connecting lovers, friends, and Trump supporters alike," adding that "many on the Left chose party over love stopping any date if the other user is a supporter of our president."
DonaldDaters had roughly 1,600 registered users when it launched on Monday, according to TechCrunch, and French security researcher Elliot Alderson was able to download all of their data, from profile pictures to private messages. Since the app had just got off the ground, there probably weren't many private messages to download. But Alderson also reportedly accessed tokens that could be used to completely take over users' accounts, signaling that the app has a serious security problem.
"You should not use this app," Alderson tweeted on Monday with a list of the user information he was able to access.
By Tuesday morning, Alderson said the "vulnerability" had been fixed, applauding DonaldDaters CEO Emily Moreno for addressing the problem. Bustle has reached out to DonaldDaters for comment.
"All your personal information is kept private," the app's website reads. "We encourage safe online dating so please be sure not to share any private information on your profile before vetting anyone you may be interested in meeting in our community."
The app works differently than Tinder or Bumble by giving users 25 "finely curated" matches each day. After perusing those profiles, users can scroll through an activity feed of other singles in their area. According to the website, DonaldDaters members "encourage freethinking and welcome anyone to download and enjoy our community."
Young Trump supporters, particularly in Washington D.C., have had a difficult time finding dates since Trump took office, Politico reports. Though many who work in the Trump administration told Politico they try to date other administration staffers, DonaldDaters saw an opening for a dating app aimed specifically at bringing people together who own "Make America Great Again" hats.
"For many young Trump supporters, liberal intolerance has made meeting and dating nearly impossible," Moreno said in a statement to Fox News before reports of a data leak. "Support for the president has become a dealbreaker instead of an icebreaker. That's why we created a new platform for Trump supporters to meet people without being afraid of talking politics."
It's unclear what effect, if any, Monday's data leak had on the number of DonaldDaters' registered users, but its initial 1,600 Trump supporters can't yet compare to Tinder's estimated 50 million users worldwide. However, people looking to avoid anyone who loathes the current resident of the White House might feel more at home on the DonaldDaters app — leaks or no leaks.