The Grammys Don't Excuse This Kind Of Thinking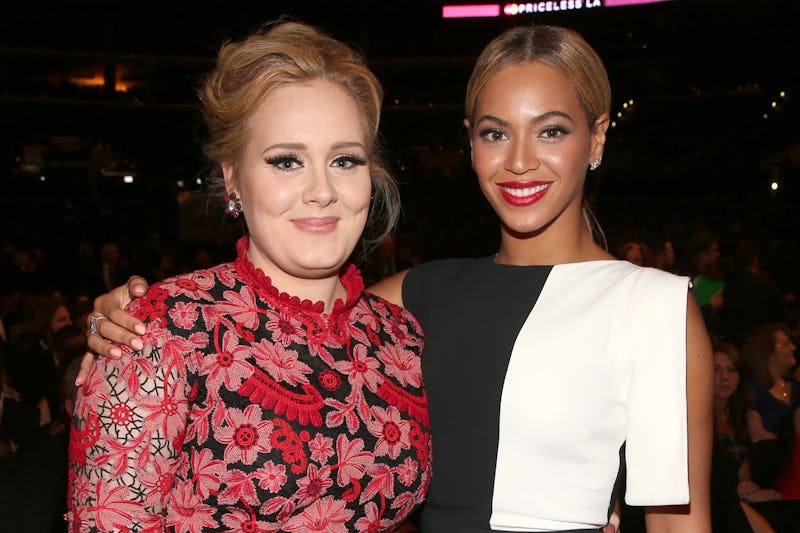 Christopher Polk/Getty Images Entertainment/Getty Images
In the current lead up to the 2017 Grammy Awards ceremony, one thing has become odiously clear: people appear to be obsessed with the fabricated competition between Beyoncé and Adele. In fact, the term "Beyoncé Versus Adele" has become so ubiquitous within the media that you'd think the two women were to actually jump in a ring together during the night of the Grammy awards and actually engage in a legit battle. The truth, however, makes these sorts of headlines all the more infuriating to witness. We aren't dealing with two women with an outspoken beef with each other here. We're dealing with two ridiculously successful female artists who have both managed to create iconic albums and share the sort of rare, phenomenal talent that is truly unparalleled on their own, respective merits.
But instead of simply taking their respective Grammy nominations as an opportunity to celebrate both of these women and their respective achievements within music, the current trend seems to be pitting their supreme power and success against each other. Not only does Beyoncé, Adele, and every female identifying musician deserve to be treated better than this, but we can also do better as a society. Pitting women against each other is so '80s, you guys.
A core reason why it feels especially frustrating for Adele and Beyoncé to be pitted against each other as two female Grammy nominees is that, overall in the general field, the categories are still predominantly occupied by male nominees. Sure, for Album Of The Year, Adele has been nominated for 25 and Beyoncé for Lemonade, but they're still competing against the work of three male artists.
Purpose by Justin Bieber, Views by Drake, and A Sailor's Guide To Earth by Sturgill Simpson are the albums against which Beyoncé and Adele are ACTUALLY competing. Because honestly? I don't care how much any of us love these three albums, all of them pale in comparison to both 25 and Lemonade.
This is also the case for the Song Of The Year award, where Adele's "Hello" and Beyoncé's "Formation" are competing against songs written and performed by men like Justin Bieber, Lukas Graham, and Mike Posner. Songs like "Love Yourself," "7 Years," and "I Took A Pill In Ibiza," which, good as they may respectively be, aren't even close to the sort of craft and influence that "Formation" and "Hello" exhibited and continue to have.
It feels reductive then to simply reduce the overall competition as being between Beyoncé and Adele. Realistically, the 2017 Grammy Awards aren't about seeing which one of these female artists beat the other, but seeing that both 25 and Lemonade, as well as the songs and performances from them, are recognized for their individual, and gigantic, musical achievements. To reduce that fact to the archaic trope of two women cattily vying for superiority over each other is tiresome and missing the point entirely.
Considering that Beyoncé has nine Grammy nominations, and Adele has four, there's room for both artists to be awarded in some way. The very notion that we, as an audience, should be tallying up how many awards both women leave with and using that to declare which one is the true victor of female musical prowess is ridiculously childish. We should, instead, be celebrating the powerful musical legacy that Lemonade and 25 have left, and no amount of award wins or losses can change that.
25 is a powerful album because of it's emotional intensity, but also because it favored a musical style that sounded irrepressibly modern while still channeling the raw, heartbreak of classic, traditional love songs. And that's a tough act to step up to and deliver well. Lemonade, on the other hand, was groundbreaking, visionary, and powerful. Not only did the album provide a sharp, stunning commentary on female African-American identity, but it also did so in such a way that it probably changed the digital publishing landscape and the future of music as a result.
Granted, both are very different albums, just as Adele and Beyoncé are very different performers. But it's senseless to pit these two women against each other when they both deserve recognition. Whatever happens, and whoever wins, lets all be supportive of every female artist, regardless. Not just at the Grammys, but in music in general.