'RHONY's Dorinda Medley Has An Amazing New One-Liner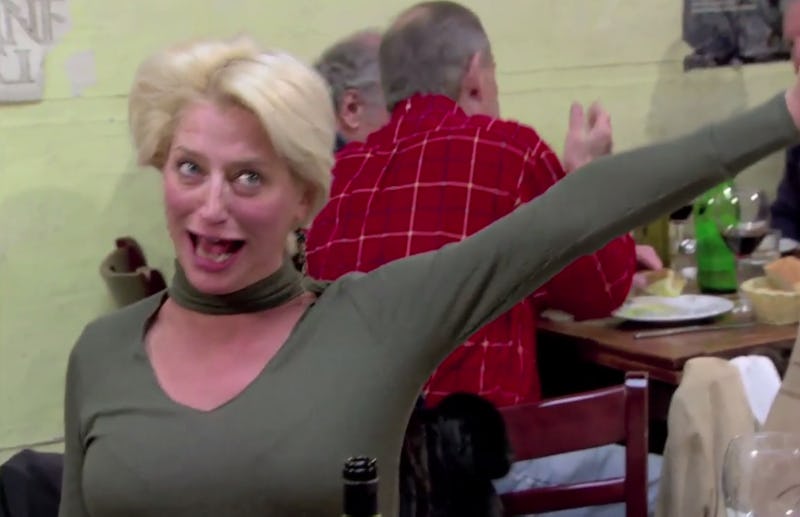 Bravo
Dorinda Medley is at it again on Real Housewives of New York City. Based on a new clip from Wednesday's episode, RHONY's Dorinda has a new one-liner. As fans of the Bravo series know, the Housewife who first joined the franchise in Season 7 quickly became known for her memorable lines that usually stem from extremely heated arguments. It's what makes both Dorinda and the show so entertaining.
Well, as fans can see for themselves in the video, Dorinda lashes out at Sonja Morgan for implying that she and her boyfriend, John Mahdessian, had something to do with Sonja's controversial liquor brand, Tipsy Girl. To be clear, all of this occurs at a restaurant with customers who can't stop staring at the women. "I never wanted to be part of Tipsy Girl," Dorinda passionately tells Sonja. She then hilariously adds, "I'd rather chew my left leg off than be part of Tipsy Girl."
The conversation goes from bad to worse, so much so that Luann D'Agostino tells Dorinda to be quiet. Luann even gets up from the table at one point. As for the other women, Bethenny Frankel, Carole Radziwill, and Tinsley Mortimer can't help but laugh at her and the way she is handling the situation with Sonja. At one point, Carole even says about Dorinda in her private interview, "I've got to be honest, I love it. This is my favorite part: When Dorinda's bad, she is so good." Agreed, Carole. Agreed.
Ramona Singer's whereabouts are unknown, but she's probably still trying to take out her tightly wound "Matrix" ponytail.
In not-so-shocking news, Sonja won't shut up and keeps insisting Dorinda had something to do with Tipsy Girl. To that, the wrath of Dorinda is unleashed and so is what has to be her most memorable one-liner yet. Directed at Sonja, she repeatedly yells, "Clip! Clip!", and even with quite the hand gesture. What does that even mean? Bethenny has no idea, as she says, "Clip! I don't know what that means. I guess it means, 'Shut your f*cking mouth.' Clip!" Be sure to watch the video below, because you're going to want to enjoy the madness in its entirety.
Dorinda makes no sense whatsoever, but it's so wonderful. Now, raise your hand if you're going to use "Clip!" whenever you're so done listening to someone's nonsense. Unlike "fetch" from Mean Girls, "Clip!" is totally happening.
It honor of "Clip!", it only seems appropriate to relive some of her other best one-liners. She truly has a way with words.
When She Discussed Martinis
She has a valid point.
When She Slammed Everyone's Bad Behavior
A spot-on assessment of anyone who ever comes to Dorinda's Berkshires home.
When She Wanted Everyone To Leave
Who could blame her?
When She Made It Nice
A forever classic Dorinda line.
When She Was Glad Everyone Left
She should never invite anyone to the Berkshires ever again.
When She Wanted Everyone To Back It Up
She says this all the time, including her "Clip!" conversation, where she tells Sonja, "Back that sh*t up."
When She Expressed How She Was Doing
Same, Dorinda. Same.
Keep up the good work, Dorinda.