You HAVE To See The 'Real Housewives' Birthday Surprise Dorit Planned For PK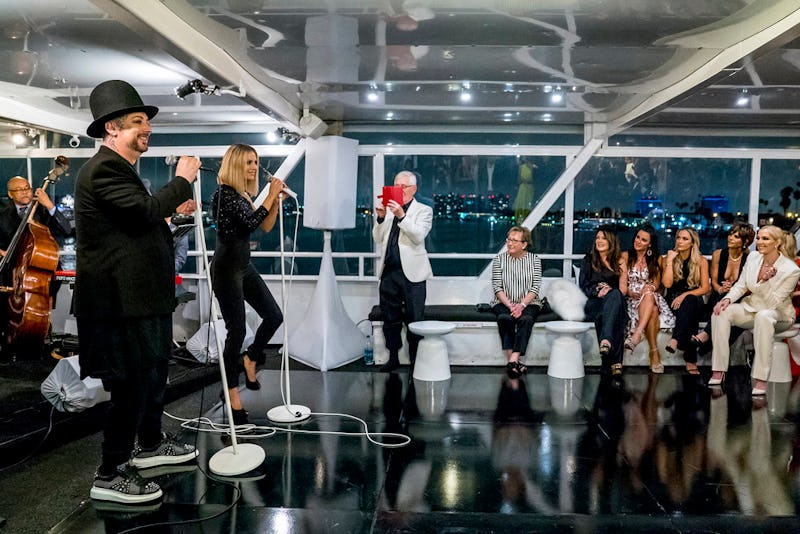 Nicole Weingart/Bravo
Erika Jayne isn't the only performer in the current Real Housewives Of Beverly Hills cast. In honor of her husband PK's 50th birthday, Dorit Kemsley wanted a big to-do. She planned a surprise party on a yacht. She secretly invited PK's whole family and group of friends from London. It wasn't enough! So Dorit and Boy George sang a duet on Real Housewives Of Beverly Hills, and it gave everyone in the room a big-time fever.
It was nice to get away from the drama of Drinkgate — Teddi and Dorit have been squabbling over their defunct drinks date for weeks, and who cares? No one, that's who. And there's nothing like a party to bring everyone together. Teddi and Dorit may be on the outs, but this performance brought former frenemies Dorit and Erika together again! Dorit wanted to do a special song for PK's birthday, so she enlisted Boy George (whom PK manages, and Boy George lives with them, too, so it's not weird) to sing Peggy Lee's "Fever" with her. Except Dorit doesn't sing, and she's never performed on a stage. But you know who has? The exceptionally talented Erika Jayne, who frequently tears it up in clubs around the world.
The only way watching Erika and Mikey help teach Dorit how to be on stage would have been better was if we got a full-on Save The Last Dance-esque montage moment out of it. Dorit, they're gonna make you a star! In reality, Erika and Mikey did a lot to help a terrified Dorit.
When time came for the performance, Erika was ready with the pep talk and a review of Dorit's final moves before the big show. Dorit was nervous as all get out, but she really did nail it. Erika was even stage mom-dancing the moves on the side of the stage while Dorit sang, making this a truly epic moment. PK was delighted. The family and friends were delighted. And I, dear reader, was also delighted.
This is the first time I've been happy with Dorit all season. She's usually harping about how much money she has or whether or not her drink has been poured into the correct glass. Dare I say that it seems like Dorit cares a lot about appearances. When she lets go, as she did during this performance and party, Dorit is a whole new person. As Lisa Rinna said of Dorit post-party, " She was calmer and more grounded than I've ever seen her." Agreed!
Dorit and Teddi got into it again at the end of the party, but you know what? I can't care about that. The pure moment of friendship that existed between Erika and Dorit in getting ready for this performance just can't be tainted. For two women who despised each other last season (ugh, remember #pantygate?), these two are pals now. They shop for expensive cars together. They put on showy yacht duets together. What a difference a year (and three reunion episodes) can make.
Before the Season 8 premiere, Erika spoke to Bravo about the changing dynamics on Real Housewives Of Beverly Hills. She said:
"[Dorit and I] were both ready to move on from it and I'm glad that we have. We've actually begun to develop what I consider to be somewhat of a nice friendship... It's been a lot more fun this year than it was last year. Especially when it's just Dorit and myself, we have some fun, to be honest. I've enjoyed it, I much prefer this Dorit than the other Dorit."
I love a good makeup story, and it just goes to show how friendships and relationships evolve. Thanks to Erika, Dorit was able to put on a show that PK won't soon forget. How can she repay her? Maybe one of those expensive cars they drove together? (A girl can dream.)