'RHOBH' Star Erika Jayne Explains How She & Dorit Put "Pantygate" Behind Them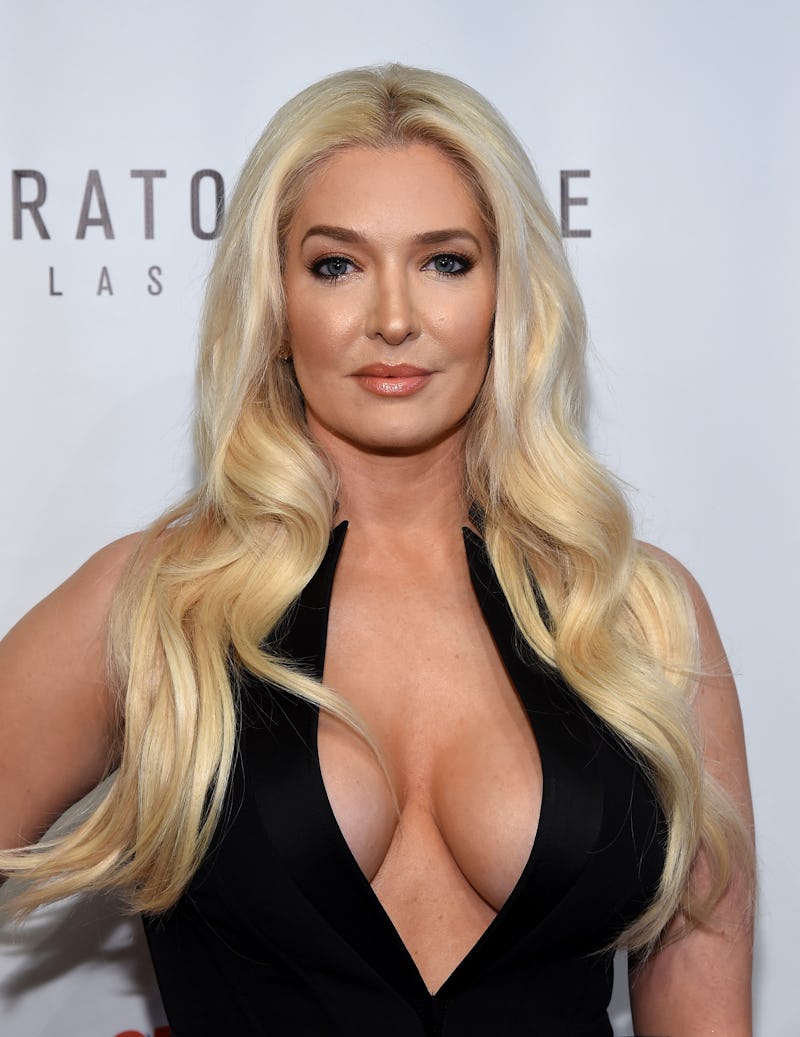 Ethan Miller/Getty Images Entertainment/Getty Images
The relentlessly annoying Pantygate joke was a thread throughout the entirety of Season 7. But it looks like Erika Jayne and Dorit Kemsley are actually friends in Real Housewives Of Beverly Hills Season 8 and in real life. "I think that you're gonna see a shift in a lot of friendships," Erika teases over the phone just days before the Dec. 19 Season 8 premiere.
Dorit and Erika's reconciliation may just be the tip of the iceberg when it comes to the changing friendships ahead, and it's about time. But because the two got off on the wrong foot (and stayed that way the whole season), fans may be wondering, friends? Really?
Erika explains: "I, in life, do not like that level of conflict." According to the 46-year-old, the decision to put the Pantygate drama behind them was mutual. (The term refers to a time when Erika wasn't wearing underwear, causing cast members like Lisa V. and Dorit's husband PK to see her business and start a running joke at her expense.) "We were both ready to move on from it and I'm glad that we have. We've actually begun to develop what I consider to be someone of a nice friendship," she says. And get a load of this: Not only are they civil, they're actually making fun, happy memories together.
"It's been a lot more fun this year than it was last year," Erika says. "Especially when it's just Dorit and myself, we have some fun, to be honest. I've enjoyed it, I much prefer this Dorit than the other Dorit." Still, the Pantygate tension ran deep and for a long time, so how did Erika get to the point of befriending and enjoying her former foil?
"I think it's just that she and I get a chance to be by ourselves and actually get to know each other," Erika explains. Who wouldn't grow fatigued over fighting about something so ridiculous? "We would rather choose to be friendly than not," she says.
Erika adds that in life, every relationship is unique and the reality TV setting may make it harder for friendships to be fully explored, or for audiences to see it all. She continues:
"Let me say this, there are great things about every one of these women in this cast, and I f*cking mean that from the bottom of my heart... It's just that sometimes, we don't get to see that. Kyle [Richards] and I have often talked about this together: My experience with Kyle may not be your experience with Kyle, and my friendship with Lisa Rinna may not be your friendship with Lisa Rinna. It's interesting being in this group of women."
Still, these relationships are constantly shifting. Fans may not be so shocked to see Erika and Dorit on good terms in comparison to what else is coming.
Erika is able to give up some additional hints about Season 8. "You'll see some old friendships shift, you'll see some new friendships blossom, you'll see people up to their old, tacky ways," she says. "You'll see some new people trying to find their way in the group. I think it's an interesting shift in personalities, I really do." Will longtime pals Dorit and Lisa Vanderpump have a falling out? Will newcomer Teddi Mellencamp make an unlikely alliance? Will Dorit and Lisa R. actually make up after their blowout fight in Hong Kong and on the reunion? (In terms of that friction, Erika says, "Lisa Rinna is very much in a place where she would like to move on. And I'll leave it right there.") But the rest remains to be seen.
While Dorit and Erika have finally moved beyond Pantygate , someone still can't let go. In Season 8's first episode, Lisa V. makes a sly Pantygate reference to Kyle. "I'm shocked to hear you say that, but then again I'm not shocked because it's her," Erika says. "It's over and done for me, I don't need to go back there, it's not a good place for me."
One thing fans can probably count on is Erika's fab Pretty Mess crew to continue making cameos. But would the performer consider a Pump Rules-like spin-off with her and her entourage? "You never say no to anything, and should something incredible happen, that would be great," Erika says. "I'll cross that bridge when I get to it."
And hopefully, Erika Jayne will get to that bridge. Because there are plenty of fans who would watch the hell out of that show.