Dorit Named Her Swimsuits After All The 'RHOBH' Women Except 2 & It Speaks Volumes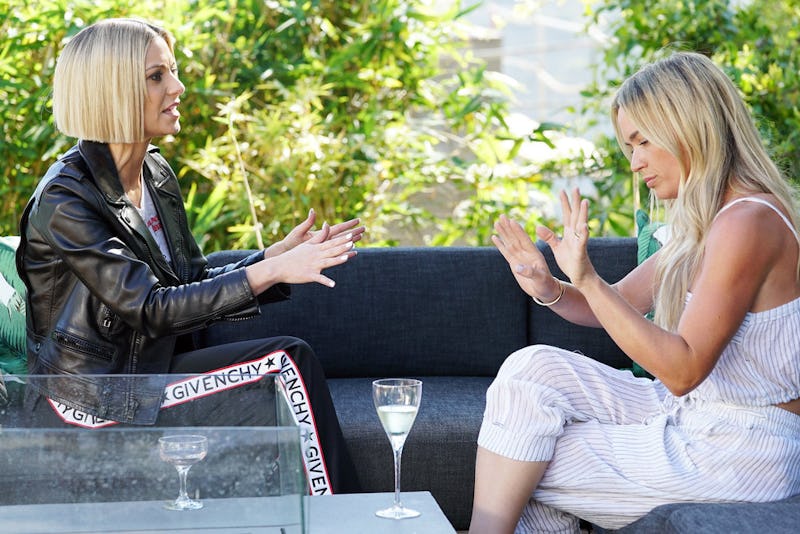 Nicole Weingart/Bravo
On March 1, Dorit Kemsley's anticipated swimwear line, Beverly Beach, finally dropped. What makes it all the more special is that the Real Housewives of Beverly Hills star named some of her pieces after her co-stars, save for Teddi Mellencamp and Camille Grammer. That's right, Dorit didn't name swimsuits after Teddi and Camille and the reason why is very telling of where these three Housewives currently stand.
"Teddi does not have a swimsuit yet," the RHOBH star told Page Six. "I feel like she is gonna need to earn her way into my good graces. I don't know. Next collection, possibly?" As for Camille, well, Dorit was much more definitive in her answer by simply declaring, "There's no Camille."
Based on her responses, it's probably safe to assume the Bravolebrity isn't on the best of terms with Camille and Teddi. Also, it seems that Dorit is at least willing to give newest Housewife Teddi a chance compared to Camille. Whatever the case, the 42-year-old swimwear designer didn't feel comfortable enough naming swimsuits after them.
All of her swimsuits are named after important women in her life, including Lisa Vanderpump, Lisa Rinna, Kyle Richards, and Erika Jayne. Did RHOBH fans ever think they'd see the day when Dorit would name swimsuits after Rinna and Erika? They've come so far. So maybe one day Teddi and Camille will earn their name in Dorit's next collection.
"A couple of the girls' have texted me and said, 'Oh, thank you, that was sweet,'" Dorit told Page Six. "I think the girls were excited to have a piece in the collection named after them. I would be, so I think they are." She went onto explain, "I do have the LVP, the Lisa, the Kyle, and the Erika amongst many other women that I love and adore and are in my daily life."
After revealing Teddi and Camille didn't receive the same honor as her other co-stars, Dorit was sure to explain how only a select number of women were lucky enough to have a swimsuit named after them. "But I will say this: I have a lot of women in my life that I love and adore." She continued, "I only have a certain amount of pieces and I had to sort of pick and choose."
Well, it seems like Dorit chose the women who are higher up on her list — sorry, Teddi and Camille. Plus, it doesn't really seem like they were even considered, at least based on the reason Dorit gave Page Six.
It doesn't look like Teddi or Camille have responded to being excluded from Beverly Beach. However, Teddi recently told Dorit she looked "gorg" during her March 13 Watch What Happens Live With Andy Cohen appearance. So, maybe she and Dorit are working their way back into each other's good graces? They've certainly had more downs than ups in Season 8.
As for Camille, well, not only did she throw shade on Twitter on March 18 about the literal gag gift she gave Dorit, but the two ladies had a brief Twitter feud on March 11. According to Camille, Dorit was "spared a lot of ridiculous things" she reportedly said at the Project Angel Food event shown in Season 7. At one point, Dorit tweeted Camille, "Ha! Find a hobby @TheRealCamilleG it's actually becoming sad and pathetic."
Dorit denied Camille's accusations on WWHL. After Andy Cohen asked her if she was "spared" like Camille claimed, Dorit replied, "No. Goodness no. Clearly it wasn't that noteworthy or it would have been shown." Dorit then went onto say that she and Camille "have a love for one another." She added, "We were having a love fest like tonight on Instagram. I commented on a picture of her and her daughter. Her daughter just got her driver's license. I said, 'you look like sisters' and she was like, 'thank you'".
Based on all of that, Dorit and Teddi are at somewhat of a better place than Dorit and Camille, even though the latter have a "love for one other," at least according to Dorit. Either way, clearly Dorit didn't deem either woman important enough to be part of Beverly Beach.