Doug Jones Beats Accused Sexual Predator Roy Moore For U.S. Senate Seat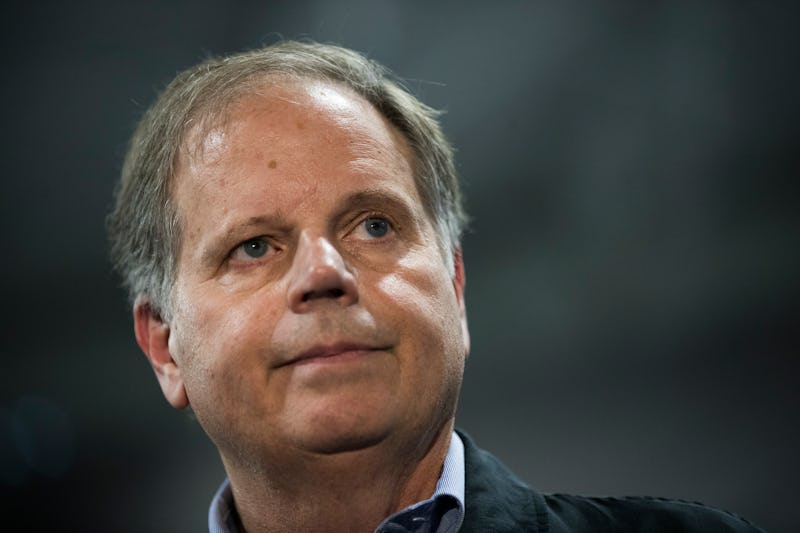 Drew Angerer/Getty Images News/Getty Images
On Tuesday evening, voters in Alabama elected Democrat Doug Jones to the United States Senate, a feat that hadn't taken place in the state since 1992. Jones beat out the Republican candidate, Roy Moore, who had been accused of sexual assault, harassment, and improper relationships with underage girls, all of which he denies. And while some people are celebrating that the deep red state elected someone from the blue party, others are just sad the race was so close in the first place.
As Vox founder Ezra Klein pointed out, Moore is an accused child predator who has made tons of questionable statements regarding religion, women, and civil rights. "That's not the highest bar I can imagine for a democracy to clear, but I'm glad we cleared it," he wrote after Jones' victory was announced. That sentiment was echoed by many who were flabbergasted at the fact that at least 600,000 Americans still voted for Moore despite the damning accusations against him.
Others were quick to criticize the Republican party, which — after being initially hesitant to back Moore — eventually threw its support behind him. The abortion rights organization NARAL wrote Tuesday evening:
Faced between losing a Senate seat & backing a KNOWN PEDOPHILE, GOP leaders chose the latter. But now? Their time is up. That Democrat Doug Jones will now represent AL in the Senate couldn't be a clearer sign that the tides are turning.
In fact, despite Senate Majority Leader Mitch McConnell originally calling for Moore to step aside after the allegations were made public, he changed course in early December, saying that it was up to Alabama voters to "make the call." In his position, McConnell is the leader of all Senate Republicans and ultimately sets the tone for the party. To many, the tone that he set was one of supporting party over principle.
The election of Jones is also a blow to President Trump, who endorsed Moore, going as far to record a robocall for his campaign that said he needed voters to choose Moore. Trump, who himself has been accused of sexual misconduct that he denies, could see increased scrutiny on his behavior, as more and more people have called for an investigation into the allegations against him.
Jones campaigned on a progressive platform that included issues such as health care, the economy, education, a living minimum wage, the environment, criminal justice, and civil rights. He says he wants to "bring integrity back to Washington and back to Alabama politics."
His win means that Republicans now have only a two-person majority in the Senate, and considering the contentious congressional debates we've already seen this past year, things are going to get even tighter for the GOP once Jones is sworn in.
A giant reason Jones won was because of the support he saw from black voters, especially black women voters. Like in the 2016 presidential election, white women still showed extreme support for Moore, despite several women having claimed he sexually assaulted or acted inappropriately with them when they were teenagers. According to the polls, 63 percent of white women chose Moore with only 35 percent backing Jones.
But as was evident on Twitter the evening of the election, people could not get over the fact that the race was so close. As one person wrote:
I know people want to be happy about Jones winning and I don't mean to rain on the parade, but he only won by just under 9,000 votes. They both got 49 [percent] of the votes. This speaks volumes and none of it is "Blue Wave is coming".