'Down A Dark Hall' Star AnnaSophia Robb Wants You To Stand Up For Yourself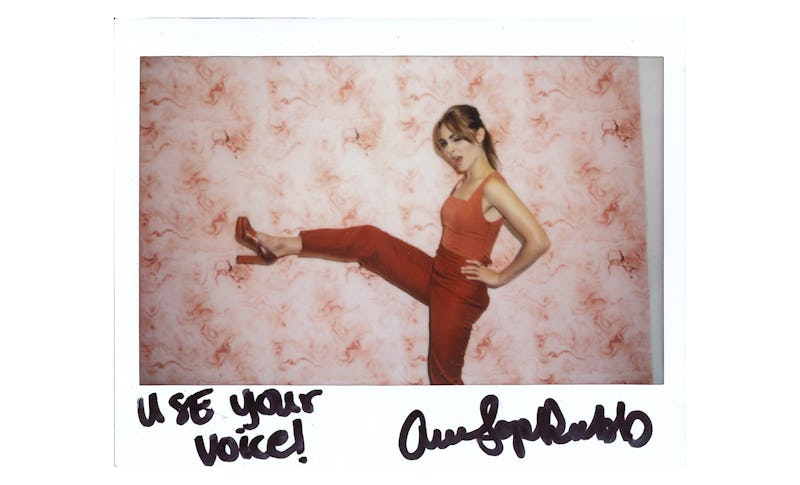 When celebrities hang out with Bustle editors, we want to give them the chance to leave their mark. Literally. So we hand them a pen, a piece of paper, a few questions, and ask them to get creative. The rest is up to them. This time, Down a Dark Hall star AnnaSophia Robb is leaving her mark in the Bustle Booth.
Down a Dark Hall is unlike any other horror flick out in 2018. Based on the 1974 novel of the same name by Lois Duncan, it tells the chilling tale of five troubled young women who are enrolled in the mysterious Blackwood Boarding School, led by an eerie headmistress (Uma Thurman). AnnaSophia Robb plays protagonist Kit, who discovers the school's dark secret — and joins forces with her classmates to escape. The horror genre has provided several hits this year with female leads, including Hereditary and A Quiet Place, but Down a Dark Hall has an all-female ensemble, making it stand out from its peers. This game-changing shift is a large part of what makes this film, out now, so important to Robb.
"That's one of the main reasons I wanted to do the film," explains the actor during a recent visit to the Bustle office. "We have awesome girls. And we all became such close friends […] And, Uma is incredible. To have her at the forefront of this film is just super exciting. [The film] is all about girl power."
In Down a Dark Hall, which is now playing in theaters and is available on demand and on iTunes, each of the young women is independent and outspoken, challenging those who think they have control over them and banding together to expose darkness. The ladies' bond is strong, and so was the real one between the movie's female cast members, according to Robb. The movie was shot during the 2016 election, and the actor recalls how the real political climate mirrored the struggles that the characters confront in the film.
"You know, they're different situations, but I think to have a community of really strong women working with really strong actresses, and who were very vocal about their thoughts and their rights, and their future, was empowering in this disillusioning moment," explains Robb. "I think that does speak to Down a Dark Hall because it's these young girls who are at this very pivotal age. Their society has deemed them ... just, dangerous, or unworthy, or useless and has sent them away to this school to be fixed. And, they're taken advantage of by their superiors."
Beyond the movie's parallels to the current political climate, Robb believes it will resonate with young women who are struggling to feel accepted and heard, much like Kit. "I think that there's a lot of questioning in this film, that Kit goes through, of questioning herself, questioning her past," the actor says. "Trying to understand herself, why she behaves a certain way. Trust in certain people that she shouldn't trust, to go in with her gut. Fighting for what she believes in. Fighting for a future that she wants. Fighting for herself. Things that I think are really important for young women today, especially."
Down a Dark Hall doesn't just prove that female empowerment belongs in horror flicks — as Robb says, it also shows how women off-screen, too, need to advocate for themselves no matter what struggles they face. Check out more from Robb in her Bustle Booth below.