Dr. Pimple Popper's New Show Is A Dream Come True For People Who Love Gross Stuff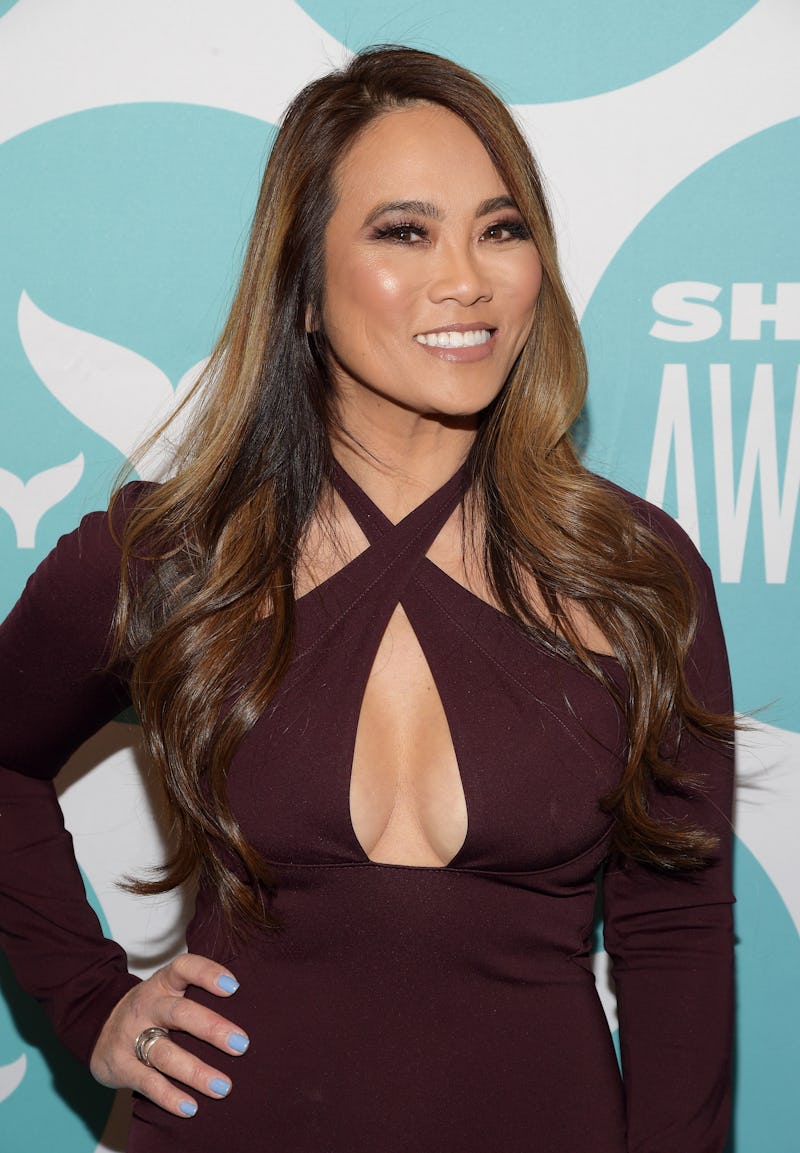 Jason Kempin/Getty Images Entertainment/Getty Images
Whether you're a Popaholic or not, Dr. Sandra Lee, thinks you'll find something to love about Dr. Pimple Popper's new show. The doctor made a name for herself when her educational dermatology videos began to go viral, and while Lee's Dr. Pimple Popper YouTube videos are focused on the popping of pimples, extraction of blackheads, and removal of cysts, her TLC series Dr. Pimple Popper wants to focus on the patients and their stories.
In an exclusive clip from the new series published by Entertainment Weekly, a patient named Tyler comes to Dr. Lee's office in the hopes that she can do something about two bumps on his forehead. Especially, one that is rather large above his left eyebrow. While the bumps are a health concern, Tyler says, "The biggest reason I'm here is to get my face back."
When Dr. Lee sees him she can't help but compliment his red beard, but notes that the bump is hard to ignore. Her hope is that she can figure out what the bumps are, specifically the smaller one right above Tyler's right eyebrow, which he's had for five years or so and doesn't look like a "typical cyst" to her. "It's in the way of your life," she says. Tyler agrees, later telling the camera if he can't have it removed it would be a "heartbreak."
Dr. Lee's goal in the clip isn't just to remove the bump with as little scarring as possible, but to also figure out what it is, a goal fans will recognize from her videos. While many have enjoyed watching Dr. Pimple Popper's YouTube videos of her popping pimples, which, don't worry, she will continue to do on this show, there's a more serious side to what she does that this show aims to cover. In her videos a patients face isn't visible, it's all about the popping. With this show, it puts a face to the popping.
In an interview with Entertainment Weekly, Dr. Lee explains:
"In the series, we follow the patients. I don't really see this in my practice. I don't really see how a bump on someone really affects his or her life. So it's really nice to see this go full circle. Even though, to some people, it might be considered kind of gruesome or gross, it's actually a really happy thing, a feel-good thing. It is an amazing process. I'm kind of freaked out, though, because…I mean, this is crazy to me. It's pimple popping."
She's right, it's a little crazy that pimple popping has earned her over a million views. In just three years, she's become a viral sensation thanks to videos that some people may think are gross, but others find satisfying — psychologists say those pimple popping videos help raise our happiness levels.
But just because the show will focus more on Dr. Lee's patients and their stories than whatever they're hoping to have the doctor treat, that doesn't mean that Dr. Lee's fans, who have named themselves the Popaholics, will be disappointed. In her interview with EW, she promised she's going to tackle some big cases, including the biggest cyst and the biggest lipoma — a fatty lump that lies between the skin and the muscle — she's ever seen. But, she is looking to pick some new fans who might be a little turned off by her very graphic videos.
"They're going to realize that it's not about the grossness," she told EW. "It's about real people and trying to make them better. Sometimes they will want to avert their eyes, but it's going to pull them in emotionally."
Dr. Pimple Popper is also hoping to educate people about their skin and what to look out for through the show. "It's so much more than popping," she said. "Even though the pops are the big draw, you really see what we do as dermatologists."
Most of all, though, Dr. Lee wants to make sure everyone who's watching knows there's no reason to be ashamed of their skin, nor is there a reason to shame others for theirs. "Our skin is our armor, this is how we present ourselves to the world. If your skin looks different, it's very hard to cope," she said. "We want to show how people live with these conditions that you might not see every day. You don't realize the sort of burdens some people have to bear." Now with Dr. Pimple Popper, she's hoping people finally will by getting to know the people she treats. The people, in other words, behind the pops.