Drake Bell & Josh Peck's Feud Is No More, So Fans Can Relax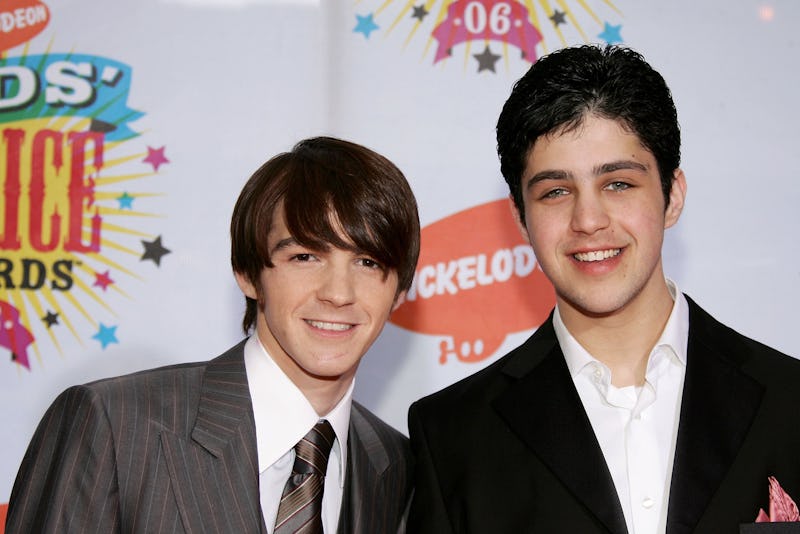 Frazer Harrison/Getty Images Entertainment/Getty Images
In June, Drake Bell broke millennial hearts everywhere. In a series of since-deleted tweets, the star revealed that he wasn't invited to Josh Peck's wedding to Paige O'Brien. The tweets devastated Nickelodeon fans who grew up watching Drake & Josh, but Bell quickly apologized for the reaction and clarified that the whole scenario was a misunderstanding. In a recent interview, Bell said that he and Josh are closer than ever, and there are no hard feelings about the wedding snub. At the 2017 Ed Asner & Friends Celebrity Poker Tournament for Autism Society Los Angeles, the star sat down with Us Weekly to discuss the feud and newfound closeness with his former co-star.
While Bell and Peck have made up, the former said that he considers his initial tweets to be reasonable. "I don't think it's silly that I got upset for not getting invited to the wedding. I think that was completely justified," Bell said. "But I was shocked at how viral it went. But it just goes to show that there is a real love for the show and for these characters." The wedding tweets did make the rounds online, and it's clear that the Honest singer didn't realize the impact his words would have. In the now-deleted tweets from June, Bell wrote: "When you're not invited to the wedding the message is clear …" and then "True colors have come out today. Message is loud and clear. Ties officially cut. I'll miss you brotha." In July, he told ET Online that he wished he'd dealt with the situation in a personal text to Peck, and that the two had since spoken personally and made peace.
The Twitter drama might have been resolved in July, but it turns out the former Drake & Josh stars didn't settle the matter in person until the VMAs. "We ran into each other at the VMAs. It was cool because I had called him and we were talking about meeting up. And that's always kind of nerve-racking. 'What am I going to say? Where are we going to meet? The ride over?' So I was really happy that it happened organically," Peck told Us Weekly. "And he just kind of walked up behind me and I was like, 'Oh. We have to deal with this right now.' And so we were able to talk and hash it out and it's all good."
Peck and Josh both posted a pic from their reunion to Instagram. The photo, which showed the two stars embracing, was captioned "Hug me..." Anyone who grew up watching Drake & Josh knows this was a nod to one the show's most iconic catchphrases, as whenever the characters were celebrating they would shout "Hug me brotha". It's a heartwarming moment for fans of the show, who still haven't recovered from the news that these TV brother's didn't remain besties over the years.
According to Bell, their friendship has only grown since the VMAs. "It's interesting, we're actually closer than we've been in a while. It's totally great. It's all love," he told the publication. "We're brothers, man. We've been working together for 18 years, maybe even longer now. So we've had our ups, we've had our downs, it's like we're real brothers. It's kind of that sibling rivalry and sibling love and it's the whole thing." Much like their onscreen counterparts, these two have now faced trying moments, but came through the experience with a stronger relationship.
The actors have also recorded some videos for Peck's YouTube channel, and are spending plenty of time together IRL. Their significant others have reportedly become good friends as well. "I was like, 'Be careful because you know we're going to have to see each other all the time now that they are best friends,'" Bell said. "But it's a great thing and I'm really happy to be back together." A look at Bell's social media accounts reveals that there have been more reunions between the stars.
It's great that these two found a way to reconnect after their disagreement. Now that they're back in touch and hanging out often, a true Drake & Josh reunion needs to happen. Where's Megan?