Drake & J. Lo Are Now Facing Dating Rumors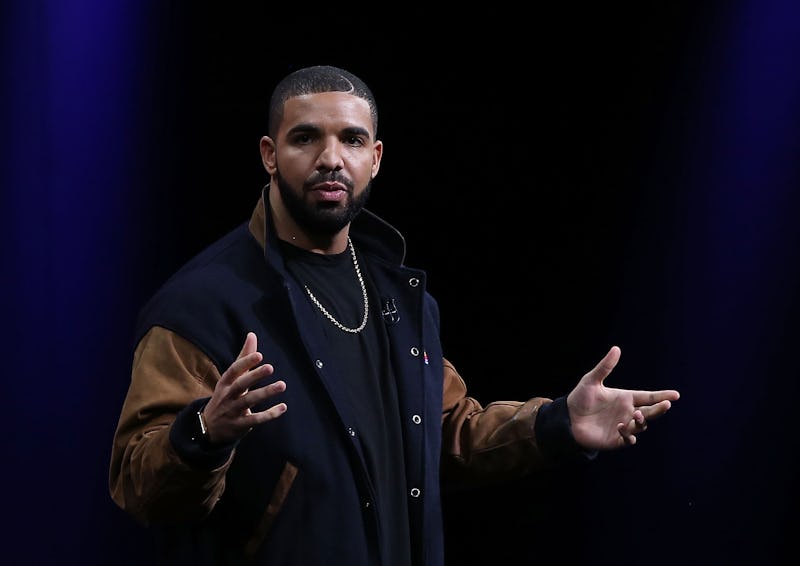 Justin Sullivan/Getty Images News/Getty Images
Drake can't escape the dating rumors, can he? As of Tuesday, Dec. 20, there are rumors that Drake and Jennifer Lopez might be dating. That's right, there are now reports that these two musicians are romantically involved, but before you start freaking out, take a deep breath and relax. Remember when he was linked to Taylor Swift and nothing ever came of that (yet, at least)? Basically, there is nothing concrete surrounding these romance reports, so until that happens, I wouldn't get too worked up. (Bustle has reached out to reps for Drake and Lopez for comment, but did not receive a response at the time of publication.)
According to E! News, Monday night Drake threw a "very intimate dinner" in West Hollywood and guess who was in attendance? J. Lo, herself. Based on this "exclusive" get together, it's clear the rapper and Lopez are totally a thing. 'm being sarcastic. They could clearly just be friends. Also, maybe Lopez was invited to his dinner due to the fact that they are friendly. Furthermore, it has yet to officially be confirmed that she was actually in attendance at this dinner. Really, there isn't much to go on here, which is exactly why Drake fans shouldn't become too concerned at this point in time.
That said, there are other reports that aren't helping these Drake and Lopez rumors. As revealed on Instagram, Drake has attended two shows of Lopez's Las Vegas residency at Planet Hollywood. On Dec. 11, both artists shared the same Instagram announcing Drake was in Vegas seeing her show.
Alongside a selfie of herself and Drake, the "Ain't Your Mama" singer wrote, "Look who rolled up to my show tonight to say hi!! @champagnepapi #lovehim #jlovegas #ALLIHAVE." He then shared the same selfie and wrote, "😍 <-------- Lotta those."
Drake posted another Instagram during the show, where he was gifted the responsibility of holding Lopez's blinged-out New York Yankees hat. "Sure I'll hold your diamond encrusted fitted while you catch this Vegas body #Jenny," he captioned the photo.
According to E! News, a week later after seeing Lopez the first time in Vegas, Drake showed up again this past Saturday. Based on this Instagram of what appears to be Drake at Saturday's show, he is totally feeling her performance. Again, he may just be there rooting her on as a friend. Also, as someone who has attended Lopez's All I Have residency, I can see why Drake would go twice: Both the show and Lopez are fabulous.
Oh, and a source also told E! that Lopez and Drake are reportedly creating some new music. The insider reportedly said, "Jennifer and Drake are working on new music together." So, there's also that to take into consideration.
If you're still not convinced that things are most likely purely platonic between these two, during a Dec. 1 Watch What Happens Live appearance, Lopez's best friend Leah Remini admitted that her bestie is very much single. There's a chance things could've changed for the Shades of Blue star since Remini provided that detail, but it's best to remain calm and not feed into the rumors until either Lopez or Drake comment themselves.