These Details About Drake's Birthday Party Will Make You So Nostalgic For The 2000s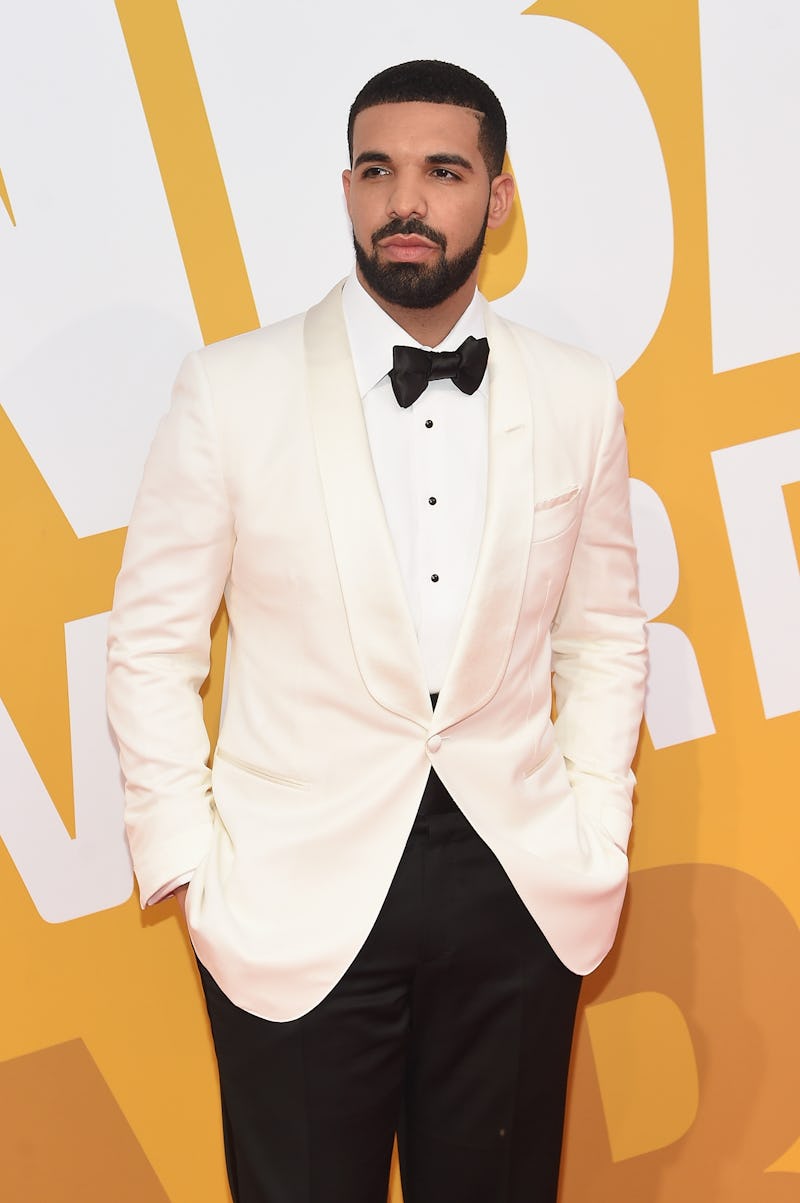 Jamie McCarthy/Getty Images Entertainment/Getty Images
While the '80s and '90s have had major moments in the spotlight recently, hip-hop superstar Drake took things next level for his 32nd birthday celebration, setting his sights on another popular decade, according to official Drake fansite Twitter account, @wordonrd. Drake's 2000s themed birthday party showcased all the glory of the epic era and it seems that he spared no expense in bringing the vision to fruition. The Toronto-born emcee, who officially turned 32-years-old on Oct. 24, seriously went all out for the party, channeling fellow rapper Fabolous in a blue Lakers Kobe Bryant jersey, LA Dodgers hat with a turquoise bandana tied on top. He completed the outfit with two gold chains that had Jesus piece charms attached. In his second look for the night, the birthday boy opted for a Sean Jean velour sweatsuit and white Nike headband, proving that he was fully committed to bringing his 2000s swag full circle.
The layout of the venue featured a 7-Eleven installation with slurpees and snacks, Blockbuster Video wall, a Rap City inspired freestyle booth, 106 & Park setup, and a Jaydees Connection layout with airbrushed t-shirts of Drake as a youngster, as well as old school cars with swangers, according to Hello Giggles. The outlet notes that Drake's party also offered an ode to his mother, Sandra Graham, which included a room filled with family pictures and roses — because it is her "birth" day too, after all.
The over-the-top bash, which was held in Hollywood, was reportedly attended by the who's who of the entertainment industry including, Diddy, Kendall Jenner, Chris Brown, French Montana, G-Eazy, Swae Lee, Ty Dolla Sign, Swizz Beatz, and Trey Songz, according to OK! Magazine. It also seems that Drake was completely dedicated to staying in character during the soirée, judging from a moment captured on Instagram Live from Songz which showcased the "God's Plan" entertainer pulling a throwback flip-phone out of his pocket, according to HG. The antiquated device looks to be a far cry from what the rapper now uses to make his hotline bling. Drake's birthday cake also kept up with the retro theme and was shaped like a Motorola Timeport two-way pager.
Drake has been having a major year in terms of both his life and career. He dropped his highly-anticipated fifth studio album Scorpion on Friday, June 29. The 25-song project, which was comprised of a selection of songs on an A-Side and B-Side, was wildly successful in its release. Earlier this month, he scored his 12th Billboard Hot 100 Top 10 of 2018, passing The Beatles for the most top 10 singles in a year, according to Billboard. And while it may not have been under the best circumstances, due to his reported issues with Pusha-T and Kanye West, Drake also made the revelation that he was a father earlier this year.
It's nice to see that he took time out of his busy schedule to celebrate his big day. He's been quite busy lately, churning out show after show amidst his "Aubrey & The Three Amigos" tour.
Drake's birthday event appeared to leave no stone unturned in terms of bringing out the full essence of the early 2000s. If the grandiose nature of his recent celebration is any indication, 32 should certainly prove to be Drake's best year yet.