Drake Has Another Summer Hit On His Hands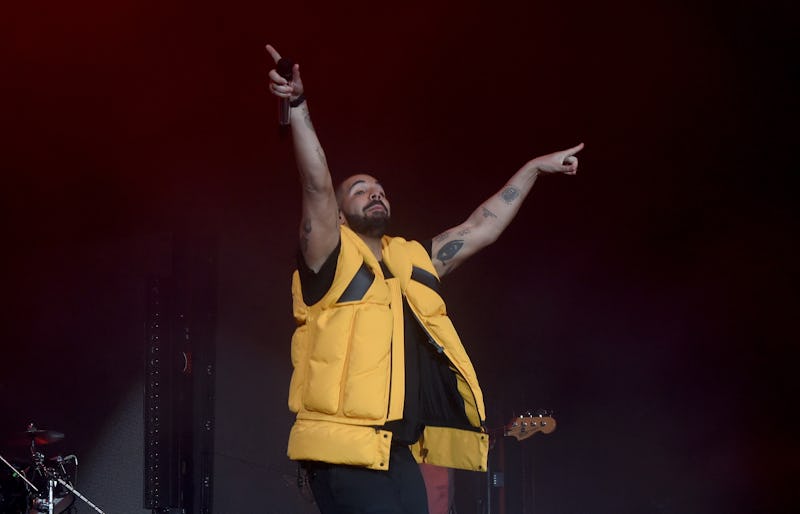 Kevin Winter/Getty Images Entertainment/Getty Images
Proving he's ready to dominate the charts once again this summer, Drake debuted a brand new song "Signs" on Friday, and it's already making waves on the internet. The song's sound echoes much of what the rapper recently released on his latest playlist, More Life, and last year's Views. Though the song doesn't appear to have a very heavy subject matter, Drake's "Signs" lyrics prove that he definitely has another hit on his hands.
"Signs" was released as a mini collaboration between Drake and Louis Vuitton, hence the reason the fashion house's logo is pictured on the single's artwork. The song made its debut during the Louis Vuitton spring/summer menswear show at Paris Fashion Week, but it really sounds like a song that could've been featured on More Life, since it doesn't stray from the playlist's dancehall-like sound.
There isn't a single song in Drake's catalog that isn't super quotable, and "Signs" is no different. He starts the song off singing,
"Champagne with breakfast while I'm yawning
You can't drink all day if you don't start in the morning
Lord forgive me, I can't take things slowly
I'm goin' on them once I get going"
Again, there's nothing heavy about the song's subject matter, but the pre-chorus is filled with lyrics that'll likely make their way into plenty of your friends' Instagram captions. (If you have yet to make a Drake lyric the caption of at least one of your photos, are you really using Instagram the right way?)
Later in the song, he sings,
"You wanna drink like Bajan and dance like Trini
Yeah, you want a supermodel pose like mi real friend Winnie
Yeah, vacation's done but I'm not finished"
His music as of late has had a very heavy Caribbean influence, so it's not much of a surprise that Drake throws in a line speaking of Trinidadian women, while also speaking with a slight Caribbean accent. Also, the Winnie he references is Canadian model Winnie Harlow, who seemed to confirm the lyric with a tweet.
Drake recently broke records with "One Dance," another big summer hit, as the Views song became the first song to hit a billion streams on Spotify back in 2016. On top of that, More Life made its debut back in March, and it's still sitting up pretty high on the charts, meaning this is as good a sign as any that he may have another summer smash on his hands.