Drake's "Passionfruit" Is A Hit In The Making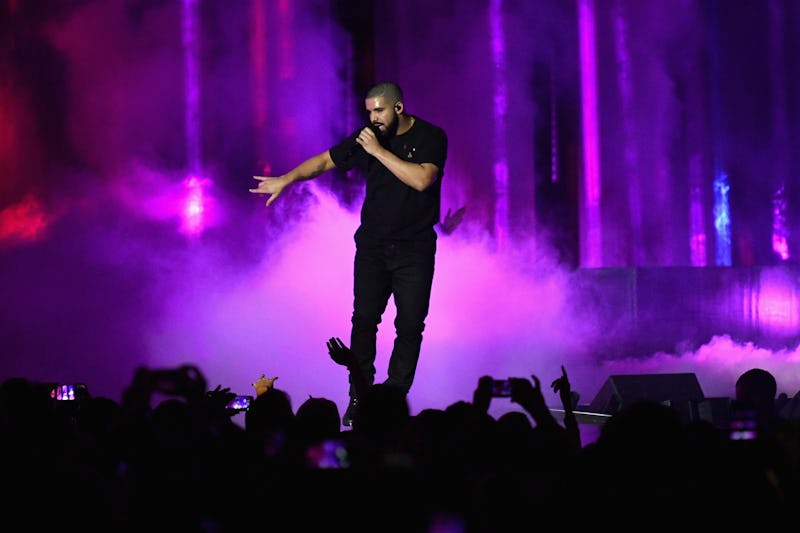 Mike Windle/Getty Images Entertainment/Getty Images
Well, he made us wait what felt like an eternity, but finally Drake has unleashed the More Life playlist upon us. It's finally here, and boy, does it sounds damn good. That said, the one More Life song you need to hear immediately is "Passionfruit." Seriously, skip all other songs and press play on "Passionfruit" right now.
I'm not just saying this because I have a soft spot for Drake's more uptempo jams, but because I like to think (and I have no way of confirming this) that this is the one song Drake specifically created to make up for all that time he made us wait for the More Life playlist to drop. "Passionfruit" showcases the best things about the rapper: his sensitivity, his ability to craft a dance-worthy beat, and his playful lyrics that hint at something more going on in his personal life.
"Passionfruit" bristles with energy. It's got a dancehall sound that makes it all the more playful. It's alive, it's vibrant, it makes you want to hit the dance floor — or maybe just drive around, brooding about the one that got away. If my mood were a song on this most hallowed of Saturday nights, it would be "Passionfruit." How does Drake know how to make these great songs every single time?
Given the immediate stand-out nature of "Passionfruit," I wouldn't be surprised if this song became one of the first singles from More Life. Don't get me wrong, More Life is full of supreme tracks, but there is only one that can rise above the rest to true greatness. In the pantheon of Drake's greatest songs, I am feeling bold enough to say "Passionfruit" is one of them.
If you're ready to turn up and feel good, then make sure you pop on "Passionfruit." You won't be sorry.