Draping Is The Blush Technique You've Never Heard Of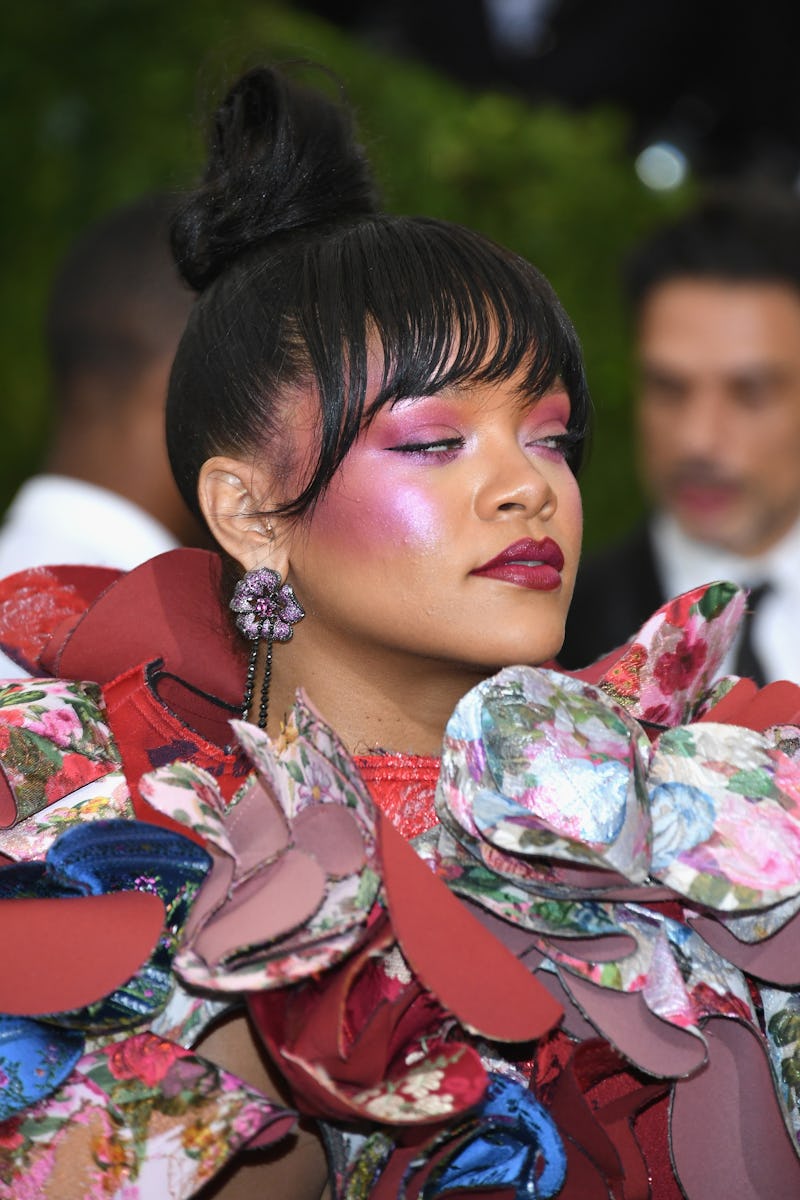 Dia Dipasupil/Getty Images Entertainment/Getty Images
The only thing more stunning than Rihanna's 2017 Met Gala dress was her majorly magical makeup. Her pretty-in-pink flush washed from her temples across her eyelids and down her cheeks, while a plummier pink tone contoured the hollows. If you're flushing at the very thought of recreating this look, look no further: The key to stealing Rihanna's banging blush lies in an application method that lightly made it's way around beauty sites and blogs less than a year ago: draping.
In its most basic terms, draping is contouring with blush. Applying a deeper blush to the hollows under the cheekbones, and a lighter blush to the higher planes of the apples and temples creates a personalized, sculpted look that's fresh and glowy.
In 2016, Marc Jacobs reintroduced the trend with the launch of his Marc Jacobs Beauty Air Blush Soft Glow Duos. Jacobs was friends with Bandy before the makeup artist's unfortunate passing, so this product was truly an homage to his dearly departed pal. When Marc Jacobs Beauty launched the product, they simultaneously coined the term draping — a fitting fabric term for a major fashion icon.
The blush is meant to drape over your unique bone structure, giving you a soft colorful glow while subtly sculpting your features.
According to Gilbert Soliz, the Global Makeup Artist for Marc Jacobs Beauty, draping is "all about strategic placement."
You can mix both tones together for an all over glow, or you can use the two colors separately. The deeper color can act as a contour, sculpting underneath the cheekbone. The lighter color could be used to buff out any harsh lines or edges and to emphasize the high planes of the cheeks and temples.
Though this technique is breathing new life what makeup can look like, it also has a history. Makeup rock star Way Bandy brought the draping technique to the forefront of glamour in the mid '70s.
Long before beauty gurus were household names, Bandy was a star in his own right. He was a makeup to the stars during the disco era, decorating the covers of Vogue, Harper's Bazaar, Cosmopolitan, and even Rolling Stone. Bandy initially called his technique "color glow," sweeping blush in a C-like shape from the temples down to the cheekbones to lift and exaggerate facial features. He applied a saturated red blush to the cheeks and temples of stars like Cher, Diana Ross, and Elizabeth Taylor, focusing on their unique bone structure.
Rihanna's Met Gala makeup artist and co-founder of Melt Cosmetics, Lora Arellano, single-handedly brought draping back to the forefront for 2017 with Riri's ridiculously gorgeous look.
In just two short days after the Met Gala, dozens of makeup artists and beauty bloggers have already recreated this look. Just breeze though Arellano's tagged Instagram photos to see a bevy of interpretations.
If you're tired of a highlight and contour, then drape your face to perfection with blush instead. We have a feeling this trend is bound to stick this time around.