Dre Realizes His Mom Isn't Perfect On 'black-ish'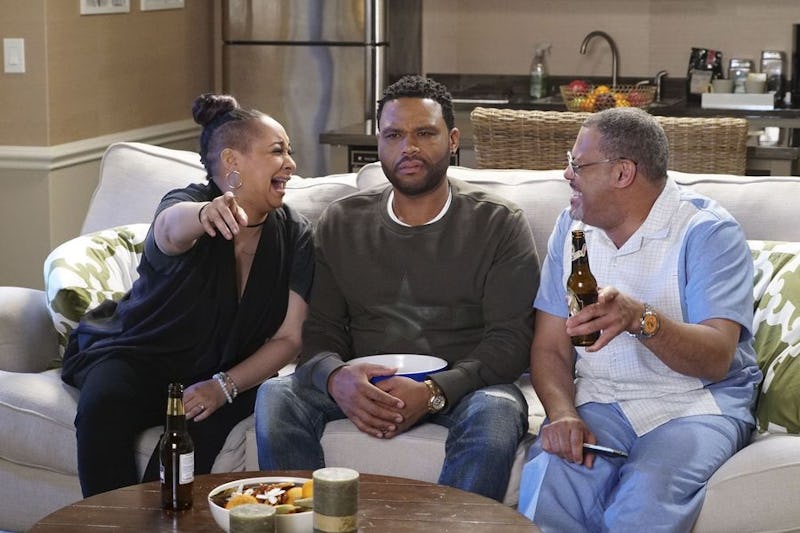 Ron Tom/ABC
black-ish has tried its hand at many big themes this season, but sometimes, the show just goes for a light, fluffy half-hour with the Johnson kids. This episode was certainly the latter, and while it was a bit light on laughs, it's always nice to spend time with these characters. Dre finds out Ruby cheated on Pops when he was a kid, and it calls into question in unthinking favoritism of his mama. As Dre's opening monologue says, everyone does pick favorites, or, at least, have people they click with more effortlessly than others. black-ish has already had several episodes about how close Dre is to Zoey when compared to his other kids, and it's no secret that he is incredibly close with his mom, and would take her side in any fight.
When Raven-Symone returns as Rhonda, Dre's little sister, who clicks more naturally with their dad, Dre has to face a more critical side to his mom, because his sis lets slip the family secret. Certainly, both of Dre's parents are comically exaggerated, making them hilarious supporting characters, and Ruby has always been haughty, self-righteous, outright rude to Rainbow, and greedy. But in Dre's eyes, she's perfect. And when it comes to sitcom characters, I'm inclined to agree.
I suppose there could have been some subtext there about gender double standards, Pops' implied infidelities, or sexism, but honestly, Dre comes to terms with this so fast, and doesn't ever seem to resent Ruby for getting some (he was more upset when she brought home her much younger new boyfriend!). And even Ruby doesn't bother to pretend that she didn't actually cheat on Pops when Dre was growing up (in order to make sure Dre got good grades). Pops' reasoning of why he never attempted to correct Dre's naiveté doesn't really go anywhere, either — he calls leaving your family behind in order to gamble and drink more freely being a good dad, and this doesn't seem to bother Dre.
And in their parallel storyline, where a party with drinking and pot-laced chips almost goes horribly wrong, Junior and Zoey certainly got off very easy, and since the show has already pointed out the double standards applied to black teenagers when dealing with the cops, it does feel a little out of place to have both of them get off with nothing more than a warning.
After suffering the rare bad episode last week, when the show cast Chris Brown in a supporting role, this isn't an offensive outing from the show. It's a little thematically shallow, and the three plotlines don't really dovetail at all, but it is important to keep in mind that moms aren't perfect — even if Dre isn't outrageously funny on his way to realizing that.