This Hashtag Nails Dress Code Double Standards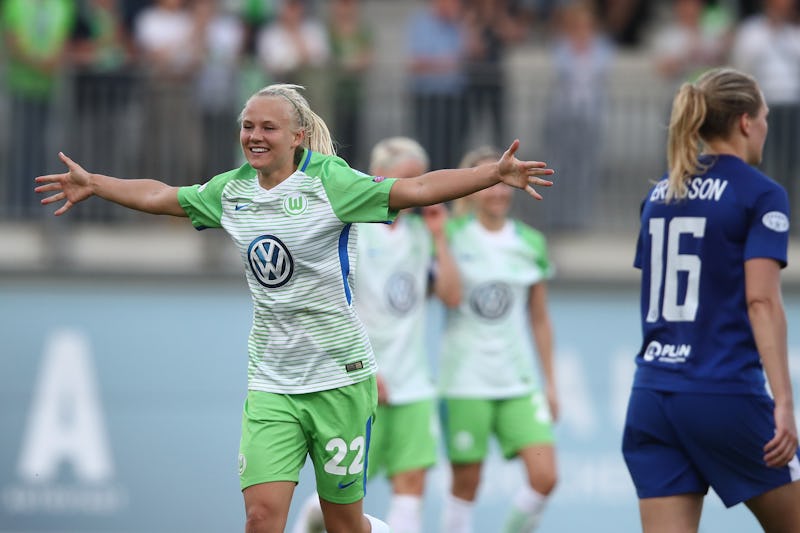 Oliver Hardt/Getty Images Sport/Getty Images
Women have come a long way in the workplace. Though we're still fighting for equal pay, women today are generally not expected to show up to work in pantyhose and high heels — or at least, not officially. Culturally, we're still struggling with that expectation, which is exactly what the "Dress Like A Woman" hashtag nails. The hashtag, which smartly and hilariously bucks outdated gender norms, arose in response to a report from Axios claiming that Donald Trump allegedly prefers female staffers to "Dress like women." While the Trump-mandated dress code is unproven, the larger point still stands: A woman's ability to do her job well shouldn't be based on whether she is wearing pantyhose and stilettos (unless of course she wants to). Bustle reached out to Donald Trump's team for comment on the allegations, but received no response by press time.
Let's face it: Regardless of what the Axios report claims, it's no secret that our culture places a lot of expectations not only on what women are "supposed" to look like in general, but on what they're supposed to look like in the workplace specifically. In the relatively recent past, women were all but required to head to the office in high heels, and pantyhose — and while this unwritten rule has mostly gone by the wayside in more recent years, studies reveal that women are still more likely than men to be judged on their appearance.
One study conducted by researchers at the University of the West of Scotland, for example, asked participants to review random Facebook profiles and determine whether the people in the profiles would be a good fit for a particular job. The study concluded that men and women were more likely to judge women's job qualifications based on how they looked, whereas men were judge by other content on their profile page.
"When it comes to assessing female candidates, there is a lot of reliance on photographs to judge the qualities of the candidate — this is true regardless of whether it's a man or a woman reviewing the profile," psychology lecturer Graham Scott, who helped conduct the study, told the Independent.
If you want to see what I'm talking about, the TV show Mad Men is basically a fascinating study in outdated gender norms.
On the other hand, women are also sometimes judged for being too dressed up for the office, making office dress code politics feel like a no-win situation. It can be hard to strike a balance between dressing professionally, staying to true to your own style, and fitting in with outdated workplace expectations. That's a lot of juggling for something that has nothing to do with your actual job performance.
Consider this anecdote: According to an article on the Conversation, "When receptionist Nicola Thorp was told by her employer that she had to wear high heels to work, she pointed out that her male colleagues were not required to do so. When she refused to conform to the company's dress code policy, she was sent home from her job without pay." After the story went public, Thorp's firm changed its policy — but the fact that it took that much to enact change in the first place is, to put it lightly, not OK.
When she spoke out against the policy, Thorp said, "There is a history behind high heels that has a sexualized element to it" — which prompts the question, do men just want something nice to look at during the work day? Is that why these kinds of dress codes persist?
In comparison, Trump's chief strategist Steve Bannon was recently photographed in the Oval Office looking decidedly casual; sloppy, even. You can see the double standard here.
Again, this isn't to say that wearing heels to work is bad; the point is that it should be a choice to do so, not a requirement — and that whatever you choose to wear, your competency shouldn't be judged because of it. Here's what "dressing like a woman" really looks like in 13 tweets.
Women are Astronauts
Women Are Athletes
Remember those ridiculous baseball uniforms in A League of Their Own?
Women Are Soldiers
Women Save Lives
Women Keep Us Safe
Women Are Setting the Agenda
Women Are Owning Their Style
So, next time someone tells you to dress like a woman, show them this, and ask, "Is this what you meant?"