How Dressing Up As Trump For Halloween Could Get White House Staff In Serious Trouble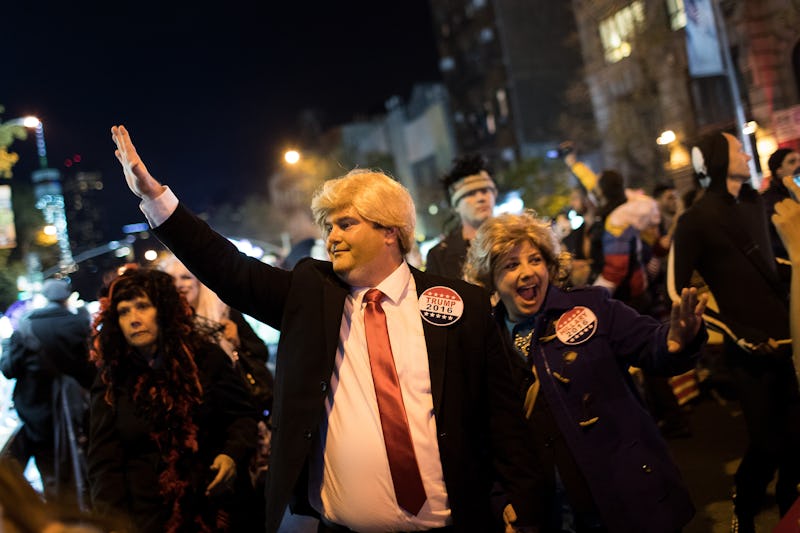 Drew Angerer/Getty Images News/Getty Images
These days, it's not that unusual to see a Donald Trump mask worn at a themed party. But for those who work in the White House, dressing up as Trump for Halloween could have severe consequences this year. According to an email obtained by The Daily Beast, the U.S. Department of the Interior warned staff against dressing up as POTUS for Halloween, and one of the main reasons for this warning has to with his 2020 plans.
The email, whose subject line reportedly read, "Halloween Hatch Act Reminder," said, "While we enjoy the Halloween activities this afternoon, it is important to remember that employees should not wear costumes that resemble candidates for partisan political office. Please keep in mind that President Donald J. Trump is officially a candidate for reelection."
The Hatch Act, which is referenced in the subject line, is a law dating back to 1939 that limits political employees from engaging in "political activity" while on duty.
The email further explained,
A federal employee dressing up as a candidate for an agency Halloween party poses a challenging problem because it is unclear if the individual's costume choice is meant to be taken as a sign of support for or opposition to a particular candidate or just merely a selection based on what is currently trending in pop culture.
The Department of the Interior did not answer The Daily Beast's question about whether the email was prompted by an employee who did, in fact, dress up as Trump for Halloween.
Though the White House seems to have some pretty specific rules for employees to follow for the spooky holiday, that doesn't mean the Trump administration isn't celebrating Halloween in its own special way.
One Trump health official, Seema Verma, opted to recognize Halloween in the most political way possible, tweeting a photo of a "Medicare For All" shirt. She captioned the tweet, "This year's scariest Halloween costume goes to..."
As for the Trumps themselves, POTUS and Melania Trump celebrated Halloween on Sunday, handing out candy to children from the White House.
For the actual holiday, Trump was busy at a MAGA rally in Fort Myers, Florida, during which he spoke to a crowd of over 8,000 and bashed the "far-left media" for its coverage of protests in Pittsburgh following the synagogue shooting. He said, "The far-left media has spread terrible lies and stories about the Trump administration, and the tens of millions of people who make up our movement — the greatest political movement in the history of our country."
Melania and Barron Trump were not seen celebrating Halloween, either, though it's entirely possible that Barron celebrated with his parents on Sunday.
The president may have been politically minded on Wednesday evening, but his children were holding up the holiday spirit. Donald Trump Jr. tweeted several photos of his children in costume, writing, "Great Halloween trick or treating with the monsters." Similarly, Eric Trump tweeted photos of his son, Luke, along with his wife, Lara. Luke was dressed up as a mummy.