Dunkin' Just Released Halloween Donuts & One Is FULL Of Oreos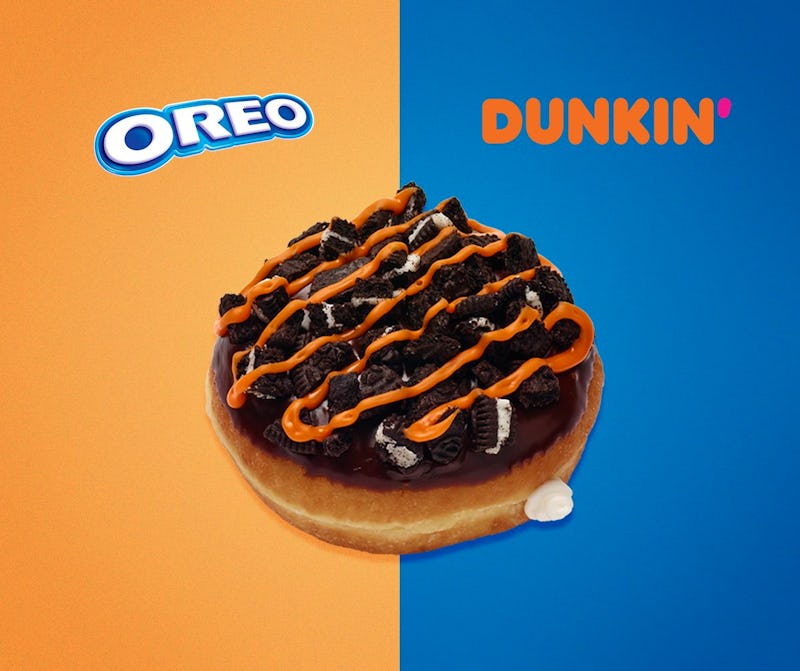 Dunkin'/Twitter
The Pumpkin Spice Latte is great; there is no denying it. But if you think about it, pumpkin spiced coffee is on the more sophisticated end of sweet treats. Sometimes you don't want something multilayered and gourmet-tasting, you want something that will inspire memories from your childhood. What could possibly do that more than a donut covered in cookies?! Step aside all things pumpkin, the Halloween Oreo Donut at Dunkin' is going to give you a run for your dessert money.
Dunkin' Donuts' newest sugary creation is like a seven year-old's fever dream. Per Chewboom, the Halloween Oreo Donut is "a yeast shell donut filled with vanilla buttercream, topped with chocolate icing and Oreo cookie crumbles and drizzled with a Halloween-themed dark orange icing." Basically, it's a chocolatey, vanilla, butter-creamy, Oreo-covered monster that is also orange. The orange drizzle atop the crumbles Oreos gives the final product a fuzzy, monstrous external appearance worthy of the holiday it is celebrating.
But it is not the only Halloween donut Dunkin' is bringing to shelves. Making its long-awaited return to Dunkin' Donuts locations nationwide is the seasonal Spider Donut, which is not one, but TWO donuts in one. Chewboom describes the downright adorable treat as "a classic Dunkin' donut frosted with orange icing along with an eight-legged donut creature nested on top, made from a glazed chocolate Munchkins donut hole treat with chocolate drizzle for the spider legs and orange drizzle for the eyes."
If you're plugged into Halloween treat news, you might have picked up on a theme Dunkin' seems to be keeping with. In addition to the donuts, Dunkin' is also offering Oreo Hot Chocolate for a limited time. Foodbeast reports the chain first dropped Oreo hot Chocolate as a member of its extensive line of hot beverages in 2016. It is said to embody the taste of cookies and cream, so likely a rick chocolate balanced by a subtle hint of vanilla creme.
Speaking of Cookies and Cream, another Dunkin' brand, Baskin-Robbins, is also getting in on the spooky spirit by embracing Oreos. A festive take on the shop's classic favorite Cookies N' Cream called Trick Oreo Treat ice cream will return to scoop shops during the month of October as the flavor of the month.
Baskin-Robbins' Trick Oreo Treat ice cream isn't just filled with orange Oreos (though, admittedly, that in itself would be enough to sell the stuff). Crumbled pieces of orange creme-filled Oreo cookies, and Baby Ruth and Butterfinger candy pieces fill a vanilla ice cream base to create the flavor. Baby Ruth bars are comprised of peanuts, caramel, and chocolate-flavored nougat; Butterfinger bars are filled with a peanut butter crisp. When mixed together with crumbled orange Oreos, the resulting Trick Oreo Treat ice cream is a menagerie of all your favorite sweet treats. It is like all the best parts of your Trick-or -Treat haul but mixed in ice cream.
Dunkin' Brands, who is behind everything Dunkin' Donuts and Baskin-Robbins releases, clearly wants you to rethink what makes your holiday sweet. Who wants fun-sized candy when you could have Oreo cookies in your morning donut AND your dessert? Sounds like more a treat than a trick.