Dunkin' Donuts Just Added Donut Fries To The Menu Along With 3 Other Game-Changing Items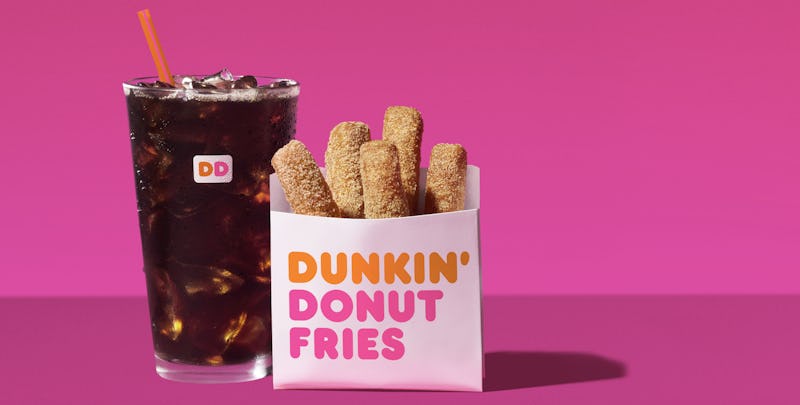 Dunkin' Donuts
To me, few things in life are better than a plate of crispy, well-done, salty french fries (especially truffle ones). However, my life is now forever changed because donut fries are now a thing IRL — and it's giving good ol' regular fries a run for their money. Dunkin' Donuts will add donut fries to its menus all over the country soon, and with the Fourth of July coming up, what better way to celebrate than combine two quintessential American foods?
According to the press release, the fries will be distributed for a limited time starting July 2, but it's been a long time coming. Dunkin' actually started testing the fries months ago in select stores in Boston, and clearly, given their addition on the menu, they must have been a hit.
The best part? The fries will only set you back $2 per order (but TBH, who would only order one?). But, there is a catch: there are only five fries per order (sigh), but it is just the right amount for a morning pick-me-up or a snack to get you past the 3 p.m. slump. And what better way to put a fresh new spin on the classic treat just in time for summer? These babies are portable and you can easily munch on them anywhere and anytime: in your Uber, on the subway, by your desk (no shame), your bed at 2 a.m. when you're hangry — you know the deal.
What makes the donut fries so mind-blowing delicious, you ask? They're made with melt-in-your-mouth, buttery croissant dough and tossed in cinnamon sugar, according to Dunkin's press release. They're also heated just right to create that crispy, hard-on-the-outside, soft-and-mushy-on-the-inside taste as soon as you bite into it. So yeah, you can call it love at first bite.
Plus, if you're looking to wash down your donut fries with something equally as sweet and satisfying, you're in luck. In addition to the stellar donut fries, Dunkin' also announced a new flavor of cold brew so you can kick off the hot summer months the right way... meet Brown Sugar Cold Brew. We all know brown sugar is way better than regular sugar and the backbone of all our favorite desserts (looking at you @Apple Pie), so now that it's available in COFFEE form, my life is forever made. No longer do we have to compromise sweet for refreshing. Besides, nothing goes better together than brown sugar and donut fries, right?
Plus, that's not all: If you're feeling like feasting and ~treating yourself~, you should totally go for it! If you're craving more traditional treat, Dunkin' also released new regular donut flavors to help you celebrate summer.
If you love all things coconut or chocolate covered coconut patties, you need to try Dunkin's new Chocolate Coconutty Donut. The treat is stuffed with lots of coconut crème filling on the inside, and topped with chocolate icing and real coconut flakes on top, making for the perfect combo of crunchy, cool, and sweet. It's also topped with shortbread cookie pieces, so get ready to indulge in what possibly may be the best donut experience of your life.
Oh, and I'm saving the best for last: If you love aesthetically-pleasing, unique looking, perfectly Instagrammable treats, Dunkin' has released yet another new donut: The Shark Bite. Perfect for Shark Week fanatics (aka me), the donut is topped with special shark-shaped sprinkles (I'm internally screaming), and white icing. Although we don't know what the Shark Bite donut looks like, I'm already vying for a sneak peek so I can unleash my inner shark and sink my teeth into some goodness (Did I go too far? Sorry, not sorry).
All in all, if the donut fries alone aren't enough to have you rushing to your nearest Dunkin', just think about all the other indulgent sweet snacks they have to offer, and get your sweet tooth on.